April 20, 2011
2011 Season - Vikings claim top spot in national poll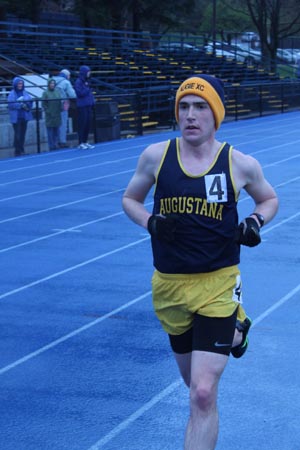 Sophomore Brian Pollastrini, shown here during his NCAA Division III qualifying 10,000 at the Meet of Champions, is part of the Augustana men's track & field team that has climbed to the top of the national polls.
Despite miserable conditions last week at the Meet of Champions, the Augustana men's track & field team put together enough good performances to move to the top of the chart in the weekly NCAA Division III Track & Field Team Dual Meet Rankings. The Vikings jumped from third to first with 213.90 points, which is over 15 points more than their total of 198.47 points from the April 12 th ranking. This poll is conducted by the U.S. Track & Field and Cross Country Coaches Association.
Whitworth is currently second with 210.30 points and North Central, the defending NCAA Division III national champion both indoors (2011) and outdoors (2010), is third with 208.23 points. Bates (195.75), Massachusetts Institute of Technology (192.99), Redlands (192.63), Nebraska Wesleyan (192.59), Claremont-McKenna-Harvey-Mudd-Scripps (192.36), Williams (187.03) and Washington (184.83) rounded out the top 10.
Augustana won the Meet of Champions, contested in rain, snow and cold temperatures, on Saturday, April 16 with 191.5 points. So far this season the Blue & Gold has competed in five meets. The Vikings won their dual meet with St. Ambrose by a score of 154-54 on March 19 in Rock Island, Illinois Iowa and finished first in the Viking Olympics on March 26. On Saturday, April 2, Augustana finished second at the Wartburg Select meet in Waverly, Iowa. On April 9, at the Lee Calhoun Invitational, Augustana finished second in a field of 16 that included four NCAA Division I teams.
Augustana will compete on Saturday, April 23 at the Dubuque Open in Dubuque, Iowa.
2011 NCAA DIVISION III OUTDOOR POWER DUAL MEET POWER RANKING
Sponsored by the USTFCCA
As of 04/20/2011
POLL #3
| | | | |
| --- | --- | --- | --- |
| RANK | SCHOOL | REGION | POINTS |
| 1. | Augustana | Midwest | 213.90 |
| 2. | Whitworth | West | 210.30 |
| 3. | North Central | Midwest | 208.23 |
| 4. | Bates | New England | 195.75 |
| 5. | Massachusetts Institute of Technology | New England | 192.99 |
| 6.. | Redlands | West | 192.63 |
| 7. | Nebraska Wesleyan | Central | 192.59 |
| 8. | Claremont McKenna-Harvey Mudd-Scripps | West | 192.36 |
| 9. | Williams | New England | 187.03 |
| 10. | Washington | Midwest | 184.83 |