April 2011
We licked the world record!
Augustana is in the record books—the Guinness Book of World Records—and we're going to celebrate! Next Wednesday, April 27, the Augustana community, Longfellow Liberal Arts Elementary and the Quad-City community are invited for a world record celebration from 5-7 p.m. in the Quad near Old Main (rain location Evald Great Hall).
All 2,694 world record holders are especially encouraged to attend the celebration, where you can eat free Augustana Viking Pride ice cream, pose with the world record certificate for your Facebook account and sign a world record banner to be displayed throughout the Quad Cities.
Poets among us: part one
For this year's Short Poem Challenge in honor of National Poetry Month, we received one poem, submitted by Ruth Symons of the music department. At first dismayed the challenge was so very short, we were delighted with the poem itself, titled "Night."
Bleak branches etch sullen skies.
Crystal shards descend.
The street is paved with diamonds.
Ruth explained the poem actually is the result of a collaboration with a former member of the Augustana Choir, Kevin Rach '10, who provided the final line when Ruth challenged the choir with a poetry contest of her own. Then she let me in on a choir tradition, which started with Henry Veld and has continued under Jon Hurty. "We have students reflect on each song we sing, which means we have some very thoughtful presentations on and discussions of the poetry that has been set to music," she said.
One choir member distributes a sign-up sheet requesting titles of pieces the students might want to reflect upon—whether they love the music, are confused by the lyrics, don't quite understand the language or whatever the case may be. For example, "In Remembrance," which composer Jeffrey Ames created for the memorial service of a colleague and his two daughters, "was an opportunity just to spend time talking about the experience of losing someone."
Another time, Ruth was so intrigued by the reflection on "Sure On This Shining Night," music by Morten Lauridsen set to the poem by James Agee (1909-1955), that she decided to find out more about the poet to share with the choir on tour. That path led her to a New Yorker article, in which she discovered that Agee at one point was sent to the Deep South to interview sharecroppers. The Harvard grad who had everything realized they had nothing, including "no light in their eyes," she recalled. At night, Agee went to bed and felt the bedbug-infested pillow move beneath him.
"He ran out into the night and then just stood there, transfixed by the transcendent beauty on that high summer night," Ruth remembered. She read from the end of the poem, "I weep for wonder | Wand'ring far alone | Of shadows on the stars."
With a master's in English and American literature from Brigham Young, Ruth has the background to support literary leanings. "But I've played piano since age 4. English was my education, and music was always my release." She is married to Van Symons of the history department, and considers their five children her "greatest accomplishment."
She shares all these accomplishments at Augustana, where, according to Andrew Walter '08, she often is called the "choir mother." She is their accompanist, but when she couldn't accompany the choir on their tour to Sweden several years ago, what did she do? She wrote a poem to send along with them:
Gravity
There is gravity between us,
You and me. We,
We circle each other circumspectly,
Worlds apart, complete, complex, whole—
And yet not wholly so,
For the tides of your silent seas
Are stirred by my passing,
And the barren places in my heart
Quicken at your glance.
There is gravity between us.
Field Notes
Field Notes
illustrates different kinds of experiential learning that take us places off campus. This spring, Greg Aguilar, who directs multicultural services at Augustana, joined the medical service-learning trip to Nicaragua. This issue reprints excerpts from Greg's March 7 column from the online Dispatch-Argus, to which he contributes weekly. Read also his
March 15 article
on Nicaragua.
As I sit on a grey volcanic rock looking at a group of about 60 Nicaraguans who have been waiting in line for hours in hopes of getting a ticket to receive medical attention, it hits me very quickly that this is not your typical visit to the doctor. Surrounded by volcanic ash where human and natural trash is abundant, as are dogs and pigs, it is obvious that this is also not your typical American health clinic.
I have been in Nicaragua since February 28, serving as a translator for the JETS service trip with students from Augustana College. The students, mostly pre-med, pre-dentistry, and including a journalism major, have experienced both the luxury of upper-class society and the struggles of a lower-class environment in a third-world country.
Together with a group called Praxis, the students have been able to set up very rough but effective health clinics that provide free dental and medical help as well as veterinary and physical therapy aid to the poor people of Nicaragua. While here we also have visited an orphanage where we donated sports equipment and played with the children who lived there.
To my surprise, perhaps because I don't think I could have done this work when I was in college, the students have been very open-minded, caring and effective in helping the people of rural Managua, Grenada and Olmetepe Island. They have learned about how this country's wars have affected so many people because of post-traumatic stress. They have taken a crash course in natural medicines, and even tried to save the life of a dog whose face was sliced by a machete.
These life-changing visuals and stories have truly transformed the way these students think about their lives in North America, and I truly believe that these students have been outstanding ambassadors of how compassionate, understanding and helpful American college students can be….
New Faces on Campus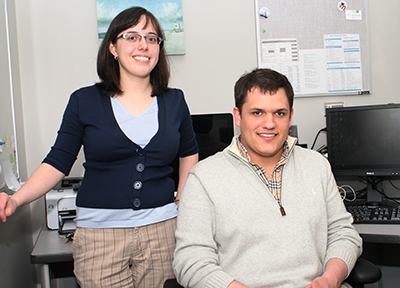 Kristina Jansson
ITS support specialist
B.A., elementary education, Augustana College
Jacob Sheets
Web programming specialist
B.A., graphic communication and computer science, Western Illinois University
Kristina Jansson '09 ("the new Beth Whitty") may be new to her position in ITS but students, staff and faculty often do a double-take when they see her, especially when she's sitting in her first-floor office in Olin. Not only did she graduate just two years ago, she also was a student worker for ITS all four years she was on campus, including summers. "I've been in every office with a computer on this campus," Kristina says.
Her familiarity with campus, ITS and her passion for teaching (i.e., education major) made her a worthy candidate when the support specialist position in ITS became available. Kristina taught preschool for a year following graduation and now is enjoying working one-on-one with adults in an area that's interested her for many years.
When asked to note something about herself that might surprise others, Kristina says she's not as quiet as people think; she calls herself an "outgoing introvert."
A true new face in Olin is Jacob Sheets, who is a web programming specialist and—surprisingly enough—an Apple enthusiast. "Apple does a great job integrating their products to work seamlessly with each other, along with delivering a clean graphical user interface that all audiences can adapt to," he says. "Also, I like the fact that Apple exclusively produces the operating system for their products, unlike many others. However, as a programmer I've been limited as to what I can achieve on a Mac. This has allowed me to appreciate the Windows environment and all of the great features it offers."
In addition to working full-time at Augustana, Jacob is in his last semester of graduate school at Western Illinois where he is studying instructional design & technology. During his free time, which doesn't add up to much right now, Jacob likes to golf; read; and hang out with friends, family and his English bulldog, Mac.
Jacob points out that like most English Bulldogs, Mac is very bossy. Also, he whines like a little baby when he wants something, or when something doesn't go his way. But Mac is extremely friendly, and Jacob doesn't think he'll ever own any other breed.
From the Cabinet
W. Kent Barnds, Vice President for Enrollment, Communication and Planning
Last Friday I attended a gathering of professionals from colleges and community-based organizations who share a common interest in community and civic engagement. The meeting was organized and sponsored by Augustana's Community Engagement Center and covered a variety of topics related to community engagement.
During the meeting I was reminded that although the terms "community" and "civic engagement" are en vogue today, the concepts have been and remain at the core of what colleges like Augustana have been doing for decades. Furthermore, I was reminded that such things as internships, community service, service learning and doing research focused on the surrounding community are things we can expect of all members—administration, staff, students and faculty—of the Augustana community. Greg Aguilar's Field Notes essay above illustrates our college's respect for learning through service.
One of the great purposes of education is to impact the world around us, and there seems no more noble academic pursuit than better understanding and positively impacting our community—the neighborhood, the Quad Cities and the broader community. Community and civic engagement are academic at the core, and are part of fulfilling our mission to educate students for rewarding lives of leadership and service.
In the Works
Director of Human Resources Laura Ford authors a perennial series of information and wisdom pertaining to being an employee at Augustana College.
How many vacation days do I have left? Have I used any personal time this year? What's the average amount of sick time Augustana employees use? Here in HR we get a lot of these sorts of questions—especially as we all plan for vacations—but answers often are not readily available.
However, we soon will be able to provide quick answers as we implement TimeClock Plus software. Earlier this year, a committee of folks from across campus evaluated a number of systems to streamline our time tracking, and we are really excited about the new vendor with whom we will be partnering. This new technology will provide a more consistent and efficient way to track time worked and time off for all non-faculty employees as well as for our student workers. Employees will be able to access the system via time clock or (for most employees) from their home or work computer.
We are just getting started on the implementation and you will hear much more in the coming days and weeks. We anticipate a phased rollout with full integration by the end of the calendar year. While there are many benefits, some of our favorite features include:
• Real-time information on leave taken and available
• Capability for administrative employees to report time off, which will be recorded on the system as well as on pay advices
• Time clock access through a fingerprint
• Easy scheduling for student employees and pay approval with the click of a mouse
• Electronic requests and approvals for time off
And it can do much more…. We will have training for all employees as TimeClock Plus is phased into your area of campus.
Seen and Heard
"Dr. Wolf, you are my hero."—Eighth grader from Moline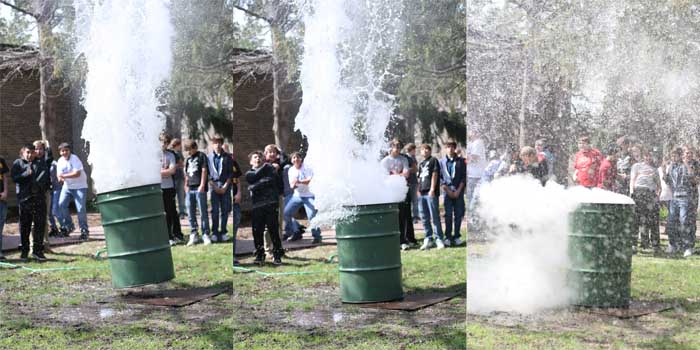 Nearly 150 Moline eighth graders visited the Fryxell Museum, the John Deere Planetarium and the Augustana College Art Museum on April 14. Outside Swenson Hall of Geosciences, the students shrieked with joy at explosions from the geology department's volcanic eruption simulator, a 460-lb. water-filled steel drum loaded with liquid nitrogen.
Acknowledge
is published by the Office of Communication and Marketing. Contact
Beth Roberts
, editor. Photos in this issue were contributed by Greg Aguilar, and Corynn Hanson '11 and Matt Peters '11 of the Augustana Photo Bureau. To see the calendar of upcoming Augustana events, go to
www.augustana.edu/calendar
.