April 16, 2011
2010-11 Season - Vikings sweep Monmouth & Simpson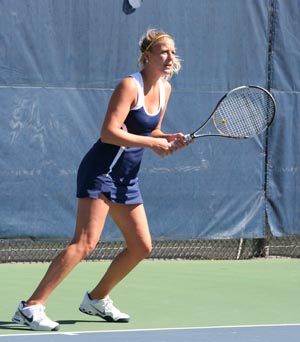 Tricia Sapio won all four of her matches against Monmouth and Simpson this past weekend. The senior now has 97 victories for her career, including a career-high 19 singles wins this season.
MOLINE, Ill. – The Augustana women's tennis team increased its winning streak to four with a pair of 9-0 victories on Saturday, April 16 at the Quad City Tennis Club in Moline, Illinois. The Vikings swept Monmouth and Simpson while using 11 players in the varsity lineup.
Seniors Tricia Sapio (Barrington HS, Hoffman Estates, Ill.) and Sheri Hendricks (Wheaton Warrenville South HS, Warrenville, Ill.) paired together for an (8-3) victory over Kimi Wegner and Joi Henry of Monmouth in the morning match. Sophomores Krista Panko (Geneva HS, Geneva, Ill.) and Meghan Wethington (Geneseo HS, Geneseo, Ill.) also won by an (8-3) score at No. 2, defeating Ashley Reynoso and Kristen Huffman. Freshmen Katie Scharnagle (St. Francis College Prep, Lisle, Ill.) and Mariah Bardo (Sterling HS, Sterling, Ill.) beat Ashley Lawrence and Claire McGuire (8-1) at No. 3.
Freshman Shannen McNamara (Battle Mountain HS, Avon, Colo.) was a (6-3, 6-0) winner against Wegner at No. 1 singles while freshmen Kim Sawyer (Batavia HS, Batavia, Ill.) defeated Reynoso (6-1, 6-1) at No. 2. Sapio collected her second victory of the day with a (6-2, 6-2) decision over Henry at No. 3. Junior Brittany Reece (Naperville Neuqua Valley HS, Naperville, Ill.) nailed down a (6-2, 6-0) victory against Huffman at No. 4 while freshman Emily Kaczmarek (Glenbard South HS, Lombard, Ill.) raced to a (6-0, 6-0) win at No. 5, beating Lawrence. Junior Alyssa Quitschau (Jacobs HS, Algonquin, Ill.) earned a (6-1, 6-0) victory over McGuire at No. 6.
The Vikings turned around and started right back up with singles against Simpson in the afternoon. Sawyer was a (6-4, 6-1) winner at No. 1, defeating Mikayla Struebing and improving to 26-6 on the year. McNamara beat Tiffany Bost (6-1, 6-0), giving her a 22-8 singles mark. Sapio continued her perfect day with a (6-1, 4-3, default (injury) win over Allison Anderson at No. 3. Panko dispatched Lauren Schemmel (6-0, 6-1) at No. 4, Hendricks beat Maggie McDevitt (6-0, 6-2) at No. 5, and Wethington defeated Whitney Thompson (6-0, 6-2) at No. 6.
McNamara and Sawyer swept Struebing and Bost (8-0) at No. 1 doubles. Panko and Reece teamed up for an (8-3) victory against Lindsay Nash and Schemmel at No. 2. Sapio polished off a 4-0 day by pairing with Kaczmarek for an (8-3) win against McDevitt and Thompson at No. 3. Sapio now has 97 wins for her career.
The Vikings improve to 16-8 overall this season. Sixteen victories in a single year marks the third highest total in school history. The 1993-94 squad was 19-3 and the 1997-98 team was a perfect 18-0.
Augustana will be on the road to face Dubuque on Wednesday, April 20. The Vikings are also scheduled to host Eureka that day, but the match may be cancelled if there is bad weather.
04/16/11 – Augustana 9, Monmouth 0
| | |
| --- | --- |
| | RESULT |
| Singles | |
| 1. | Shannen McNamara (AUGIE) def. Kimi Wegner (MC) 6-3, 6-0 |
| 2. | Kim Sawyer (AUGIE) def. Ashley Reynoso (MC) 6-1, 6-1 |
| 3. | Tricia Sapio (AUGIE) def. Joi Henry (MC) 6-2, 6-2 |
| 4. | Brittany Reece (AUGIE) def. Kristen Huffman (MC) 6-2, 6-0 |
| 5. | Emily Kaczmarek (AUGIE) def. Ashley Lawrence (MC) 6-0, 6-0 |
| 6. | Alyssa Quitschau (AUGIE) def. Claire McGuire (MC) 6-1, 6-0 |
| Doubles | |
| 1. | Tricia Sapio/Sheri Hendricks (AUGIE) def. Kimi Wegner/Joi Henry (MC) 8-3 |
| 2. | Krista Panko/Meghan Wethington (AUGIE) def. Ashley Reynoso/Kristen Huffman (MC) 8-3 |
| 3. | Katie Scharnagle/Mariah Bardo (AUGIE) def. Ashley Lawrence/Claire McGuire (MC) 8-1 |
04/16/11 – Augustana 9, Simpson 0
| | |
| --- | --- |
| | RESULT |
| Singles | |
| 1. | Kim Sawyer (AUGIE) def. Mikayla Struebing (SIMPSON) 6-4, 6-1 |
| 2. | Shannen McNamara (AUGIE) def. Tiffany Bost (SIMPSON) 6-1, 6-0 |
| 3. | Tricia Sapio (AUGIE) def. Allison Anderson (SIMPSON) 6-1, 4-3 – default (injury) |
| 4. | Krista Panko (AUGIE) def. Lauren Schemmel (SIMPSON) 6-0, 6-1 |
| 5. | Sheri Hendricks (AUGIE) def. Maggie McDevitt (SIMPSON) 6-0, 6-2 |
| 6. | Meghan Wethington (AUGIE) def. Whitney Thompson (SIMPSON) 6-0, 6-2 |
| Doubles | |
| 1. | Shannen McNamara/Kim Sawyer (AUGIE) def. Mikayla Struebing/Tiffany Bost (SIMPSON) 8-0 |
| 2. | Krista Panko/Brittany Reece (AUGIE) def. Lindsay Nash/Lauren Schemmel (SIMPSON) 8-3 |
| 3. | Tricia Sapio/Emily Kaczmarek (AUGIE) def. Maggie McDevitt/Whitney Thompson (SIMPSON) 8-3 |