April 17, 2011
2011 Season - Wallace gets 400th win in sweep of Carthage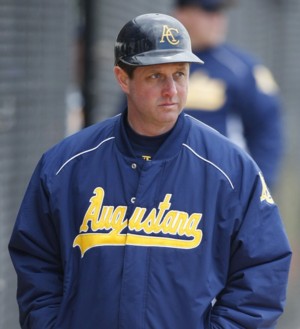 With a 3-1 and 8-7 doubleheader sweep of league-leading Carthage Sunday, veteran Augustana head coach Greg Wallace picked up his 400th win at his alma mater.
MOLINE, Ill.-Tremendous pitching performances by Jared McIntosh (Assumption HS, Davenport, Iowa) and John Peters (Alleman HS, Milan, Ill.) along with some timely late hitting in each game led Augustana to a doubleheader sweep of Carthage Sunday at Swanson Stadium/Brunner Field. After winning the opener 3-1, the Vikings came from behind in game two to pull out an 8-7 victory, giving head coach Greg Wallace his 400th win at Augustana. The 15th-ranked Vikings are now 19-5 overall and in a three-way tie for second place in the CCIW at 8-3.
Game One: Augustana 3, Carthage 1
After giving up a home run to Carthage's Billy Herrin to lead off the game, McIntosh would allow just three hits and no runs in the rest of his eight-inning stint. He set the Red Men down in order in the second, third, fourth, fifth and seventh innings, retiring 13 straight at one point. He picked up the win and improved to 4-0 on the year. Josiah Martin (Canton HS, Canton, Ill.) threw a perfect ninth inning to pick up his fourth save of the season.
While McIntosh was cruising, the Viking hitters were threatening, but having trouble scoring against Carthage ace Mario Perez. Augustana was scoreless through the first five innings, leaving the bags full in the first and fourth, and stranding a runner at third in the fifth.
After McIntosh pitched out of a two-on, no-out jam in the top of the sixth, the Vikings finally broke through in the bottom of the frame. Kurt Schmidt (Grayslake Central HS, Grayslake, Ill.) got things started with a one-out single to center. Kevin Serna (Rolling Meadows HS, Arlington Heights, Ill.) laced a double to right center, moving Schmidt to third and Anthony Concialdi (Fremd HS, Barrington, Ill.) followed with a single to right, scoring Schmidt with the tying run. Perez got out of further trouble by inducing an inning-ending double play grounder by Jacob VanDuyne (Wilmington HS, Wilmington, Ill.).
In the bottom of the seventh, Joe Moran (Notre Dame HS, Chicago, Ill.) reached on a one-out bunt single up the first base line. He was moving on the pitch when T.J. O'Donnell (New Trier HS, Northbrook, Ill.) lined a single to right center and came all the way around, beating the Carthage relay throw to score the go-ahead run.
The Vikings added an insurance run off Carthage reliever Mitch Lochen in the eighth. Serna was hit by a pitch with one out, stole second and moved to third when catcher Matt Sunderland's throw sailed into center. He came home on VanDuyne's fielder choice grounder.
McIntosh gave up four hits and one run in eight innings. He issued just one walk and fanned four. Jeremy Juhl (Glenbard East HS, Lombard, Ill.) had three of the Vikings' 10 hits while Concialdi had two.
Game Two: Augustana 8, Carthage 7
It looked like the Red Men would get the equalizer in game two. They jumped on Augustana early, scoring in each of the first four innings.
Joey Aiello's two-run homer in the top of the fourth gave Carthage a 7-3 lead and knocked Viking starter Mike Trotta (Notre Dame HS, Chicago, Ill.) from the game. Wallace turned to Peters out of his bullpen and the junior shut the potent Red Men offense out over the final 5 2/3 innings, allowing Augustana to come back and get the landmark win for the Viking skipper.
Augustana chipped away at the Carthage lead with single runs in the fifth and sixth innings. McIntosh-the Vikings' designated hitter in game two-delivered an RBI single in the fifth and Dave Hoffman (Cary-Grove HS, Cary, Ill.) added one of his own in the sixth.
Trailing 7-5 heading to the bottom of the eighth, Mike Barker (Grandview, Colo. Centennial HS, Marina Del Rey, Calif.) led off with a single to right. One out later Red Men starter Danny Dahm hit Moran with a pitch. Michael Sanchez came on in relief and Hoffman worked him for a walk to load the bases. O'Donnell lofted a fly to short right center. Carthage centerfielder Will Hodges made the catch, but had to leave his feet, allowing Barker to tag and score to make it 7-6. Freshman first baseman Pat Wilson (Stevenson HS, Vernon Hills, Ill.) then lined a double, scoring Moran and Hoffman with the tying and go-ahead runs.
Wallace stuck with Peters for the top of the ninth and he retired the Red Men in order to get his third win in as many decisions. He allowed five hits and no runs in 5 2/3 innings while walking one and fanning one. Wilson led the offense with three hits and three RBI. McIntosh and Concialdi each had two hits and an RBI.
The doubleheader sweep was the Vikings' first over Carthage in almost ten years (April 29, 2001) and the two teams meet again in a single game on Monday, April 18 at 12:30 p.m. at Swanson Stadium/Brunner Field.