April 15, 2011
2011 Season - Lightning ends Augustana Invitational before finish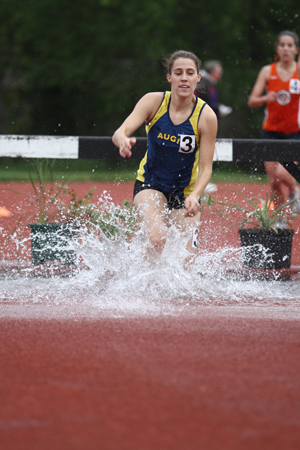 Sophomore Annie Heifner placed fourth in the 3000 steeplechase at the Augustana Invitational on Friday, April 15 before the meet was cancelled due to repeated lightning in the Quad City area.
Mother Nature was the big winner on Friday, April 15 as a prolonged lightning storm postponed and eventually forced the cancellation of the Augustana Invitational. The event suffered a postponement at 7:30 p.m. and officials waited until 10:30 p.m. before cancelling the meet after 12 events had been completed.
No team scores were compiled but Augustana did place in eight of the 12 events that were in the books at the time that the meet was called.
Sophomore Annie Heifner (Oregon HS, Oregon, Wis.) placed fourth in the 3000 steeplechase with a time of 11:52.87. The Vikings also got a seventh place finish in the event from senior Katie Ries (Iowa City Regina HS, Iowa City, Iowa) and an eighth from junior Sarah Johnson (Grayslake North HS, Lake Villa, Ill.). Ries was timed in 12:05.07 and Johnson ran 12:39.99.
In the 100 hurdles freshman Kierra Smith (Creston HS, Creston, Iowa) took fourth in :15.76 and senior Amy Walsh (Cary-Grove HS, Cary, Ill.) was sixth in :15.81.
Senior Ella Mathieson (Lyons Township HS, LaGrange, Ill.) was fourth in the long jump with a leap of 17' 2 ¾". Junior Catherine Foreman (St. Joseph-Ogden HS, St. Joseph, Ill.) placed fourth in the javelin with a toss of 91' 1" and sophomore Jordan Mauerman (Albany HS, Albany, Wis.) was fifth at 90' 11".
The 400 meter relay team took fifth in :51.57. Junior Melanie Battistoni (York HS, Elmhurst, Ill.) finished fifth in the discus with a throw of 106' 2" and sophomore Bethany Siwek (Woodstock HS, Woodstock, Ill.) took sixth with a mark of 104' 3".
Senior Hannah Hottle (Monmouth-Roseville HS, Monmouth, Ill.) took sixth in the 1500 in 4:46.99. Freshman Katie Kornaus (Portage HS, Portage, Wis.) was seventh in the 800 (2:31.99) and freshman Kelsey Moon (Mundelein HS, Wauconda, Ill.) was eighth (2:33.28).
Augustana will compete in the Northern Illinois Invitational on Saturday, April 23 in DeKalb, Illinois.