April 15, 2011
2011 Season - Men's track & field now third in NCAA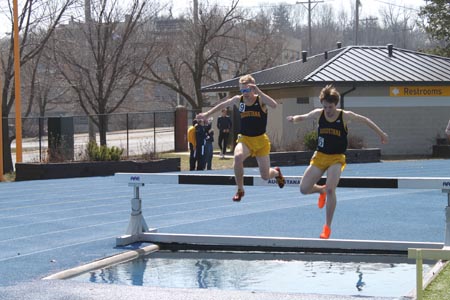 Augustana is now third in the latest NCAA Division III men's track & field national poll.
After another week of outdoor competition, the Augustana Vikings rank third in this week's NCAA Division III Track & Field Team Dual Meet Rankings. The Vikings have 198.47 points in the rankings for the week of April 12 th . This poll is conducted by the U.S. Track & Field and Cross Country Coaches Association.
Shooting up the rankings, North Central College currently is in the top spot with 203.11 points. They pass Whitworth, who now occupy second with 203.03 points. Nebraska Wesleyan and Bates College round out the top five this week, with 191.71 and 191.59 points respectively. Two other Midwest Region schools join Augustana and North Central in the top 10. Washington University (178.42) is in ninth place, and UW-Whitewater holds the 10th spot with 176.85 points.
So far this season Augustana has competed in four meets. The Vikings won their dual meet with St. Ambrose by a score of 154-54 on March 19 in Rock Island, Illinois Iowa and finished first in the Viking Olympics on March 26. On Saturday, April 2, Augustana finished second at the Wartburg Select meet in Waverly, Iowa. Last weekend, Augustana finished second in a field of 16 that included four NCAA Division I teams.
Augustana will host the Meet of Champions at the Paul V. Olsen Track Complex in Rock Island, Illinois on Friday, April 15 and Saturday, April 16.
2011 NCAA DIVISION III OUTDOOR POWER DUAL MEET POWER RANKING
Sponsored by the USTFCCA
As of 04/12/2011
POLL #2
| | | | |
| --- | --- | --- | --- |
| RANK | SCHOOL | REGION | POINTS |
| 1. | North Central College | Midwest | 203.11 |
| 2. | Whitworth University | West | 203.03 |
| 3. | Augustana College | Midwest | 198.47 |
| 4. | Nebraska Wesleyan University | Central | 191.71 |
| 5. | Bates College | New England | 191.59 |
| 6. | Claremont McKenna-Harvey Mudd-Scripps Colleges | West | 190.43 |
| 7. | Massachusetts Institute of Technology | New England | 187.63 |
| 8. | Rensselaer Polytechnic Institute | Atlantic | 178.54 |
| 9. | Washington University (Missouri) | Midwest | 178.42 |
| 10. | University of Wisconsin, Whitewater | Midwest | 176.85 |