April 15, 2011
2011 Season - Vikings 17th in NCAA women's track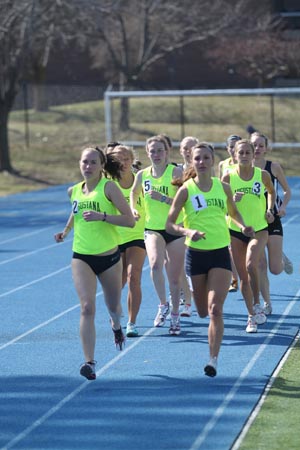 The Augustana Vikings are currently ranked 17th in the latest NCAA Division III women's track & field poll.
After spending last week in the top 10, the Augustana women's track & field team slipped to 17 th place in this week's Division III Track & Field Team Dual Meet Rankings. The Vikings increased their point total from 139.04 to 149.50, but still lost ground. The ranking is sponsored by the US Track & Field and Cross Country Association and it encompasses the top two performances by each team in every event.
This week, Massachusetts Institute of Technology occupies the top spot in with 169.37 points, followed closely by Baldwin-Wallace College with 166.74 points. Claremont McKenna-Harvey Mudd-Scripps fell to the third slot this week. Fellow Midwest Region foes Monmouth College (163.58) and UW-Oshkosh (162.34) rank fourth and fifth, respectively.
So far this season the Vikings have competed in a total of four meets. The season started with the Vikings hosting St. Ambrose in a dual meet on March 19 which the Vikings won by a score of 127-77. Augustana finished second in the Viking Olympics on March 26 in Rock Island, Illinois and placed ninth in the Wartburg Select meet on April 2 in Waverly, Iowa last week. Head Coach Fred Whiteside's squad competed in the Lee Calhoun Memorial Relays this past weekend, finishing fifth in a field of 12 teams.
The Vikings will host the Augustana Invitational this Friday, April 15 th in Rock Island Illinois.
2011 NCAA DIVISION III WOMEN'S TRACK & FIELD DUAL MEET POWER RANKINGS
US Track & Field/Cross Country Coaches Association
April 12, 2011 – Ranking #2
| | | | |
| --- | --- | --- | --- |
| Rank | School | Region | Points |
| 1. | MIT | New England | 169.37 |
| 2. | Baldwin-Wallace College | Great Lakes | 166.74 |
| 3. | Claremont McKenna-Harvey Mudd-Scripps Colleges | West | 164.90 |
| 4. | Monmouth College | Midwest | 163.58 |
| 5. | UW-Oshkosh | Midwest | 162.34 |
| 6. | Tufts University | New England | 159.39 |
| 7. | Whitworth University | West | 159.36 |
| 8. | Ithaca College | Atlantic | 157.86 |
| 9. | Williams College | New England | 155.40 |
| 10. | Washington University | Midwest | 155.13 |
| | | | |
| --- | --- | --- | --- |
| 11. | | South | 155.07 |
| 12. | | South | 154.65 |
| 13. | | Central | 153.96 |
| 14. | | West | 153.79 |
| 15. | | Great Lakes | 153.42 |
| 16. | | Great Lakes | 150.95 |
| 17. | AUGUSTANA | Midwest | 149.50 |
| 18. | | Central | 147.68 |
| 19. | | Mideast | 146.04 |
| 20. | | Atlantic | 145.58 |