Shining new light on Our Town
Thornton Wilder's classic play asks timeless questions
April  14, 2011
Showtimes:

7:30 p.m. Friday, April 29;
Saturday, April 30;
Friday, May 6;
and Saturday, May 7

1:30 p.m. Sunday, May 1
and Sunday, May 8

Tickets:

$11 or $9 for seniors (age 60+), students (full-time any school), and children.

Purchase online or call (309) 794-7306.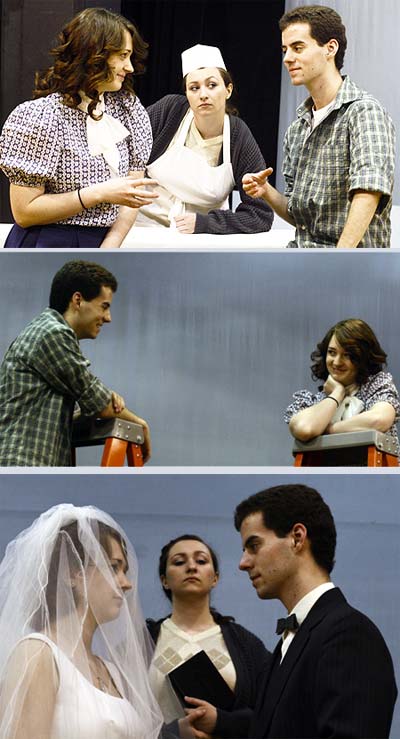 Our Town rehearsals show Kat Martin as Emily, William Cahill as George, and Jacquelyn Schmidt as both soda jerk and pastor. (Augustana Photo Bureau/Corynn Hanson)
For the final production of its 2010-11 season, Reflections, Augustana College Theatre will perform Our Town by Thornton Wilder. Set in the fictional New Hampshire town of Grover's Corners during 1901-1913, the play presents a clear look at humanity through rituals of the human journey: daily life, love and death. The play was first performed in 1938 and won the Pulitzer Prize for drama that year.
In 2008, a Chicago production of Our Town directed by David Cromer caught reviewers' imagination with its contemporary spin, and spurred a revival of the classic. Augustana last staged the play in 1989, and with its own 2011 revival has created an Our Town "more theatrical, more minimalistic-more Brechtian," according to director Jeff Coussens.
As one example, he points to the character of the "stage manager," generally depicted as a Grover's Corners citizen who returns to the town 30 years earlier, offering commentary on the inhabitants and their activities, and occasionally stepping in to play a role as needed.
"The stage manager occupies that same time period — usually. In our play the stage manager is of the present time, 100 years later," Coussens notes. "And so his (in our case, her) commentary is not just nostalgic reflection. We ask the audience to look at the past through a contemporary lens."
The stage manager is junior Jacqui Schmidt, a theatre arts and English writing major with a minor in art. "When I become some of the other characters within the play, I sometimes have to present a male character by altering my body language, posture and vocal patterns," she says. "This allows me to bring in a contemporary take on what the gender roles would have been during the early 1900s in a small town like Grover's Corners."
The events and questions "have a different resonance than they would 100 years ago," Coussens says. "Yet the rituals are essentially the same today. This causes the audience to reflect on the ways we are different now, and how we are the same — and at the same time reflect on those universal questions." He laughs. "It's a meta-reflection."
The theme of "reflection" carries throughout the set, as well. Lighting and set designer Andy Gutshall set the stage using light and shadow to evoke the outlines of town buildings, a stained-glass window, and the movement and shapes of leaves from a butternut tree lit by the moon. The effect is created by a gobo, a thin layer of material etched with an image placed in front of a lamp.
The moon plays an integral role in the story, where its light is considered so potent one night as to be "terrible." It inspires characters in the midst of their routines, and helps bind the primary characters of Emily and George as they gaze out into the night from their neighboring houses.
These two, played by junior Kathryn Martin and first-year student Bill Cahill, are timeless in their search for happiness and clarity. Cahill, a theatre arts major, says preparing for the role of George showed him "that the human experience hasn't changed over the past 100-plus years, which I think is something a lot of people don't know, or at least they aren't aware of it."
Awareness is one quality the play seeks to clarify for those who experience it. "This play has made me appreciate the time I spend with my friends and family more," says Cahill. "It's a sad truth, but no one lives forever."
The play will run two consecutive weekends, beginning Friday, April 29, and ending Sunday, May 8. Every performance will engage the audience through interaction and planted scripted roles.
For the April 30 evening show, members of Augustana's Our Town cast from 1989 will return to Potter Theatre to participate in the production, read scenes in character, and meet the cast from 2011. This special event just might highlight Wilder's classic theme of the passing of time: how things change, and how much remains the same.