April 13, 2011
2011 Season - Vikings split with Lady Reds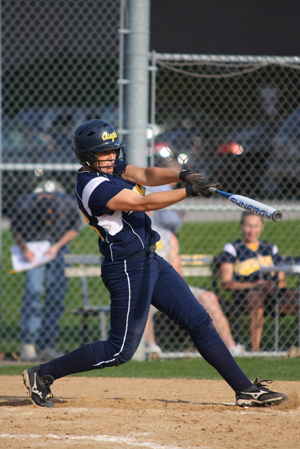 Freshman shortstop Krista Watson homered three times in Wednesday's doubleheader at Carver Field. The Vikings split with Carthage, winning game one 11-2, but dropping the nightcap 7-4.
ROCK ISLAND, Ill.-Freshman shortstop Krista Watson (Coal City HS, Coal City, Ill.) blasted three home runs on the day and Christina Trojanowski (Evergreen Park HS, Evergreen Park, Ill.) went 4-for-4 with four runs scored to lead the Vikings to a 11-2 game one win as Augustana split a doubleheader with Carthage Wednesday at Carver Field. The Vikings dropped the nightcap 7-4 despite a pair of Watson homers, falling to 16-14 on the year and 4-4 in the CCIW.
GAME 1 - AUGUSTANA 11, CARTHAGE 2
A pair of four run innings late in the contest allowed Augustana to score an 11-2 victory over Carthage in the first game of a critical College Conference of Illinois & Wisconsin double header. The game was tight, with the Vikings holding a 3-2 advantage heading into the bottom of the fifth when the home team broke loose with four runs.
Trojanowski led off with a double off Carthage starter Krystina Leazer. After an out, senior Melissa Nelson (West Aurora HS, Aurora, Ill.) singled Trojanowski to third. Nelson stole second and both her and Trojanowski came home on a double down the left field line by Stephanie Sarb (Lisle, Ill.). Sarb then went to third on a passed ball and scored on a single by sophomore Jenna Nelson (Orion HS, Orion, Ill.) to make it 6-2. Nelson gave way to pinch runner Allyssa Powles (Zion-Benton HS, Wadsworth, Ill.). Powles went to second on a single by Watson and came home on a single by freshman Kelsy Winter (United Township HS, East Moline, Ill.).
That made it 7-2 heading into the sixth inning and the Vikings put four on the board to end the game early. Trojanowski, Gibbs and Melissa Nelson started the inning with singles to load the bases. After an out, Jenna Nelson single in Gibbs and Trojanowski to make it 9-2. Watson homered to bring home Nelson to cut the game short at 11-2.
Augustana broke out on top 1-0 with a single run in the bottom of the first. Trojanowski, who would have four hits and score four runs in the game, singled over a drawn in infield to start things off. She went to second on a passed ball and scored when Jillian Gibbs' (Rock Island HS, Rock Island, Ill.) sacrifice bunt was misplayed for an error.
Carthage claimed the lead at 2-1 when Katie Paulmeyer hit a two run home run in the top of the second. The Vikings wasted no time getting those two runs back and once again it was Trojanowski at the start of it all. She led off with a single and went to second on a single by Melissa Nelson. A single by Sarb brought home Trojanowski and moved Nelson to third. Sarb was replaced by pinch runner Abbi Staples (Sterling HS, Sterling, ill.). Staples broke for second and got caught in a run-down and Nelson scored from third base to make it 3-2.
The Vikings had 16 hits in the game with Trojanowski leading the way with four and Melissa Nelson had three. Sarb, Jenna Nelson, Watson and Winter each had two hits.
Freshman Sarah Hintz (Leroy HS, Leroy, Ill.) went the distance, allowing just six hits while striking out four and she did not issue a walk. She moves to 7-5 on the year.
GAME 2-CARTHAGE 7, AUGUSTANA 4
A six-run fourth inning in game two was the difference as Carthage came back to earn a split.
In the bottom of the third, Viking starter Ashley Yaros (Stagg HS, Palos Hills, Ill.) hit Lady Red Jen Precht with a pitch and Precht came around to score the game's first run on a two-out single by Kari Peterson. Winter singled in Melissa Nelson to tie it in the top of the fourth, but the Vikins missed an opportunity to get more, leaving the bases loaded.
Carthage's Alyssa Schrader doubled to start the bottom of the fourth and came around to score the go-ahead run on a pair of Yaros wild pitches. A single and two walks loaded the bases and pinch hitter Sarah McGinn came through with a two-run single to push the lead to 4-1. The final three runs of the inning scored on a pair of singles and a sacrifice fly.
Watson and Sarb each hit solo homers in the fifth to cut the lead to 7-3 and Watson hit her second of the game and third of the day in the seventh to account for the final score.
Schrader, who started the game at first base, came in to throw 2 2/3 innings in the middle of the game and was credited with the win. Lady Red starter pitcher Alyssa Sirrochi came back in to finish up. Yaros fell to 7-3 on the year with the loss.
Augustana hosts North Park in a doubleheader beginning at 1:00 p.m. on Saturday, April 16.