Five Questions for: Rosita Tendall
April  14, 2011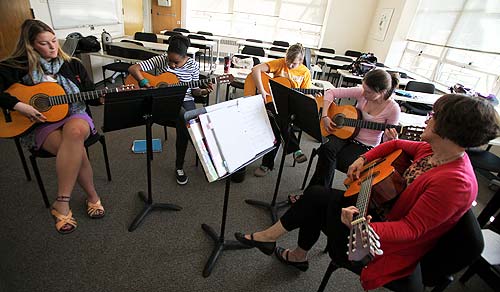 Rosita Tendall, right, works with students, from left, Allie Bierhaus '12 of Bettendrof, Iowa, majoring in elementary education and Spanish; Alannah Golden '13 of Rock Island, majoring in elementary education; Amy Knourek '13 of Mokena Ill., majoring in elementary education and psychology; and Jennie Halper '13 of Naperville, Ill., majoring in elementary education and religion. (Augustana Photo Bureau/Marla Alvarado Neuerburg)
Five Questions is a series of profiles of people at Augustana College. Rosita Tendall, assistant professor of music, gives the answers today. If you know someone you'd like to see profiled, send his or her name and a note to sharenews@augustana.edu.
1. Why is understanding and appreciating music an important element in the development of a child?
Music comes naturally to children. It's a big part of the way they express themselves. They think, feel and interact musically all the time. I think music is everything to children, not just as a discipline, but also as an organic part of their everyday existence and a way of knowing about the world. They can learn so many non-musical skills as well from participating in music.
2. Why do you think I hated playing the trumpet in junior high school?
You were probably introduced to music in a more traditional manner that required you to learn to play the instrument as you were learning to read music. That can be very frustrating for kids as they try to learn physical skills like where to place their fingers as they try and learn what really is a new language at the same time. Another way is suggested by approaches that employ sound before symbol such as Orff, Kodaly, or Suzuki. These approaches involve the aspiring musician in a process of exploring sounds well before introducing them to musical symbols that represent those sounds. Students who learn to play musical instruments by ear can gain an early appreciation for music as a way to express themselves as well as increase their musicianship and aural skills before adding the layer of reading the music notation.
3. Can you describe what a breakthrough moment with one of your music education students looks like?
The most memorable breakthroughs are when the music teacher candidate doing fieldwork begins to gain real satisfaction from the achievements of his or her students — when it becomes not about what they can do, but what their students accomplish. One of my future teachers told me the other day how excited she was that her 4th graders were beginning to demonstrate the ability to instantly distinguish between the sounds made by the oboe and French horn by identifying the different timbres or qualities of sound between the instruments. She was especially excited because this breakthrough was going to help them get the most out of their scheduled trip to an upcoming Quad City Symphony Orchestra concert.
4. You have children. Are any of them involved in music?
My oldest son, Jon, is a business professional by day and a techno-rock DJ on weekends. My middle daughter, Elizabeth, is a fantastic singer. She could stand here now and wow you with her ability to sing jazz. She's got two little ones at home so she is not as involved in music right now. My youngest daughter, Sarah, plays keyboards, trumpet and accordion in the Minneapolis-based band Cloud Cult. My stepdaughter Erica lives in California and she and her husband served in Iraq in the National Guard. My stepson Jeff lives in Minneapolis and works as a purchaser for a business there.
5. What is on your bucket list?
So many things: I would like to do a solo vocal recording, maybe of lullabies or original children's songs. I would like to find more opportunities to sing jazz. I also would like to travel to Ireland and hear local tenors singing in Pubs. And one of the things I would love to do is travel and learn and publish folk dances from around the world where these old traditions might become lost.