April 9, 2011
2010-11 Season - Paustian ties for 13th at Augie Invite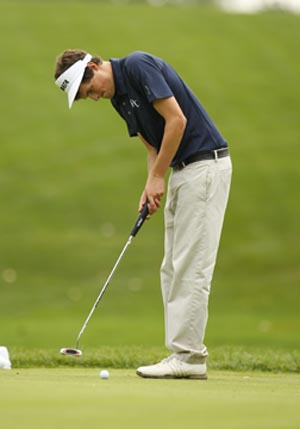 Jeff Paustian led the Vikings by tying for 13th place in the 102 player field at the Augustana Invitational. He finished with a score of 152 after shooting rounds of 77 and 75. Paustian is second on the team with a 79.3 scoring average.
MILAN, Ill. - The Augustana men's golf team hosted the Augustana Invitational at Pinnacle Country Club on Friday, April 8 and Saturday, April 9 in Milan, Illinois and finished 10th out of 18 squads. The Vikings scored a 325 on the first day, but came roaring back with a 308 in the final round of action.
Illinois Wesleyan earned the team title with a two day total of 580 (285 + 295). St. Ambrose was the only other team to finish under 600 strokes, tallying a 597 (298 + 299). Monmouth brought two squads, who finished third and fourth, while the St. Ambrose JV squad placed fifth. Monmouth's varsity shot a 616 (304 + 312) while its JV team finished just three shots behind at 619 (307 + 312). The St. Ambrose JV squad completed two rounds with a total of 622 (315 + 307).
The next seven teams were only separated by eight strokes. Carl Sandburg Community College finished at 628 (320 + 308) and Black Hawk Community College shot a 630 (312 + 318). The Illinois Wesleyan JV squad was at 631 (310 + 321) and North Central finished at 632 (315 + 317).
Augustana was tenth and finished two shots in front of Olivet Nazarene, who scored 635 (317 + 318) and three shots ahead of Benedictine, who completed the event with a score of 636 (314 + 322). The Vikings also finished in front of Knox (641) and Elmhurst (650). Augustana's JV squad finished in 15th with a total of 667 (326 + 341). Ashford (669), Aurora (672), and Palmer (700) rounded out the field.
Sophomore Jeff Paustian (Geneva HS, Geneva, Ill.) opened with a 77 and then shot a team best round of 75 on the second day, finishing with a score of 152. He tied for 13th place in the 102 player field to lead the Blue & Gold. Senior T. Cole Wells (Tri-Valley HS, Downs, Ill.) shot an 81 in round one and followed with a 77 to finish in a tie for 27th place with a score of 158. Junior Jordan Henry (Erie HS, Erie, Ill.) was just a single stroke behind at 159, tying for 37th place in the field. She shot an 82 in the first round and then equaled Wells' 77 on the final day of competition. Senior Kyle Weigand (Leyden HS, Franklin Park, Ill.) tied for 60th with a score of 164. He shot an 85 and then rallied with a 79. Sophomore Curtis Lubic (Kaneland HS, Sugar Grove, Ill.) rounded out the top squad with a tie for 85th place. He shot an 89 and an 85 to finish at 174.
Senior Phil Litchfield (Benet Academy, Darien, Ill.) led Augustana's second squad with a final score of 153, tying for 17th place overall. He fired an opening round 73 and shot an 80 in the second round. Senior Ted Keopple (Geneseo HS, Geneseo, Ill.) tied for 60th with a 164, completing the first round in 80 strokes and then taking 84 on the final day of action. Junior Greg Karesh (Downers Grove South HS, Downers Grove, Ill.) had a 93 on the first day, but rebounded with an 85 to finish in a tie for 90th with a 178. Junior Marko Loncar (Marist HS, Chicago, Ill.) came in just two shots behind Karesh at 180, firing rounds of 88 and 92. Freshman John Stone (Rockridge HS, Reynolds, Ill.) finished in 96th with a 183. He shot an 85 and then followed with a 98.
Dex Reese and Shane Smith of Illinois Wesleyan tied for medalist honors, each finishing with a score of 143.
The Vikings are back in action on April 15-16 for the first two rounds of the College Conference of Illinois & Wisconsin tournament at Cress Creek Country Club in Naperville, Illinois.
Story written by Assistant Sports Information Director Adam Strand