April 11, 2011
2011 Season - Peters two-hits Monmouth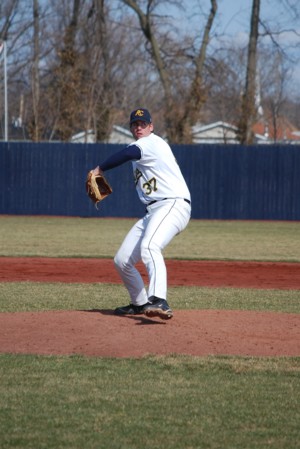 Junior right-hander John Peters fired a two-hitter Monday to lead Augustana to a 3-0 win over Monmouth at Glasgow Field.
MONMOUTH, Ill.-Junior right-hander John Peters (Alleman HS, Milan, Ill.) fired a two-hitter Monday to lead Augustana to a 3-0 win over Monmouth at Glasgow Field. The 14th-ranked Vikings improve to 17-4 on the year heading into four big CCIW games later this week.
Peters engaged Monmouth starter Scott Kempel in a pitchers' duel that was 1-0 heading into the ninth inning. With one out and Scot reliever Nick Ryba on the mound, Pat Wilson (Stevenson HS, Vernon Hills, Ill.) reached on an error. He moved to third on a Jared McIntosh (Assumption HS, Davenport, Iowa) double and scored the Vikings' second run when Kevin Serna (Rolling Meadows HS, Arlington Heights, Ill.) reached on a fielder's choice. McIntosh and Serna then executed a double steal, with McIntosh scoring to make it 3-0.
That gave Peters some breathing room and he finished things out, retiring the Scots in order in the ninth to get his second win of the season without a defeat. He allowed just a fifth inning single to Brad Winkler and a seventh inning single to Jordan Gaither. He walked three and fanned seven and helped himself by starting two of Augustana's three double plays on the day. Kempel was the tough-luck loser, limiting the potent Viking offense to just three hits and one run in seven innings of work. Augustana finished with four hits, two of which came off the bat of McIntosh. Dave Hoffman (Cary-Grove HS, Cary, Ill.) and Jim Sandberg (J.K. Mullen HS, Littleton, Colo.) had the team's other two safeties.
T.J. O'Donnell's (New Trier HS, Northbrook, Ill.) sacrifice fly in the top of the first scored Jeremy Juhl (Glenbard East HS, Lombard, Ill.) to give the Vikings a 1-0 lead.
Next up for Augustana is a Wednesday, April 13 contest against Illinois Wesleyan in Bloomington, Illinois. The Vikings and Titans split a doubleheader last week at Swanson Stadium/Brunner Field and are currently tied for second place in the CCIW at 6-2. First pitch Wednesday is scheduled for 6:00 p.m.