April 10, 2011
2010-11 Season - Vikings sweep Rams, upset No. 12 Pioneers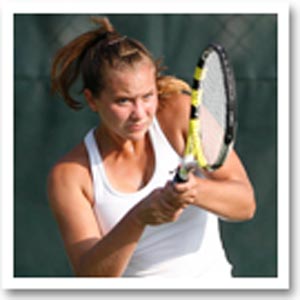 Sheri Hendricks won her singles match 6-1, 6-0 against Grinnell, helping the Vikings pull a 5-4 upset over the No. 12 Pioneers. Hendricks is 10-9 in singles and 7-7 in doubles this season.
GRINNELL, Iowa – The Augustana women's tennis team made a successful outing to Grinnell, Iowa, earning a pair of victories over Cornell and Grinnell on Sunday, April 10. The Vikings swept Cornell 9-0 before upsetting Grinnell 5-4. The Pioneers were 17-3 and ranked No. 12 in the Central Region heading into the match.
Sophomore Krista Panko (Geneva HS, Geneva, Ill.) and junior Brittany Reece (Naperville Neuqua Valley HS, Naperville, Ill.) put Augustana on the board right away against the Rams with an (8-1) victory over Wanda Carter and Erin Seely at No. 3 doubles. Freshmen Shannen McNamara (Battle Mountain HS, Avon, Colo.) and Kim Sawyer (Batavia HS, Batavia, Ill.) came through with an (8-5) win at No. 1 doubles, defeating Kirsten Lasley and Alyssa Zavislak. Seniors Tricia Sapio (Barrington HS, Hoffman Estates, Ill.) and Sheri Hendricks (Wheaton Warrenville South HS, Warrenville, Ill.) rallied to win (8-6) at No. 2 doubles, taking the final four games to rally from a 6-4 deficit against Kara Middleton and Kathleen Ellis.
Sophomore Meghan Wethington (Geneseo HS, Geneseo, Ill.) was a (6-0, 6-3) winner at No. 6 singles over Seely, making the score 4-0. Reece clinched the win with a (6-2, 6-2) decision over Carter at No. 5. Panko also won in straight sets, beating Ellis (6-1, 6-3) at No. 4. McNamara defeated Lasley (6-2, 6-2) at No. 1, and Sawyer picked up a (6-2, 6-3) victory against Zavislak at No. 2. Sapio rallied after losing the first set at No. 3 to notch a (5-7, 6-1, (10-6)) win over Middleton.
Although Augustana fell behind 1-0 to Grinnell after a loss at No. 2 doubles, the Vikings earned close wins at the other two doubles positions to grab a 2-1 edge heading into singles action. McNamara and Sawyer started in a 3-0 hole, but got back into the match and eventually won (8-6) against Laura Krull and Sadhana Athreya at No. 1. Panko and Reece won the final four games at No. 3 to earn an (8-5) victory over Clothilde Thirouin and Tatyana Sukharnikova.
Hendricks played a terrific match at No. 6, cruising to a (6-1, 6-0) victory over Catherine Fitch to increase Augustana's advantage to 3-1. Grinnell cut the Viking lead to 3-2 with a straight set win at No. 5 singles, but Sawyer played another impressive match and won (6-4, 6-2) over Krull at No. 1. Once again, the Pioneers hung in the match with another straight victory at No. 4, trimming the margin to 4-3. Sapio won her first set at No. 3, but eventually fell (3-6, 6-3, (10-1) to Thirouin to even the match at 4-4. McNamara battled back and forth with Constanza Alarcon at No. 2, finally prevailing (7-6 (2), 6-4) to earn a huge victory for the Vikings.
Augustana improves to 14-8 overall and 5-5 this spring. It is the program's first victory against a ranked opponent in the Central Region this season.
04/10/11 – Augustana 9, Cornell 0
| | |
| --- | --- |
| | RESULT |
| Singles | |
| 1. | Shannen McNamara (AUGIE) def. Kirsten Lasley (CORW) 6-2, 6-2 |
| 2. | Kim Sawyer (AUGIE) def. Alyssa Zavislak (CORW) 6-2, 6-3 |
| 3. | Tricia Sapio (AUGIE) def. Kara Middleton (CORW) 5-7, 6-1, (10-6) |
| 4. | Krista Panko (AUGIE) def. Kathleen Ellis (CORW) 6-1, 6-3 |
| 5. | Brittany Reece (AUGIE) def. Wanda Carter (CORW) 6-2, 6-2 |
| 6. | Meghan Wethington (AUGIE) def. Erin Seely (CORW) 6-0, 6-3 |
| Doubles | |
| 1. | Shannen McNamara/Kim Sawyer (AUGIE) def. Kirsten Lasley/Alyssa Zavislak (CORW) 8-5 |
| 2. | Tricia Sapio/Sheri Hendricks (AUGIE) def. Kara Middleton/Kathleen Ellis (CORW) 8-6 |
| 3. | Krista Panko/Brittany Reece (AUGIE) def. Wanda Carter/Erin Seely (CORW) 8-1 |
04/10/11 – Augustana 5, Grinnell 4
| | |
| --- | --- |
| | RESULT |
| Singles | |
| 1. | Kim Sawyer (AUGIE) def. Laura Krull (GC) 6-4, 6-2 |
| 2. | Shannen McNamara (AUGIE) def. Constanza Alarcon (GC) 7-6 (2), 6-4 |
| 3. | Clothilde Thirouin (GC) def. Tricia Sapio (AUGIE) 3-6, 6-3, (10-1) |
| 4. | Sadhana Athreya (GC) def. Krista Panko (AUGIE) 6-1, 6-0 |
| 5. | Hanna Feldman (GC) def. Brittany Reece (AUGIE) 6-0, 6-2 |
| 6. | Sheri Hendricks (AUGIE) def. Catherine Fitch (GC) 6-1, 6-0 |
| Doubles | |
| 1. | Shannen McNamara/Kim Sawyer (AUGIE) def. Laura Krull/Sadhana Athreya (GC) 8-6 |
| 2. | Constanza Alarcon/Catherine Fitch (GC) def. Tricia Sapio/Sheri Hendricks (AUGIE) 8-3 |
| 3. | Krista Panko/Brittany Reece (AUGIE) def. Clothilde Thirouin/Tatyana Sukharnikova (GC) 8-5 |