April 10, 2011
2011 Season - Augustana splits at UW-Platteville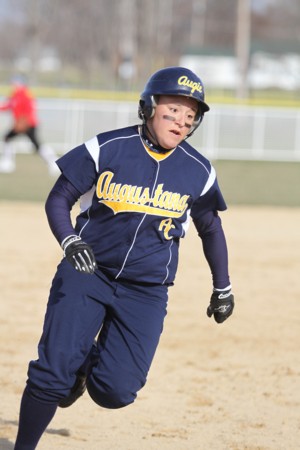 Melissa Nelson had a homer and a pair of triples Sunday, helping Augustana achieve a doubleheader split at Wisconsin-Platteville.
PLATTEVILLE, Wis.-Coach Kris Kistler's Augustana Vikings bounced back from a tough 4-2 loss in the first game Sunday to post an impressive 11-4 win in the nightcap, earning a doubleheader split with the University of Wisconsin-Platteville. Melissa Nelson (West Aurora HS, Aurora, Ill.) had a big day with four hits, including two triples and a homer. Augustana is now 15-13 on the season.
Game One: UW-Platteville 4, Augustana 2
The Pioneers got on the board with a pair of runs in the bottom of the first off Viking freshman Sarah Hintz (Leroy HS, Leroy, Ill.) and that margin stood up as they went on to a 4-2 win.
Chantal McReynolds doubled to lead off the inning and scored the game's first run on a wild pitch. Jordan Johnson walked, stole second and came around to score and make it 2-0. In the Platteville fourth, Ellyn Goerdt came through with a one-out double to left center and later scored on a double play ball to put UWP up 3-0.
Augustana got to Pioneer starter Melissa Anderson for a run in the fifth as Nelson and Chaney Tambling (Dwight HS, Dwight, Ill.) started the inning with back-to-back triples. Nelson's three-bagger was her second of the game. Unfortunately, Anderson got the next three Vikings and Abbi Staples (Sterling HS, Sterling, Ill.), running for Tambling, was left stranded at third.
Goerdt started the bottom of the sixth with another double-this one off reliever Courtney Ledezma (United Township HS, East Moline, Ill.)-and scored on Colleen Lowe's sacrifice fly to left to make the score 4-1.
Jillian Gibbs (Rock Island HS, Rock Island, Ill.) doubled in Lauren Schneiderbauer (Sterling HS, Sterling, Ill.) in the top of the seventh to cut the lead to 4-2, but Anderson pitched her way out of a jam, leaving Vikings stranded at first and third to end the game.
Hintz took the loss, falling to 6-5 on the year.
Game Two: Augustana 11, UW-Platteville 4
Nelson continued her hot hitting in game two, going 2-for-3 including her second home run of the season, a two-run blast in the first inning that gave the Vikings a 2-0 lead. Gibbs led off the fourth with a single and came around to score for a 3-0 Augustana lead.
The Vikings broke the game open in the top of the fifth. They parlayed seven hits-six of them singles-a Pioneer error, and a hit-by-pitch into six runs. Stephanie Sarb (Lisle HS, Lisle, Ill.) had the only extra base hit in the frame, an RBI double to left center. The inning could have been bigger. Augustana had a runner thrown out at home and left the bases loaded.
Platteville finally got on the board against Ashley Yaros (Stagg HS, Palos Hills, Ill.) in the bottom of the fifth. The Pioneers took advantage of a two-out error to score four unearned runs off the Viking freshman. Yaros came back to throw a scoreless sixth and after Augustana added a pair of runs in the top of the seventh, yielded to Ledezma, who closed things out with a scoreless final inning.
Yaros scattered seven hits and walked no one while fanning three in her six innings, improving to 7-2 on the year. Augustana got two hits each from Melissa and Jenna Nelson (Orion HS, Orion, Ill.), Gibbs, and freshmen Krista Watson (Coal City HS, Coal City, Ill.) and Randi Applehans (Mountain Vista HS, Highlands Ranch, Colo.).
Augustana hosts Carthage in a 4:00 p.m. doubleheader on Wednesday, April 13.