April 9, 2011
2010-11 Season - Berens leads Vikings to win at Monmouth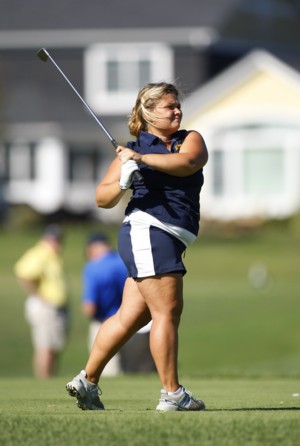 Jessica Berens' second-place round of 94 led Augustana to the team title at Monmouth's Fighting Scot Spring Invite Saturday at Gibson Woods Golf Course.
MONMOUTH, Ill.-Senior Jessica Berens (Schaumburg HS, Schaumburg, Ill.) shot a second-place 94 Saturday at Gibson Woods Golf Course in Monmouth, Illinois, to lead Augustana to the team championship at the Fighting Scot Spring Invite. The Vikings' total of 383 was 16 strokes better than Knox and Monmouth, which finished tied for second.
Viking sophomore Megan Vandersee (Sterling HS, Sterling, Ill.) and freshman teammate Jamie Lawrence (Moline HS, Moline, Ill.) tied for third individually. Each finished one stroke back of Berens with rounds of 95. Vandersee competed with the winning Viking quintet, while Lawrence led the second of three Augustana teams to a fourth-place finish (406).
Freshman Kelly Farina's (Normal West HS, Bloomington, Ill.) round of 96 tied for fifth place. Sophomore Morgan Wilkinson (Westmont HS, Westmont, Ill.) shot a 98 to tie for ninth and junior Brittany Carr (Lincoln-Way East HS, Frankfort, Ill.) rounded out the winning fivesome with a 103 to tie for 14th.
Freshman Katelyn Lazar (Williamsville HS, Sherman, Ill.) led the third Viking outfit (465, fifth place) with a 98, tying Wilkinson for ninth place individually. Freshman Dena Capitani (Hinsdale Central HS, Hinsdale, Ill.) shot a 12th-place 100 and classmate Megan Alano (Lockport HS, Lockport, Ill.) matched Carr's 103 to tie for 14th.
Only Knox's Jessica DeMory, who carded a 92, shot a better round than Berens.