April 9, 2011
2011 Season - Augustana now 16-3 after sweep of Elmhurst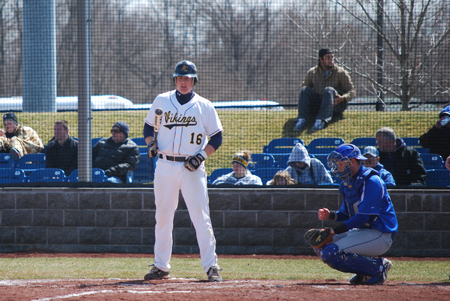 Freshman first baseman Pat Wilson collected four hits Saturday, helping the Vikings to 3-2 and 8-5 wins over Elmhurst in a doubleheader at Swanson Stadium/Brunner Field.
MOLINE, Ill. - Freshman Pat Wilson (Stevenson HS, Vernon Hills, Ill.) delivered two hits in each game and Josiah Martin (Canton HS, Canton, Ill.) saved both ends of a doubleheader sweep of Elmhurst Saturday at Swanson Stadium/Brunner Field. The wins, by scores of 3-2 and 8-5, bump the 14th-ranked Vikings' overall record to 16-3 on the year and 6-1 in CCIW play.
Game One: Augustana 3, Elmhurst 2
What looked like a possible slugfest early settled into a pitching duel as Augustana's Jared McIntosh (Assumption HS, Davenport, Iowa) and Joe Luft of Elmhurst battled for eight innings in the first game. All of the scoring came in the first three innings before both starters found a groove.
Elmhurst got both of its runs in the top of the second to take a 2-0 lead. The Bluejays loaded the bases with a Dan Matkovic single and a pair of walks by McIntosh, who struggled a bit with his command early. Jake Bronkema singled to score Matkovic and a Tyler Wargo sacrifice fly delivered Dave Wolak with the second run.
In the Vikings' half of the second, T.J. O'Donnell (New Trier HS, Northbrook, Ill.) got things started when he took a Luft offering in the middle of the back. Wilson lined a single to right to move O'Donnell to third and he tagged and scored on a deep foul out to right by Jeremy Juhl (Glenbard East HS, Lombard, Ill.).
After McIntosh pitched around a leadoff error to come away unscathed in the top of the third, Augustana took the lead for good in the bottom of the frame. Anthony Concialdi (Fremd HS, Barrington, Ill.) grounded a single through the middle to get things started. He stole second and came around to score on a Kurt Schmidt (Grayslake Central HS, Grayslake, Ill.) single to left and an errant throw by the Bluejays, which also put Schmidt at third. Schmidt scored the go-ahead run on a fielder's choice grounder by Dave Hoffman (Cary-Grove HS, Cary, Ill.).
McIntosh, meanwhile, found his rhythm and held Elmhurst without a hit over his last six innings. The Vikings didn't have much more luck with Luft, getting only a Wilson single in the seventh during that same time frame. Martin came on in the top of the ninth and retired the Bluejays in order for his second save of the year.

McIntosh gave up just two hits in eight innings, walking five and fanning five, to improve to 3-0 this season. Wilson collected two of the Vikings' four hits.
Game Two: Augustana 8, Elmhurst 5
Augustana rapped out 14 hits in the nightcap, including three from Hoffman to go along with three RBI, to come away an 8-5 winner. Mike Trotta (Notre Dame HS, Chicago, Ill.) went six innings to pick up his team-leading fifth win of the year against no losses.
After the Bluejays touched Trotta for run in the top of the second, the Vikings responded with five in the bottom of the inning. McIntosh, playing left field in game two, doubled to right center to start the frame. Freshman catcher Niko Capodice (Minooka HS, Minooka, Ill.) lined another two-bagger into the gap in left center to score McIntosh and get Augustana on the board. After Elmhurst failed to record an out on a Jacob VanDuyne (Wilmington HS, Wilmington, Ill.) sacrifice, Joe Cecchi (Romeoville HS, Romeoville, Ill.) scored Capodice with an infield hit. Mike Lamb sacrificed Cecchi and VanDuyne to second and third and Schmidt grounded out to short to score VanDuyne and make it 3-1. Singles by Hoffman and Wilson brought in the final two runs of the inning.
The Bluejays took advantage of Trotta hitting the first two batters in the third to score a pair of runs, but Hoffman delivered a two-run single in the fourth to push the lead back to four at 7-3. Elmhurst tried to play catch up the rest of the way, but Matt Pisani (York HS, Elmhurst, Ill.) gave the Vikings 1 2/3 innings of relief and Martin came in and finished of the last inning and a third to get his second save of the day.
In addition to Hoffman's three, Schmidt, Juhl, Wilson, Capodice and Cecchi each had two hits. Cecchi also drove in a pair of runs while VanDuyne scored twice.
The two teams meet again tomorrow, Sunday, April 10 in Elmhurst, Illinois. First pitch is scheduled for 1:00 p.m.