April 8, 2011
2010-11 Season - Graham wins All-Freshman honor from d3wrestle.com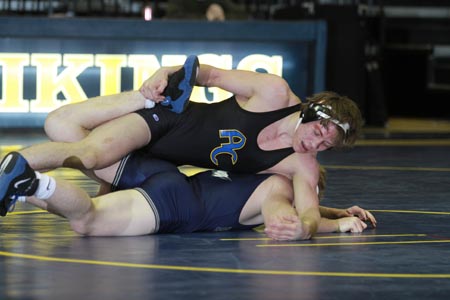 Jordan Graham was named to the NCAA Division III All-Freshman team by d3wrestle.com at 165 pounds.
Augustana's Jordan Graham (Big Rapids HS, Fremont, Mich.) has been named to the All-Freshman team in NCAA Division III by d3wrestle.com, it was announced today. Graham was outstanding this season in his first campaign in a Viking singlet.
He was named at 165 pounds and was the only Augustana wrestler on the elite, 10-member squad. He finished the year with an overall record of 32-15. He won the College Conference of Illinois & Wisconsin title at 165 with a win over Jason Bonham of North Central in the championship match. Augustana had not had an individual conference champion since the 2005-06 season.
Graham also qualified for the NCAA Division III national tournament when he placed third in the Great Lakes Regional and was selected as an at-large participant. Graham earned his NCAA ticket the hard way. He started the day as the fourth seed and beat fifth seeded Jason Bonham of North Central 6-0. Then he ran into top seeded Matt Baarson of St. John's in the semi-finals and lost 5-0. That dumped him into the consolation bracket and he battled his way back. He beat second seeded Brandon Bahr of Augsburg 14-3 and then defeated seventh seed Ryan Renon of Lakeland 6-3 in the third place match.
Because Graham and runner-up Josef Waples of St. Olaf had not met and the top two finishers in each weight class get automatic berths into the NCAA tournament, Graham and Waples had to wrestle for "true second". In that match Waples beat Graham 4-3. That meant Graham had to be selected as to one of nine at-large berths after the tournament was over.
Graham helped lead the Vikings to a 9-6 dual meet record, the best record since 2002-03. He was also instrumental in Augustana finishing third in the CCIW with 63.5 points. He is the son of Christopher Graham of Fremont, Michigan.
2010-11 NCAA DIVISION III ALL-FRESHMAN TEAM (as selected by d3wrestle.com)
125 – Daniel Mendoza, Luther
133 – Brian Bistis, SUNY-Cortland
141 – Josh Etzel, Washington & Jefferson
149 – Cameryn Brady, Manchester
157 – Chris Burdge, Centenary
165 – JORDAN GRAHAM, AUGUSTANA
174 – Ricardo Plummer, Messiah
184 – Mike Lomio, Williams
197 – Aaron Karns, Delaware Valley
285 – Chad Johnson, Augsburg