April 2, 2011
2010-11 Season - Henry & Litchfield lead Vikings at IWU Invite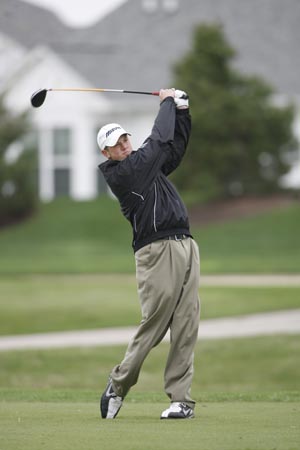 Jordan Henry led the Vikings with a score of 161 at the Illinois Wesleyan Invitational. He shot an 82 in the first round and a 79 in the second round, tying for 40th place overall.
BLOOMINGTON, Ill. – The Augustana men's golf team participated in the Illinois Wesleyan Invitational this past weekend and finished in 15th place at the 22 team event. The Vikings shot a two day total of 662, finishing at 334 on the first day and dropping that number to 328 in the second round.
Illinois Wesleyan won the event with a score of 606 (295 + 311), finishing ahead of Millikin, who finished at 615 (299 + 316) by nine strokes. Nebraska Wesleyan came in at 618 (306 + 312) and Carthage was just a stroke behind in fourth at 619 (306 + 313). The Illinois Wesleyan "JV" placed fifth with a score of 629 (310 + 319).
Dubuque was sixth at 636 (320 + 316) and Monmouth placed seventh with a total of 643 (321 + 322). Wisconsin-Stout (325 + 321), Parkland Community College (325 + 321), and Carroll (323 + 323) all tied for eighth place with a score of 646.
Webster was just a couple strokes behind in 11th place at 648 (324 + 324) with Benedictine earning 12th with a score of 655 (324 + 331). Milwaukee School of Engineering was two strokes behind Benedictine at 657 (330 + 327) and Elmhurst placed 14th with a score of 660 (331 + 329).
Augustana finished ahead of Knox (669), Edgewood (670), North Central (673), Robert Morris (677), Grinnell (685), Fontbonne (699), and Eureka (818).
Junior Jordan Henry (Erie HS, Erie, Ill.) continued to play well this spring, leading the Blue & Gold with a two day total of 161. He tied for 40th place in the field, shooting rounds of 82 and 79. Senior Phil Litchfield (Benet Academy, Darien, Ill.) also turned in a solid showing, opening with a 79 and then finishing with an 85. He tied for 55th with a total of 164.
Senior T. Cole Wells (Tri-Valley HS, Downs, Ill.) was Augustana's third scorer, tying for 77th with a 171. He shot an opening round of 87 and then came back on the second day with an 84. Senior Ted Keopple (Geneseo HS, Geneseo, Ill.) came in just one stroke behind Wells, tying for the 79th spot. He shot a pair of 86's for a total score of 172. Sophomore Jeff Paustian (Geneva HS, Geneva, Ill.) also shot an 80 in the second round, but did not score in the first round of action.
Shane Smith of Illinois Wesleyan grabbed medalist honors with a 146, shooting a 71 and a 75. He was followed by Donnie Langland of Carthage, who tallied a 147 with rounds of 74 and 73.
The Vikings are back in action on April 8-9 at the Augustana Invitational, hosted by Pinnacle Country Club in Milan, Illinois.