April 6, 2011
2010-11 Season - McNamara named CCIW "Player of the Week"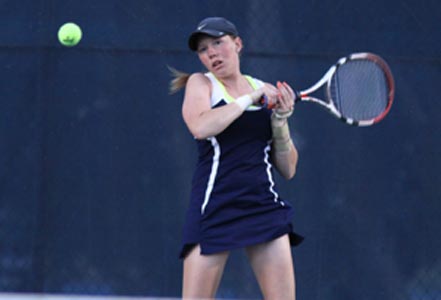 Shannen McNamara was named CCIW "Player of the Week" in women's tennis after going 2-0 against UW-La Crosse. For the season, McNamara is 34-16 overall. She is 18-8 in singles play and 16-8 on the doubles court, including a 15-8 mark with Kim Sawyer.
ROCK ISLAND, Ill. - Freshman Shannen McNamara (Battle Mountain HS, Avon, Colo.) was named the College Conference of Illinois and Wisconsin "Player of the Week" for women's tennis, it was announced today.
McNamara was 2-0 this past weekend, winning in both singles and doubles against UW-La Crosse. She teamed with freshman Kim Sawyer (Batavia HS, Batavia, Ill.) for an (8-2) victory at No. 1 doubles against Kelly Stadum and Olivia Hartwick. McNamara then followed with a (6-2, 7-5) win over Katie McDonald at No. 2 singles. The Eagles are 18-4 as a team and ranked No. 11 in the Central Region.
She is 6-2 this spring in singles and also has the same mark in doubles. For the season, McNamara is 18-8 in singles and 16-8 in doubles, which includes a 15-8 record with Sawyer. She is 9-2 at No. 1 singles and 4-3 at No. 2 in doubles matches. McNamara also posted a 3-1 mark in the No. 1 singles flight at the CCIW Individual Tournament, placing 3rd. She was 2-0 in the No. 2 singles flight at the Dorothy McClure Invitational and went 0-2 at the Intercollegiate Tennis Association (ITA) Regional Tournament against outstanding competition. In doubles, all her dual matches have come at the No. 1 spot and she also made it to the Round of 16 with Sawyer at the ITA event in the fall. The duo finished 4th in the No. 1 doubles flight at the CCIW fall tournament.
McNamara's best singles win of the spring came against Wartburg, where she knocked off senior Molly Eslick by a score of (5-7, 6-2, (10-2). Eslick had been unbeaten at No. 1 singles in dual matches with a 14-0 mark before losing to McNamara and was ranked No. 22 in the Central Region in the singles rankings.
She is the daughter of Bill & Patricia McNamara of Avon, Colorado.
2010-11 CCIW "Players of the Week"
Shannen McNamara - Augustana (04/05/11)
Andrea Kerwin - Illinois Wesleyan (03/29/11)
Bari Reynolds - Carthage (10/06/10)
Kim Sawyer - Augustana (09/29/10)
Abby Conover - North Central (09/22/10)
Sara Federschmidt - Wheaton (09/15/10)
Elizabeth Worsowicz - Wheaton (09/08/10)