April 3, 2011
2010-11 Season - Sawyer & McNamara notch wins over Eagles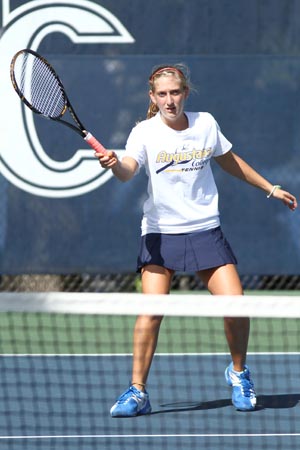 Kim Sawyer earned victories at No. 1 singles and No. 1 doubles for the Vikings against UW-La Crosse. She is 22-6 in singles and has teamed with Shannen McNamara for a 15-8 mark in doubles.
CEDAR RAPIDS, Iowa – The Augustana women's tennis team traveled to Cedar Rapids, Iowa to face UW-La Crosse in a neutral match-up and came away with a 6-3 loss to the Eagles, who are 18-4 and ranked No. 11 in the Central Region.
Freshmen Kim Sawyer (Batavia HS, Batavia, Ill.) and Shannen McNamara (Battle Mountain HS, Avon, Colo.) continue to perform well at the top of the lineup, earning wins at No. 1 and No. 2 singles while also pairing for a victory at No. 1 doubles. Sawyer defeated Kelly Stadum (6-4, 6-2) at the No. 1 singles position. McNamara earned a (6-2, 7-5) win against Katie McDonald at No. 2. They combined for an (8-2) win against Stadum and Olivia Hartwick in doubles action.
The other two doubles matches were also tightly contested, but Augustana came out on the short end in both matches. At No. 2, seniors Tricia Sapio (Barrington HS, Hoffman Estates, Ill.) and Sheri Hendricks (Wheaton Warrenville South HS, Warrenville, Ill.) lost (8-4) to Jenny Maruyama and Abby Tresedder. Sophomore Krista Panko (Geneva HS, Geneva, Ill.) and junior Brittany Reece (Naperville Neuqua Valley HS, Naperville, Ill.) came out on the short end of an (8-6) decision at No. 3, losing to Karie Williams and Julia Johnson. Sapio also had a close match at No. 3 singles, dropping a (6-4, 6-2) match-up to Maruyama. The Eagles won the bottom three singles matches in straight sets.
Augustana will return to action on Sunday, April 10 with a double header in Mount Vernon, Iowa. The Vikings will open against Grinnell, who is ranked No. 12 in the Central Region, and then battle host Cornell. The Blue & Gold lost 6-3 to the Pioneers last season while edging the Rams by a 5-4 score. Augustana is now 12-8 overall.
04/03/11 – UW-La Crosse 6, Augustana 3
| | |
| --- | --- |
| | RESULT |
| Singles | |
| 1. | Kim Sawyer (AUGIE) def. Kelly Stadum (UWL) 6-4, 6-2 |
| 2. | Shannen McNamara (AUGIE) def. Katie McDonald (UWL) 6-2, 7-5 |
| 3. | Jenny Maruyama (UWL) def. Tricia Sapio (AUGIE) 6-4, 6-2 |
| 4. | Maria Weiner (UWL) def. Krista Panko (AUGIE) 6-0, 6-1 |
| 5. | Abby Tresedder (UWL) def. Brittany Reece (AUGIE) 6-1, 6-1 |
| 6. | Andrea Vivian (UWL) def. Sheri Hendricks (AUGIE) 6-1, 6-1 |
| Doubles | |
| 1. | Shannen McNamara/Kim Sawyer (AUGIE) def. Kelly Stadum/Olivia Hartwick (UWL) 8-2 |
| 2. | Jenny Maruyama/Abby Tresedder (UWL) def. Tricia Sapio/Sheri Hendricks (AUGIE) 8-4 |
| 3. | Karie Williams/Julia Johnson (AUGIE) def. Krista Panko/Brittany Reece (AUGIE) 8-6 |