Spidey family welcomes Phillip McKinley '73
April  04, 2011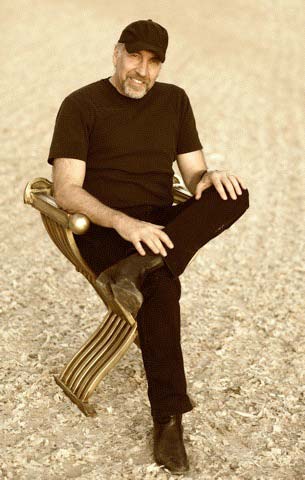 Phillip (Phil) McKinley '73 on the set of Ben Hur Live, a musical extravaganza in London. He was the subject of an interview last October when he was in the Quad Cities to direct a local theatre production.
Phillip (Phil) McKinley '73 has been working 19-hour days since taking over the directing reins of SPIDER-MAN Turn off the Dark in mid-March. The Augustana alumnus was hired to get the problem-plagued $65 million musical ready for its Broadway premiere now scheduled for early this summer.
McKinley, who was asked to step in for director and book co-writer Julie Taymor, says the creative team is working quickly to make the necessary changes within a challenging time frame. "There is no time to experiment with ideas. Decisions that are made have to done with careful analysis and then implemented with extreme regard to your timetable," he said.
One of those changes has included hiring playwright Roberto Aguirre-Sacasa, who has written Spider-Man comic books, to rework the script with fellow writer Glen Berger.
McKinley also will draw heavily on his past experiences as a director, writer and actor. "Certainly Ringling Bros. and Barnum and Bailey was an experience that taught me how to coordinate a production of the magnitude of SPIDER-MAN. The intricacies of the technical aspects of the flying, the set moves, etc.," he said.
The technical portion of the musical is what drew the producers, Michael Cohl and Jeremiah Harris, to ask McKinley to join the creative team, according to a joint statement released recently. "We cannot exaggerate how technically difficult it is to make such changes to a show of this complexity, so it's with great pride that we announce that Phil McKinley is joining the creative team. Phil is hugely experienced with productions of this scale and is exactly what SPIDER-MAN Turn off the Dark needs right now."
Despite the long hours, McKinley says the work is rewarding and the cast and crew have welcomed him with open arms. "To be given the opportunity to shepherd a project of this magnitude is a thrilling experience. And the cast and crew of the production could not have been more welcoming. Most often a director brings the cast and crew on board for the journey...in this case they are bringing me into their 'Spidey' family. I have been humbled by their generosity of spirit."
McKinley says his friends and family also have been supportive of this new challenge. "They are very proud and excited for me. I think this has been a bit different for them. They read about me in national papers and hear my name mentioned on television so it's a bit more exposed than it would normally be. However, it gives my brother and sisters great opportunity to tease me about it. They take full responsibility and remind me that they had to put up with me directing them in the backyard plays."
SPIDER-MAN Turn off the Dark has been running preview shows at Foxwoods Theatre on Broadway since last November. The superhero musical is based on a book written by Taymor and Berger with new music and lyrics by 22-time Grammy® winners Bono and The Edge of U2. The premiere is set for June 14.