April 2, 2011
2011 Season - Zeunik sets new school record at Wartburg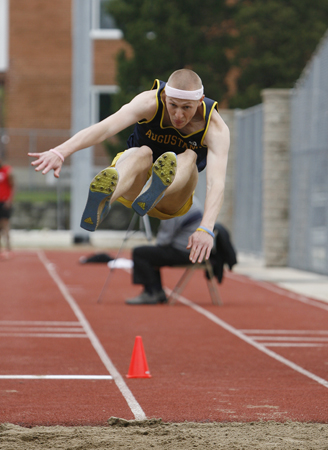 Pat Zeunik broke his own school record in the triple jump with a leap of 49' 6 1/2" Saturday at the Wartburg select meet in Waverly, Iowa. Zeunik also went 22' 1 3/4" in the long jump to finish fifth.
WAVERLY, Iowa - Patrick Zeunik (Bloomington Central Catholic HS, Bloomington, Ill.) soared 49' 6½" to win the triple jump Saturday at the Wartburg Select meet in Waverly, Iowa, breaking his own school record and achieving NCAA Division III automatic qualifier status in the process. Alex Rindone's (Marmion Academy, Geneva, Ill.) third-place :10.72 in the 100 meters was a provisional qualifying mark as well. The Vikings finished second in the team standings with 136 points. Iowa Central won the team championship with 172 points.
Tyler Busch (Winnebago HS, Winnebago, Ill.) also garnered a first-place finish for Augustana, running a 10:10.09 in the 3000 meter steeplechase. Teammates Tommy Harris (Assumption HS, Davenport, Iowa), Ryan Bertram (Neuqua Valley HS, Bolingbrook, Ill.) and Alex Stockwell (Glenbard West HS, Glen Ellyn, Ill.) finished fourth, fifth and sixth with times of 10:26.32, 10:28.40 and 10:28.42, respectively.
Augustana nabbed second-place finishes in four events. Joe Zahn (Moline HS, Moline, Ill.) was second in the 800 with a time of 1:55.97. Brian Pollastrini (York HS, Elmhurst, Ill.) ran a 14:36.66 in the 5000, finishing second ahead of teammates Billy TenBusch (Prairie Ridge HS, Cary, Ill.) and Mika Tisza (Hersey HS, Prospect Heights, Ill.), who were third and fourth in 14:57.12 and 14:59.22, respectively. Greg Davis' (Carlinville HS, Carlinville, Ill.) ran a second-place :54.82 in the 400 hurdles and Rindone, James Wood (St. Charles North HS, St. Charles, Ill.), Davis and Greg Patton (Bloomington HS, Bloomington, Ill.) were second in the 4x400 relay with a time of 3:17.51.
Three Viking throwers earned third-place finishes. Phil Christensen (Kaneland HS, Maple Park, Ill.) threw the discus 155' 1". Adam Myers (Dixon HS, Dixon, Ill.) recorded a 171' 2" in the hammer and Alex Mikos (Fenton HS, Wood Dale, Ill.) a 160' 7" in the javelin. Christensen's 167' 5" hammer throw earned him a sixth-place finish while Brian Benning (Winnebago HS, Winnebago, Ill.) was seventh with a mark of 165' 8". Luke Anderson's (Lemont HS, Lemont, Ill.) 147' 9" throw in the javelin was good for seventh place.
Marty King (Oswego HS, Oswego, Ill.) was fourth in the 400 hurdles, finishing in :56.83. Jason Langslet (Mundelein HS, Mundelein, Ill.) and Edgar Valle (Kaneland HS, Elburn, Ill.) were fourth and fifth behind Zahn in the 800. Langslet ran a 1:56.56 while Valle finished in 1:57.31. Jacob O'Rourke (Assumption HS, Bettendorf, Iowa) teamed with Patton, Wood and Rindone to run a fourth-place :42.72 in the 4x100 relay.
Zeunik added a fifth place finish in the long jump, going 22' 1¾". Colton Vankirk (Rochelle HS, Rochelle, Ill.) finished sixth in the pole vault, clearing 14' 7¼". Chad Collins (Thornridge HS, Dolton, Ill.) was seventh in the triple jump with a mark of 42' 8". Nick Sinon (Kaneland HS, Elburn, Ill.) and Wood each earned eighth-place finishes. Sinon cleared 6' 4" in the high jump and Wood ran a :49.78 in the 400.
On Friday and Saturday, April 8 & 9, the Vikings will be competing at Western Illinois' Lee Calhoun Invitational in Macomb, Illinois. Friday's start is scheduled for 4:00 p.m. while things are slated to begin at 9:00 a.m. on Saturday.