April 2, 2011
2011 Season - Hottle wins 800 at Wartburg Select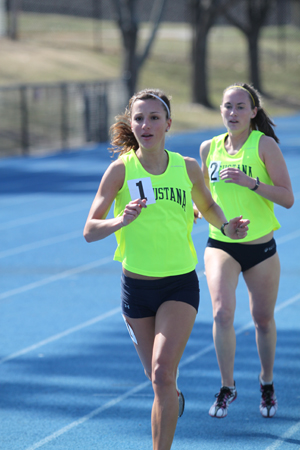 Augustana senior Hannah Hottle ran a winning 2:15.74 in the 800 meters at Saturday's Wartburg Select meet in Waverly, Iowa. Hottle also ran a leg on the Vikings' fifth-place 4x400 relay.
WAVERLY, Iowa-Augustana's Hannah Hottle (Monmouth-Roseville HS, Monmouth, Ill.) ran a 2:15.74 to win the 800 meters at the Wartburg Select meet Saturday. As a team, the Vikings compiled 40 points to finish ninth in the 15-team field. The host school placed first in the team standings with 160.5 points.
In addition to her individual win, Hottle also ran a leg on Augustana's fifth-place 4x400 relay team. She combined with Brittney Bennett (Annawan HS, Annawan, Ill.), Amy Walsh (Cary-Grove HS, Cary, Ill.) and Meaghan Reaney (Lincoln-Way Central, New Lenox, Ill.) to finish in 4:02.23.
The Vikings picked up third-place finishes in the 3000 steeplechase and pole vault. Annie Heifner (Oregon HS, Oregon, Wis.) ran a third-place 12:03.55 in the steeplechase, while teammate Katie Ries (Regina HS, Iowa City, Iowa) finished seventh in 12:36.54. Freshman Taelar Hillyer (Alleman HS, Bettendorf, Iowa) cleared 10' 2" to take third in the pole vault.
Walsh was fourth in the 400 hurdles with a 1:05.92 and seventh in the 100 hurdles, running a :15.77.
Bennett and Ella Mathieson (Lyons Township HS, LaGrange, Ill.) also earned seventh-place finishes. Bennett ran a :59.66 at 400 meters and Mathieson went 35' 6¾" in the triple jump.
On Friday and Saturday, April 8 & 9, the Vikings will be competing at Western Illinois' Lee Calhoun Invitational. Friday's start is scheduled for 3:00 p.m. while things are slated to begin at 9:00 a.m. on Saturday.