April 2, 2011
2011 Season - Augustana sweeps Wheaton to go 3-0 in CCIW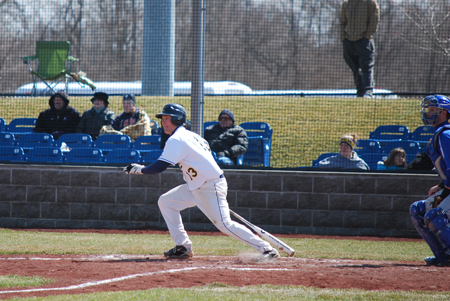 Senior Dave Hoffman homered in each game and drove in six runs on the day as Augustana swept Wheaton 6-5 in 12 innings and 16-1 Saturday at Swanson Stadium/Brunner Field.
MOLINE, Ill. - Dave Hoffman (Cary-Grove HS, Cary, Ill.) homered in each game of Saturday's doubleheader with Wheaton as Augustana won 6-5 in twelve innings in game one and came back to post a 16-1 win in the nightcap. T.J. O'Donnell's (New Trier HS, Northbrook, Ill.) two-out RBI single in the bottom of the 12th inning brought home the winning run in the first game. The Vikings are now 13-2 overall this year and 3-0 in the CCIW.
Game One: Augustana 6, Wheaton 5 (12)
Both teams got outstanding efforts from their starting pitchers in Saturday's opener. Jared McIntosh (Assumption HS, Davenport, Iowa) gave up just four hits and one run in his seven inning stint, while Wheaton starter Trey Martin allowed only seven hits and three earned runs in a remarkable 11-inning outing.
Both starters cruised through the first three innings unscathed before each gave up a run in the fourth. After Wheaton jumped ahead 1-0, the Vikings answered in the bottom half. Kurt Schmidt (Grayslake Central HS, Grayslake, Ill.) led off with a double and came home on Hoffman's fielder's choice grounder.
Hoffman launched his first home run of the season off Martin in the sixth to put the Vikings up 2-1 and Augustana added three in the seventh. Jeremy Juhl (Glenbard East HS, Lombard, Ill.) led off with a walk and came home on an Anthony Concialdi (Fremd HS, Barrington, Ill.) single. Schmidt's single to right moved Concialdi to third and with a delayed double steal on, both came around to score when a throw got away for the Thunder.
The score stayed 5-1 until the ninth when Justin Zeller led off with a walk off Viking reliever John Peters (Alleman HS, Milan, Ill.). Austin Driggers followed with a single and one out later Desmond Cato delivered Zeller with an RBI single to center. Rick Erickson (Lake Zurich HS, Hawthorn Woods, Ill.) came on and got the second out of the inning, but Taylor Howe touched him for a two-run double to center, scoring Driggers and Cato to make it 5-4. Danny Pyne's single to center scored pinch-runner Trevor Krause with the tying run.
The Vikings got out of a jam in the Wheaton 10th. Driggers led off with a single off Vince Frede (St. Charles East HS, St. Charles, Ill.). When Martin popped up a sacrifice attempt, Frede made the catch and had Driggers caught off first. However, his throw sailed over the head of first baseman Pat Wilson (Stevenson HS, Vernnon Hills, Ill.) and Driggers moved into scoring position. Cato then reached on an error and Scott Mancini walked to load the bases. Augustana coach Greg Wallace summoned Josiah Martin (Canton HS, Canton, Ill.) from his bullpen and Martin got Ethan Ogden to ground into an inning-ending 1-2-3 double play.
After cruising through the ninth, tenth and eleventh innings, Trey Martin finally yielded to the Wheaton bullpen to start the 12th. After getting the first out, Thunder reliever Evan Rahn walked Schmidt who then moved to second on a wild pitch. Niko Capodice (Minooka HS, Minooka, Ill.) followed with an infield hit, moving Schmidt to third. After Rahn retired Hoffman on a shallow fly to left, O'Donnell drove a grounder through the left side, scoring Schmidt with the winning run.
Josiah Martin went the last 2 2/3 innings to pick up his second win and remains unscored upon in seven relief appearances this year. Schmidt and Concialdi each had two hits. Schmidt scored three times while Hoffman drove in a pair.
Game Two: Augustana 16, Wheaton 1
The Vikings jumped all over the Thunder in the nightcap. After O'Donnell drove in Joe Moran (Notre Dame HS, Chicago, Ill.) with an RBI double in the first, Augustana added six runs in the second. Capodice led off the frame with a double and came around to score with Kevin Serna (Rolling Meadows HS, Arlington Heights, Ill.) and Concialdi on a bases-clearing double to left-center by Schmidt. Hoffman drove in a run with a double to center as well.
After Wheaton scored a single run off Ben Heaton (Bloomington Central Catholic HS, Heyworth, Ill.) in the top of the third, Hoffman drove in a run with a bases loaded walk in the bottom of the inning and added a two-run homer in the fifth to push the lead to 10-1.
The Vikings put the game away with another half dozen runs in the sixth. The big hits were a two-run double by Moran and a bases-loaded two-bagger by Wilson.
Heaton went the distance, allowing five hits and one run in seven innings. He improved to 3-0 on the season, and his earned run average is now a sparkling 0.84. Wilson led the hit parade with three, while Moran, Hoffman and Mike Lamb (Ottawa HS, Ottawa, Ill.) had two each. Hoffman scored three times and drove in four. Wilson and Schmidt each knocked in three and Moran and Concialdi scored three times each.
Next up for the Vikings is a big doubleheader on Tuesday, April 5 against Illinois Wesleyan. First pitch from Swanson Stadium/Brunner Field is scheduled for 1:00 p.m.