April 1, 2011
2011 Season - Vikings win CCIW opener 15-5 over Wheaton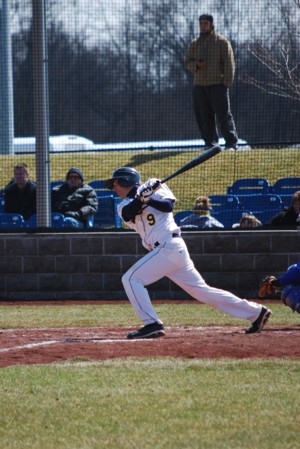 Kurt Schmidt had four hits, including a double and a triple, and scored five times Friday as Augustana opened the CCIW portion of the schedule with a 15-5 win over Wheaton in Lisle, Illinois.
WHEATON, Ill.-Led by four each from Kurt Schmidt (Grayslake Central HS, Grayslake, Ill.) and Jeremy Juhl (Glenbard East HS, Lombard, Ill.), Augustana pounded out 21 hits and defeated Wheaton 15-5 Friday in Lisle, Illinois in the CCIW opener for both teams. The Vikings improve to 11-2 overall this season while the Thunder fall to 8-9.
Schmidt, who went 4-for-6 with a double, a triple and five runs scored, got the Vikings started with a leadoff single to right in the top of the first. Joe Moran (Notre Dame HS, Chicago, Ill.) sacrificed him to second and he came around to score the game's first run on Dave Hoffman's (Cary-Grove HS, Cary, Ill.) single to center.
Wheaton came right back to get three in the bottom of the first, aided by a leadoff walk and a Viking error. Justin Zeller's RBI double and a two-run single by Austin Driggers brought in the Thunder runs.
The Vikings took the lead for good with a four-spot in the top of the second. Back-to-back, one-out doubles by Jared McIntosh (Assumption HS, Davenport, Iowa) and Kevin Serna (Rolling Meadows HS, Arlington Heights, Ill.) cut the Wheaton lead to 3-2 and Mike Lamb's (Ottawa HS, Ottawa, Ill.) single to left center scored Serna with the tying run. After another Schmidt single, Lamb scored the go-ahead run on a Drew Golz wild pitch and T.J. O'Donnell's (New Trier HS, Northbrook, Ill.) sacrifice fly to center scored Schmidt to make it 5-3, Augustana.
The Vikings extended the lead with a pair of runs in the top of the fourth. Meanwhile, Augustana starter Mike Trotta (Notre Dame HS, Chicago, Ill.) settled in and held the Thunder scoreless in the second, third and fourth innings. Wheaton got a run in the fifth to make it 7-4, but Trotta got out of further trouble, leaving the bases loaded.
Ryan Miller led off the Wheaton sixth with a homer to make it 7-5. Trotta got the next two Thunder hitters, but after a single and walk, he gave way to reliever Josiah Martin (Canton HS, Canton, Ill.) who fanned Phillip Tuttle to end the inning.
The Vikings put the game away with a pair of runs in the eighth and a half dozen more in the ninth. O'Donnell and Pat Wilson (Stevenson HS, Vernon Hills, Ill.) each had RBI doubles in the eighth. Moran and O'Donnell each came through with two-run singles in the final frame. Martin slammed the door on the Thunder, allowing just a two-out single in the ninth.
Trotta battled through 5 2/3 innings to pick up his fourth win of the season without a loss. Martin went the final 3 1/3 to pick up his first save and has yet to allow a run in six appearances this season.
Several Vikings, in addition to Schmidt and Juhl, had big offensive days. Serna was 3-for-6, with two doubles and two runs scored. O'Donnell was 2-for-5, scored a pair of runs and drove in four. Moran, Wilson and Lamb each had two hits as well. Moran drove in three and Wilson two, while Lamb scored three times.
The two teams meet in a doubleheader on Saturday, April 2 at Swanson Stadium/Brunner Field. First pitch is scheduled for 1:00 p.m.