March 27, 2011
2010-11 Season - Vikings beat St. Ambrose 6-3 for season sweep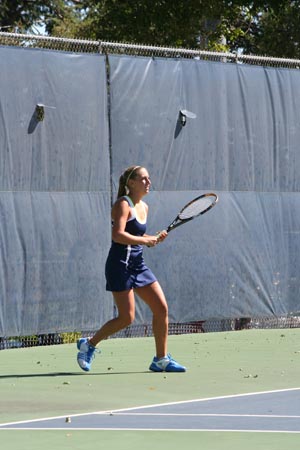 Kim Sawyer won her matches at No. 1 doubles and No. 2 singles as the Vikings defeated St. Ambrose 6-3 to complete a season sweep over the Queen Bees. Sawyer leads the Blue & Gold with a 21-6 mark in singles. She is also 16-8 in doubles, including a 14-8 mark with Shannen McNamara.
MOLINE, Ill. – The Augustana women's tennis team returned to the Quad Cities and picked up a 6-3 win over St. Ambrose on Sunday, March 27 to sweep the season series against the Queen Bees. The Vikings also won 6-3 in the fall match-up between the two squads.
Seniors Tricia Sapio (Barrington HS, Hoffman Estates, Ill.) and Sheri Hendricks (Wheaton Warrenville South HS, Warrenville, Ill.) gave Augustana an early lead, cruising to an (8-0) win over Elizabeth Blazevic and Emily Turner at No. 3 doubles. Freshmen Shannen McNamara (Battle Mountain HS, Avon, Colo.) and Kim Sawyer (Batavia HS, Batavia, Ill.) also nailed down an (8-4) victory at No. 1 doubles, defeating Adrianne Foley and Mary Nodland. St. Ambrose won at No. 2 doubles, making the score 2-1 in Augustana's favor heading into singles action.
Junior Brittany Reece (Naperville Neuqua Valley HS, Naperville, Ill.) quickly gave the Blue & Gold a 3-1 advantage, racing to a (6-0, 6-0) win against Turner at No. 6 singles. McNamara was a (6-0, 6-2) winner over Foley at No. 1, and sophomore Krista Panko (Geneva HS, Geneva, Ill.) clinched the victory with a (7-6 (5), 6-2) win at No. 5, defeating Maurita Flo. Sawyer was also a winner at No. 2, defeating Nodland (6-1, 6-1). Freshman Samantha Tonn (Moline HS, Moline, Ill.) rallied from a one set deficit, but lost (6-4, 3-6, (12-10)) to Matejka at No. 4.
Augustana is back in action on Sunday, April 3 when the team will face UW-La Crosse in a neutral match at Coe College in Cedar Rapids, Iowa. The Eagles are currently ranked No. 11 in the Central Region.
03/27/11 – Augustana 6, St. Ambrose 3
| | |
| --- | --- |
| | RESULT |
| Singles | |
| 1. | Shannen McNamara (AUGIE) def. Adrianne Foley (SAU) 6-0, 6-2 |
| 2. | Kim Sawyer (AUGIE) def. Mary Nodland (SAU) 6-1, 6-1 |
| 3. | Rachel Sarafin (SAU) def. Tricia Sapio (AUGIE) 6-1, 6-3 |
| 4. | Heather Matejka (SAU) def. Samantha Tonn (AUGIE) 6-4, 3-6, (12-10) |
| 5. | Krista Panko (AUGIE) def. Maurita Flo (SAU) 7-6 (5), 6-2 |
| 6. | Brittany Reece (AUGIE) def. Emily Turner (SAU) 6-0, 6-0 |
| Doubles | |
| 1. | Shannen McNamara/Kim Sawyer (AUGIE) def. Adrianne Foley/Mary Nodland (SAU) 8-4 |
| 2. | Rachel Sarafin/Heather Matejka (SAU) def. Samantha Tonn/Krista Panko (AUGIE) 8-2 |
| 3. | Tricia Sapio/Sheri Hendricks (AUGIE) def. Elizabeth Blazevic/Emily Turner (SAU) 8-0 |