April 1, 2011
2010-11 Season - Fox named MVP for women's basketball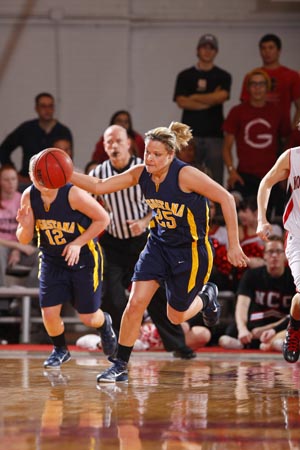 Kristen Fox was named the Most Valuable Player for the 2010-11 Augustana women's basketball team. Fox, a senior, led the Vikings in both scoring (14.0 ppg) and rebounding (7.0 rpg).
Senior Kristen Fox (Ottawa HS, Ottawa, Ill.) was named "Most Valuable Player" as the Augustana women's basketball team announced its award winners for the 2010-11 campaign. Fox also earned the "Windex Award" as the team top rebounder.
Junior Elizabeth Phillips (Grayslake North HS, Lake Villa, Ill.) finished up a strong season by winning the "Most Improved Award" and the "Viking Award." Junior Brianna Skeens (Vernon Hills HS, Vernon Hills, Ill.) nailed down the "Defensive Award." Junior Natalie Runge (St. Dominic HS, O'Fallon, Mo.) was also honored, receiving the "Coach's Award."
Fox was the team's leading scorer at 14.0 points per game and was also named to the College Conference of Illinois & Wisconsin all-conference squad as a second team selection. She also grabbed 7.0 rebounds per contest to lead the Blue & Gold. Fox contributed 130 field goals, 47 three point buckets, 44 free throws, 36 steals, and 32 assists.
Phillips made 21 starts this season and averaged 4.7 points per game. She was a 44.9 percent (53-118) shooter from the floor and also grabbed 4.0 rebounds per contest. Phillips had 14 assists, 14 steals, and led the team with six blocks.
Skeens was a valuable contributor, earning 13 starts and also coming off the bench in the other 12 games. She finished with 56 points, 74 rebounds, 17 assists, and 15 steals.
Runge was Augustana's second leading scorer through the first 15 games of the year at 11.0 per game before being sidelined with an injury. She was second on the team with a 6.2 rebounding average and shot 45.5 percent (66-145) from the field.
The Vikings finished the season with seven wins, matching the victory total for Augustana from the 2009-10 season.
2010-11 AUGUSTANA VIKINGS VARSITY LETTERWINNERS
| | | | | | |
| --- | --- | --- | --- | --- | --- |
| NAME | | POS | HT | YR | HOMETOWN (HIGH SCHOOL) |
| Jessica | Baids* | F | 5-9 | Fr | Carol Stream, Illinois (West Chicago) |
| Molly | Etheridge* | G | 5-5 | Fr | Bloomington, Illinois (Normal Community) |
| Kristen | Fox***** | G | 5-8 | Sr | Ottawa, Illinois (Ottawa) |
| Kristina | Howard*** | F | 5-10 | Jr | Aurora, Colorado (Cherokee Trail) |
| Dawn | Kernich*** | G | 5-7 | Sr | Mt. Olive, Illinois (Mt. Olive) |
| Whitney | Miller* | G | 5-6 | Jr | Clinton, Iowa (Clinton) |
| Alyssa | Neitzel**** | G | 5-6 | Sr | Shorewood, Illinois (Providence Catholic) |
| Kayla | Papish** | G | 5-8 | Sr | East Moline, Illinois (Rock Island Alleman) |
| Gianna | Pecora** | G | 5-5 | So | Darien, Illinois (Downers Grove South) |
| Elizabeth | Phillips*** | G | 5-10 | Jr | Lake Villa, Illinois (Grayslake North) |
| Natalie | Runge*** | F | 5-10 | Jr | O'Fallon, Missouri (St. Dominic) |
| Jessica | Scott** | F | 5-10 | Jr | Morrison, Illinois (Morrison) |
| Brianna | Skeens*** | G/F | 5-10 | Jr | Vernon Hills, Illinois (Vernon Hills) |
| Abbi | Staples** | G | 5-5 | Jr | Sterling, Illinois (Sterling) |
| Chaney | Tambling* | F | 5-8 | Fr | Dwight, Illinois, (Dwight Township) |
| Kristin | Warnken** | G | 5-5 | So | Erie, Colorado (Centaurus) |
* - Denotes letters won
Head Coach: Bobbi Endress
Release written by Assistant Sports Information Director Adam Strand