March 27, 2011
2011 Season - Augustana wins twice at own Invitational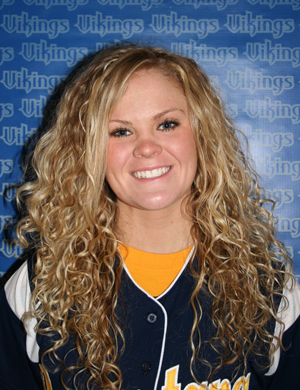 Freshman Ashley Yaros spun a two-hit shutout while fanning eight as Augustana defeated Martin Luther 8-0 Sunday at the Augustana Invitational.
MOLINE, Illinois - Augustana finished up play at this weekend's Augustana Invitational with a pair of convincing wins over Martin Luther (8-0) and Dubuque (10-0). Freshmen pitchers Sarah Hintz (Leroy HS, Leroy, Ill.) and Ashley Yaros (Stagg HS, Palos Hills, Ill.) were outstanding for the Vikings and the offense pounded out 29 hits in 54 at-bats in the two games. The wins evened the team's record at 9-9 on the year.
Game One: Augustana 8, Martin Luther 0
Yaros shut out Martin Luther on two hits as the Vikings cruised to an 8-0 win over the Lady Knights in the team's first game of the day. Four Vikings each went 2-for-2 as the team pounded out 17 hits in the five-inning contest shortened by the mercy rule.
Augustana jumped on Martin Luther for three runs in the bottom of the first. Krista Watson's (Coal City HS, Coal City, Ill.) squeeze scored Christina Trojanowksi (Evergreen Park HS, Evergreen Park, Ill.) with the games' first run. Jillian Gibbs (Rock Island HS, Rock Island, Ill.) and Stephanie Sarb (Lisle HS, Lisle, Ill.) each had RBI singles in the inning as well.
The Vikings added four in the third. Jenna Nelson (Orion HS, Orion, Ill.) doubled to right center and scored when Melissa Nelson (West Aurora HS, Aurora, Ill.) did the same. Gibbs drove in Melissa Nelson with a single to right and after another hit by Sarb, both came around to score on a Randi Applehans (Mountain Vista HS, Highlands Ranch, Colo.) single.
Dege Abate's (Downers Grove South HS, Downers Grove, Ill.) single to left in the fifth scored Emma Thompson (Riverdale HS, Port Byron, Ill.) with the game's final run.
Yaros went all five innings, allowing just a pair of singles and no walks while fanning eight. She improved to 3-1 on the year. Jenna and Melissa Nelson, along with Sarb and Gibbs, were each 2-for-2 as Augustana improved to 8-9 on the year.
Game Two: Augustana 10, Dubuque 0
A pair of freshman spearheaded the offense in the Vikings' second game, as Lauren Schneiderbauer (Sterling HS, Sterling, Ill.) blasted her third home run in the last four games and Watson went 2-for-3, including her second round-tripper of the season, with three runs scored and two driven in. Gibbs and Melissa Nelson each went 2-for-3 as well with Gibbs knocking in three runs.
Hintz was nearly as good as Yaros was in the first game, limiting the Spartans to just two singles and four base-on-balls while not allowing a run and improving to 4-3.
The Vikings scored three runs each in the first, third and fourth with a single run in the second.
Watson drove in the first run of the day, scoring Jessica Peterson (Marian Catholic HS, Lansing, Ill.) with a single. A Gibbs double brought in Jenna Nelson, who had singled, and Watson to make it 3-0 after one.
Schneiderbauer's homer to left in the second made it 4-0 and Watson led off the third with another four-bagger. The Vikings added runs on an error and passed ball in the frame as well.
In the fourth, Gibbs knocked in Watson with a single to center and Sarb delivered Gibbs and Melissa Nelson with a two-run double to right center to round out the scoring.
Augustana begins CCIW play on Saturday, April 2, traveling to Bloomington, Illinois to face Illinois Wesleyan in a 1:00 p.m. doubleheader.