March 26, 2011
2011 Season - Viking bats stymied against River Falls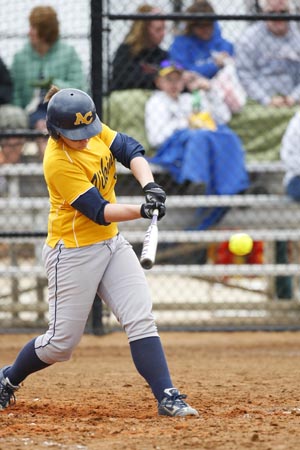 Stephanie Sarb had two of Augustana's five hits in a 4-1 loss to Wisconsin-River Falls on Saturday, March 26 in the Augustana Invitational.
The Augustana bats were stymied by Wisconsin-River Falls starting pitcher Rose Tusa on Saturday, March 26 in the opening game of the Augustana Invitational. Tusa allowed just five hits, three of them in the final inning, and helped lead the Falcons to a 4-1 victory.
River Falls broke through in a scoreless game with a single run in the top of the fourth inning off Augustana hurler Sarah Hintz (Leroy HS, Leroy, Ill.). Haley Selkirk led off with a single to left field, went to second on a sacrifice bunt and scored on a single to center by Ashley Goettl.
In the fifth inning the Falcons used four hits to put three runs on the board. With one out Alyssa Black singled to left. Nicole Lubahn beat out what was supposed to be a sacrifice bunt, putting runners on first and second. A double to left field by Shawna Middleton brought home Black and pushed Lubahn to third. A ground out to shortstop by Selkirk drove in Lubahn and then a single from Hayley Buchanan drove in Middleton to make it 4-0.
The Vikings had trouble getting much going against Tusa, who struck out 12 in the game including nine in the game's first four innings. However, in the bottom of the seventh Jenna Nelson (Orion HS, Orion, Ill.) reached on a two base error in the outfield. She was replaced by pinch runner Kelsey Winter and Winter went to third on a single by Krista Watson (Coal City HS, Coal City, Ill.). A single off the bat of pinch hitter Chaney Tambling (Dwight HS, Dwight, Ill.) brought Winter in with Augustana's lone run of the game. The Vikings loaded the bases at one time during the inning but couldn't push any more runs across.
Hintz absorbed the loss but she went the distance, striking out four and giving up eight hits without walking anybody in the frigid weather conditions. Stephanie Sarb (Lisle HS, Lisle, Ill.) had two hits for the Vikings.
River Falls moved to 6-9 on the year while Augustana fell to 7-9.