Faculty lectures in April at Figge Art Museum
March  25, 2011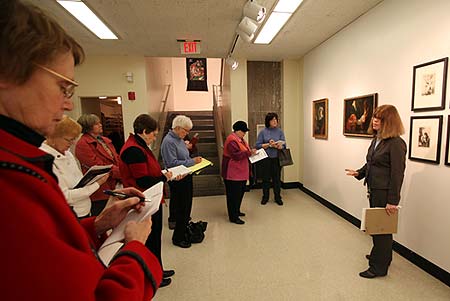 Sherry Maurer, director of the Augustana College Art Museum,leads docents from the Figge Art Museum on a tour of the college collection before it's moved to the Figge for the "Celebrating Ideas: Bridging Communities" exhibit. (Augustana Photo Bureau/Marla Alvarado Neuerburg)
Augustana College faculty will offer four lectures in April at the Figge Art Museum in Davenport, Iowa, in conjunction with the college's exhibit there, "Celebrating Ideas: Bridging Communities with Augustana's Liberal Arts Through the AGES."
All the lectures are at 7 p.m. on Thursdays. Admission and the lecture are free to Figge members and Augustana faculty, students and staff; the lecture is free with admission to non-members. The Figge cafe and bar will open at 5 p.m. and there will be live music for the Thursdays at the Figge event.
April 7: Framing Art in the Liberal Arts: Bridging Communities with Liberal Arts through the AGES
Dr. Catherine Carter Goebel, Paul A. Anderson Chair in the Arts, professor and chair of art history, will discuss the relevance of examining original art through various disciplines. She also will give an overview for artwork dating from ancient Greece through modern pop, and talk about the book Liberal Arts through the AGES, which orchestrates artwork with research and essays by faculty, administrators and students.
April 14: What Are the Ideas and Where Are the Bridges?
Sherry C. Maurer, director of the Augustana College Art Museum, will lead a gallery walk discussion of the Augustana objects on exhibit. The tour will explore ideas and images ranging from the 15th-century expansion of information in the printed book to the 20th-century extension of our world view with satellite images. Commentary on the Olson-Brandelle North American Indian Art Collection and its related 2010 catalogue, for which Maurer served as principal editor, will be included.
April 21: Egypt, Athens, Rome – and Us: Five Millennia of Connections through Art
Dr. Emil Kramer, associate professor and chair of classics, will share his research on three different components of Augustana's art collection. Two of those are examples of late-Roman blown glass, which connect the material culture of the ancient Mediterranean to the modern world. The third item, an 18th-century engraving after Raphael's fresco, School of Athens, connects classical Athens, the Renaissance and the Enlightenment to modern liberal arts.
April 28: Linking the Verbal and the Visual Text
Dr. Taddy Kalas, professor and chair of French, will discuss bridges between the art and literature of early modern France. She has chosen four of her favorite pieces from the Augustana collection, which she will connect to Baroque, Romantic and Modern literary texts. Dr. Kalas has taught in the AGES (Augustana General Education Studies) program since its inception, and served as the first coordinator for its original winter term course, The Birth of Modern Times.


Sam Schlouch
Senior Communication Director
(309) 794-7833
samschlouch@augustana.edu