March 23, 2011
2011 Season - Schneiderbauer's offense keys win over SAU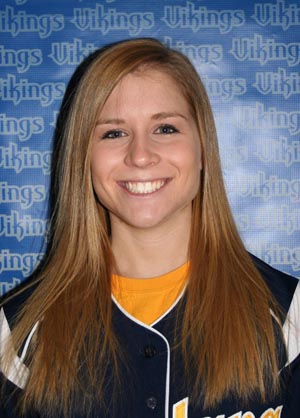 Freshman Lauren Schneiderbauer belted two home runs and collected three hits and seven RBI to lead Augustana to a 9-1 victory over St. Ambrose on Wednesday, March 23 in Davenport, Iowa.
DAVENPORT, Iowa - Freshman Lauren Schneiderbauer (Sterling HS, Sterling, Ill.) drilled a pair of home runs as Augustana broke a four game losing streak with a 9-1 non-conference victory over St. Ambrose on Wednesday, March 23. The game, which was played at Assumption Field in Davenport, Iowa, was supposed to be the first of two but the nightcap of the double header was cancelled because of rain.
The Vikings were coming off an 0-4 weekend at the Washington Invitational in St. Louis, Missouri over the weekend and needed a victory. Thanks to Schneiderbauer's seven RBI performance and an outstanding outing on the mound by freshman Sarah Hintz (Leroy HS, Leroy, Ill.), they came away with a win, the 12th straight in this series with the Queen Bees. Augustana's last loss to St. Ambrose came in the 2003 season.
After a scoreless first inning, the Vikings got busy in the top of the second. Freshman Krista Watson (Coal City HS, Coal City, Ill.) opened up with a single up the middle and senior Melissa Nelson (West Aurora HS, Aurora, Ill.) followed with a triple that brought home Watson with the game's first run. Nelson came home on a wild pitch. Junior Jillian Gibbs (Rock Island HS, Rock Island, Ill.) beat out an infield hit, went to second on a sacrifice bunt off the bat of senior Stephanie Sarb (Lisle HS, Lisle, Ill.) and scored on Schneiderbauer's single to left.
Gibbs led off the fourth with a single and Sarb followed that with an infield hit. After one out, Schneiderbauer homered to center field to make the score 6-0. The next time she came to bat was in the top of the sixth with two runners on base and she homered to left center to up the tally to 9-0.
St. Ambrose scored a single run in the bottom of the sixth to account for the final score.
Hintz worked all six innings and struck out eight while allowing four hits and three walks as she moved her record to 3-2 on the season.
In addition to Schneiderbauer's offensive explosion, which ended up being three hits, two runs scored and seven RBI, the Vikings got two hits apiece from Gibbs and Sarb.
With the victory Augustana moved its overall record to 7-8.