March 23, 2011
2011 WRESTLING REVIEW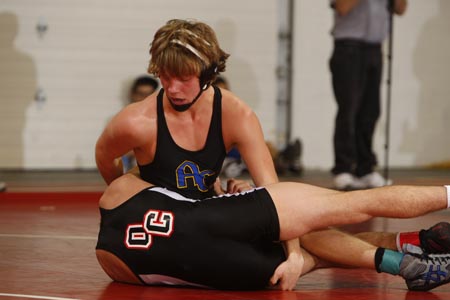 Freshman Jacob Scholten posted a 38-8 overall record and won both the CCIW and NCAA West Regional titles for the Vikings in 2010-11.
Freshmen Jacob Scholten and Jordan Graham win individual CCIW titles and qualify for NCAA national tournament; Vikings finish 9-6 in dual meets for best record since 2002-03; Tim Day and Hunter Feraco named to Scholar All-American team by NCAA Division III Wrestling Coaches Association
Youth was served in 2010-11 as the Augustana wrestling program turned in one of its best showings since the mid-2000's. Fourth year head coach Eric Juergens led his team to a 9-6 dual meet record and a third place finish in the College Conference of Illinois & Wisconsin. The Vikings also garnered two individual CCIW champions, two NCAA Division III national meet qualifiers, a pair of Scholar All-Americans and four wrestlers eclipsed the 30 victory plateau.
Clearly, the year was a success for Juergens and it was a pair of newcomers who helped pave the way. Freshmen Jacob Scholten (Rockford HS, Grandville, Mich.) and Jordan Graham (Big Rapids HS, Fremont, Mich.) each won individual titles at the CCIW meet in Elmhurst, Illinois on February 10. Scholten won the 125 pound weight class with an 11-1 win over Tom Laskowske of Elmhurst in the championship match. Graham picked up his championship at 165 pounds when he defeated Jason Bonham of North Central in the title bout. The Vikings had not had an individual CCIW champion since the 2006 season.
Augustana also got second place performances from junior Alberto Quiros (Morton East HS, Cicero, Ill.) at 141 and senior Tim Day (Wheaton-Warrenville South HS, Wheaton, Ill.) at 285. Greg Gogonas (Bowie HS, Austin, Texas) at 133, Steve Poffenberger (Allegan HS, Paw Paw, Mich.) at 149, Alex Vavra (Gull Lake HS, Dowling, Mich.) at 174 and Hunter Feraco (Gull Lake HS, Battle Creek, Mich.) at 197 all earned third place finishes. As a team the Vikings scored 63.5 points, their highest point total since scoring 74.5 in 2006.
After the first two meets of the season Scholten had four loses and was 8-4 coming back from the Concordia Open on November 20. He would suffer just four more defeats the rest of the season and wind up with a sparkling 38-8 record. Two of his losses came in the NCAA Division III national meet, meaning that he won 30 of 32 matches from November 23 until February 26. The last time an Augustana wrestler won at least 38 matches in the single season was in 2004-05 when Brian Daly went 40-10.
Not only did he win the CCIW title at 125 be he also captured the NCAA Great Lakes Regional to qualify for the national meet. He is now tied for 20 th place on Augustana's single season list of victories. During the season he won the 125 pound weight class as the North Central Invitational and the Central of Iowa Invitational.
Scholten was not alone at the national meet as Graham qualified as well thanks to his third place finish at the Great Lakes Regional. Graham would end the season with a fine 32-15 overall record.
Joining Scholten and Graham in the 30 victory circle were sophomore Vavra and Quiros. Vavra was 35-16 at 174 pounds while Quiros posted a 31-9 mark at 141.
Day and Feraco were named to the Scholar All-American team by the NCAA Division III Wrestling Coaches Association at the end of the season. Feraco was 24-15 overall and sports a 3.70 grade point average as a pre-medicine and computer science major. Day, who did not wrestle during his first three years on campus, was 17-16 at 285 and he has a 3.284 grade point average with a major in business administration.
The 9-6 record in dual meets was the first winning record for the Vikings since 2003-04 when they went 15-5 and won the CCIW team title. Augustana also placed seventh in the NCAA Great Lakes Regional with 54 points.
In all, eight Augustana wrestlers posted winning records during the 2010-11 season and during the course of the year Scholten, Quiros and Gogonas were all nationally ranked.
Under Juergens' leadership the Vikings have made steady progress over the past four years. His first team (2007-08) went 2-9 in dual meets and placed fourth in the CCIW tournament. In 2008-09 Augustana was 4-11 in duals, third in the CCIW and 12 th in the regional. Last year (2009-10) the Vikings were 5-10 in duals, third in the CCIW and 10 th in the regional. This year the 9-6 dual meet record, third place finish in the CCIW and seventh place in the Great Lakes Regional was accomplished with just two seniors in the starting lineup.
2011 COLLEGE CONFERENCE OF ILLINOIS & WISCONSIN TOURNAMENT
February 10, 2011 *** Faganel Hall *** Elmhurst, Illinois
TEAM SCORES: 1. Elmhurst 91, 2. North Central 89; 3. AUGUSTANA 63.5; 4. Wheaton 10; 5. Millikin, North Park, Illinois Wesleyan and Carthage did not field teams.
INDIVIDUAL PLACE WINNERS
| | | | | |
| --- | --- | --- | --- | --- |
| WEIGHT CLASS | CHAMPION | SECOND | THIRD | FOURTH |
| 125 | JACOB SCHOLTEN, AUGUSTANA | Tom Laskowske, North Central | Sean Tomas, North Central | |
| 133 | Nathan Fitzenreider, North Central | Jake Denhof, Elmhurst | GREG GOGONAS, AUGUSTANA | |
| 141 | Andrew Zobac, North Central | ALBERTO QUIROS, AUGUSTANA | Larry Baca, Elmhurst | |
| 149 | Ryan Earley, Elmhurst | Eric Oyster, North Central | STEVE POFFENBERGER, AUGUSTNA | Casey Krahn, Wheaton |
| 157 | Joby Bodi, North Central | Mike Grice, Elmhurst | Matt Cordell, Wheaton | MITCH MUSGROVE, AUGUSTANA |
| 165 | JORDAN GRAHAM, AUGUSTANA | Jason Bonham, North Central | Daniel Threlkeld, Elmhurst | Cameron Fox, Wheaton |
| 174 | Greg Schroeder, North Central | Frank Savegnago, Elmhurst | ALEX VAVRA, AUGUSTANA | |
| 184 | Joe Rau, Elmhurst | Justin Malone, Wheaton | Billy Malone, North Central | DAVID SOLIS, AUGUSTANA |
| 197 | Andrew Bradley, North Central | Danny Vargas, Elmhurst | HUNTER FERACO, AUGUSTANA | Rocky Gingg, Wheaton |
| 285 | Mark Corsello, Elmhurst | TIM DAY, AUGUSTANA | Valente Garza, North Central | Jason Geick, Wheaton |
2010-11 AUGUSTANA WRESTLING SUPERLATIVES
NCAA DIVISION III NATIONAL MEET QUALIFIER – Jacob Scholten @ 125 pounds & Jordan Graham @ 165 pounds for first Augustana individual conference champions since 2006
NCAA DIVISION III GREAT LAKES REGIONAL CHAMPION – Jacob Scholten @ 125 pounds
COLLEGE CONFERENCE OF ILLINOIS & WISCONSIN INDIVIDUAL CHAMPIONS – Jacob Scholten @ 125 pounds and Jordan Graham @ 165 pounds
NATIONAL WRESTLING COACHES ASSOCIATION "SCHOLAR ALL-AMERICAN" – Hunter Feraco & Tim Day
NORTH CENTRAL INVITATIONAL CHAMPION (12/11/10) – Jacob Scholten @ 125 pounds
CENTRAL OF IOWA INVITATIONAL CHAMPION (01/15/11) – Jacob Scholten @ 125 pounds & Alberto Quiros @ 141 pounds
ADDITION TO AUGUSTANA'S TOP 20 SINGLE SEASON VICTORY LIST – Jacob Scholten, tied for 20 th with 38-15-0 record
CCIW WRESTLER OF THE WEEK – Jacob Scholten on 01/18/11
TEAM DUAL MEET RECORD – 9-6 for best record since 2003-04
CCIW TEAM FINISH – Third with 63.5 points for highest point total in conference championship since 2006
MOST VALUABLE PERFORMER –
MOST IMPROVED WRESTLER –
HARDEST WORKER –
SACRIFICE AWARD –