March 20, 2011
2011 Season - Vikings improve to 10-1 with win over Carroll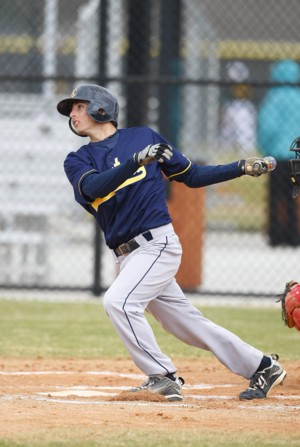 Sophomore shortstop Kurt Schmidt went 3-for-4 with two runs scored and three RBI Sunday as Augustana finished up play in Florida with a 12-2 win over Carroll.
FORT MYERS, Fla.-More strong pitching and a big day from shortstop Kurt Schmidt (Grayslake Central HS, Grayslake, Ill.) helped the Augustana baseball team defeat Carroll 12-2 Sunday in Fort Myers, Florida. Starter Ray Homolka (Glenbard West HS, Wheaton, Ill.) went six innings to pick up the win as the Vikings improved to 10-1 on the year.
The Pioneers took a 2-0 lead in the top of the third. Homolka hit Aaron Gendrich to start the frame and George Simmons followed with a double to left, putting runners on second and third. Gendrich came home and Simmons moved to third on a Viking error and Jordan Stephans scored Simmons with a single to center. Homolka got out of further damage by retiring the next three Carroll batters, including two on strikes.
Augustana got its offense going in the bottom of the fourth. Anthony Concialdi (Fremd HS, Barrington, Ill.) drew a one-out walk, stole second and came around to score on a Mike Lamb (Ottawa HS, Ottawa, Ill.) single to right. Schmidt tied the game with an RBI single to center, scoring Niko Capodice (Minooka HS, Minooka, Ill.). After a Pioneer error loaded the bases, Dave Hoffman (Cary-Grove HS, Cary, Ill.) gave the Vikings the lead with a two-run single to center. Pat Wilson's (Stevenson HS, Vernon Hills, Ill.) RBI single scored Jeremy Juhl (Glenbard East, Lombard, Ill.) to put Augustana up 5-2.
Homolka settled in and held Carroll scoreless in the fourth, fifth and sixth before yielding to the Viking bullpen. Meanwhile, the offense continued to build on the lead. A two-run double by Schmidt in the fifth and a Capodice sacrifice fly in the sixth made in 8-2.
Augustana added two runs each in the seventh and eighth. Trevor Fennelly (Assumption HS, Davenport, Iowa) scored Zac Chuvala (Rocky Mountain HS, Fort Collins, Colo.) with an RBI double in the eighth and scored the game's final run on a Jim Sandberg (J.K. Mullen HS, Littleton, Colo.) single which triggered the mercy rule.
Schmidt finished the day 3-for-4 with two runs scored and three driven in. Juhl, Wilson and Lamb each had a pair of hits. Josiah Martin (Canton HS, Canton, Ill.) and Luke Lowery (Regis HS, Lone Tree, Colo.) each threw a scoreless inning in relief of Homolka, who evened his record at 1-1.
The Vikings now return to the Midwest, visiting Monmouth at 3:00 p.m. Thursday, March 24, before playing their home opener at 1:00 p.m. Sunday, March 27 against Aurora.