March 19, 2011
2010-11 Season - Reece & Panko earn singles wins vs. Kohawks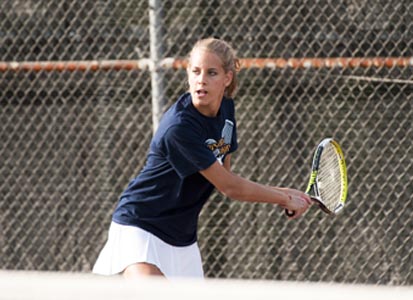 Brittany Reece won her singles match 6-1, 6-2 over Coe's Elizabeth Hoffmann at No. 6 singles. She now has 31 career singles victories to go along with 33 in doubles.
CEDAR RAPIDS, Iowa – The Augustana women's tennis team traveled to Cedar Rapids, Iowa and lost a 7-2 decision to Coe on Saturday, March 19. The Vikings are now 11-7 overall this season.
After getting swept in the three doubles matches, the Blue & Gold performed much better in singles action. Sophomore Krista Panko (Geneva HS, Geneva, Ill.) and junior Brittany Reece (Naperville Neuqua Valley HS, Naperville, Ill.) won at No. 5 and No. 6 singles to score the two points of the day for Augustana. Panko defeated Natalie Bordignon (6-4, 6-2) at No. 5 while Reece was a (6-1, 6-2) winner against Elizabeth Hoffmann at No. 6.
Freshman Shannen McNamara (Battle Mountain HS, Avon, Colo.) played a tight match with Michelle Shupbach at No. 2 before falling (6-4, 6-4). Freshman Samantha Tonn (Moline HS, Moline, Ill.) also had a competitive match, losing (6-4, 6-3) to Sara Ohlman at No. 4. Freshman Kim Sawyer (Batavia HS, Batavia, Ill.) rallied back after a tough start, but lost (6-1, 6-4) to Hannah Jensen at No. 1. Senior Tricia Sapio (Barrington HS, Hoffman Estates, Ill.) faced off with Tai Lucero, the Iowa Conference "MVP" from the fall, and dropped a (6-0, 6-0) decision at No. 3.
Augustana is back in action on Sunday, March 27 with a match-up against Quad City rival St. Ambrose at the Quad City Tennis Club in Moline, Illinois.
03/19/11 – Coe 7, Augustana 2
| | |
| --- | --- |
| | RESULT |
| Singles | |
| 1. | Hannah Jensen (COE) def. Kim Sawyer (AUGIE) 6-1, 6-4 |
| 2. | Michelle Shupbach (COE) def. Shannen McNamara (AUGIE) 6-4, 6-4 |
| 3. | Tai Lucero (COE) def. Tricia Sapio (AUGIE) 6-0, 6-0 |
| 4. | Sara Ohlman (COE) def. Samantha Tonn (AUGIE) 6-4, 6-3 |
| 5. | Krista Panko (AUGIE) def. Natalie Bordignon (COE) 6-4, 6-2 |
| 6. | Brittany Reece (AUGIE) def. Elizabeth Hoffmann (COE) 6-1, 6-2 |
| Doubles | |
| 1. | Michelle Shupbach/Tai Lucero (COE) def. Shannen McNamara/Kim Sawyer (AUGIE) 8-1 |
| 2. | Sara Ohlman/Natalie Bordignon (COE) def. Samantha Tonn/Krista Panko (AUGIE) 8-3 |
| 3. | Hannah Jensen/Elizabeth Hoffmann (COE) def. Tricia Sapio/Sheri Hendricks (AUGIE) 8-2 |