March 19, 2011
2011 Season - 6-run 8th keys win over Otterbein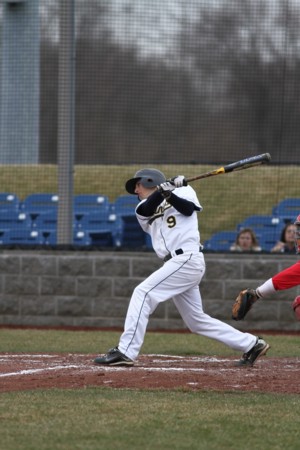 Sophomore shortstop Kurt Schmidt had two hits including a 2-run double in Augustana's six-run eighth inning as the Vikings rallied for an 8-5 win over Otterbein.
FORT MYERS, Florida-T.J. O'Donnell's (New Trier HS, Northbrook, Ill.) two-run homer capped a six-run eighth inning Saturday as Augustana improved to 9-1 with an 8-5 win over Otterbein in Fort Myers, Florida. Kurt Schmidt (Grayslake Central HS, Grayslake, Ill.) had a two-run double as well in the inning as the Vikings rallied for the win.
Facing a 4-2 deficit in the bottom of the eighth, Jeremy Juhl (Glenbard East, Lombard, Ill.) led off with a single to left center. Kevin Serna (Rolling Meadows HS, Arlington Heights, Ill.) followed with an infield hit and Anthony Concialdi (Fremd HS, Barrington, Ill.) moved both over with a sacrifice. Mike Lamb (Ottawa HS, Ottawa HS) scored Juhl with a single to left and Schmidt delivered with a two-bagger down the left field line to score Serna and Lamb and give the Vikings a 5-4 lead. Joe Moran (Notre Dame HS, Chicago, Ill.) singled, scoring Schmidt with the fourth run of the inning and knocking Cardinal pitcher Travis Stephens from the game. New Otterbein hurler Alex Lake got Dave Hoffman (Cary-Grove HS, Cary, Ill.) to fly to left, O'Donnell followed with the Vikings' first home run of the season to make it 8-4. The Cardinals scored an unearned run in the top of the ninth to make the final 8-5.
After three scoreless innings, Augustana fell behind as Otterbein got to starter Jared McIntosh (Assumption HS, Davenport, Iowa) for four runs in the fourth. Josh Coleman's two-run double was the big blow. The Vikings answered with a pair of runs off Cardinal starter David Cydrus in the bottom half on singles by Hoffman, Pat Wilson (Stevenson HS, Vernon Hills, Ill.) and Juhl and Serna's sacrifice fly to center.
Both McIntosh and Cydrus settled down, with each holding the opposition scoreless in the fifth and sixth before giving way to their respective bullpens. John Peters (Alleman HS, Milan, Ill.) came on for Augustana and held the Cardinals without a run in the seventh and eighth to give the Vikings an opportunity to rally. He earned his first win of the season against no losses. He gave up one hit and struck out three while walking none.
The offense banged out 16 hits, including three each by Wilson and Juhl. Schmidt, Moran and O'Donnell each had a pair.
The Vikings finish up play in Florida with a9:30 a.m. contest on Sunday, March 20 against Carroll.