March 18, 2011
2011 Season - Vikings sweep Wisconsin Lutheran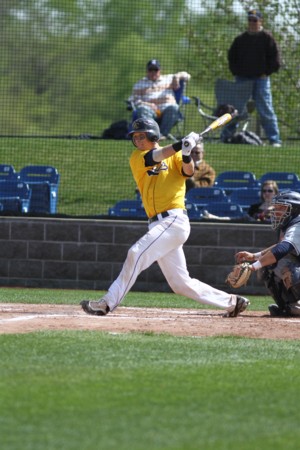 Senior T.J. O'Donnell caught both games and went 2-for-3 with two doubles in the nightcap as the Vikings swept Wisconsin Lutheran 9-2 and 7-0 in a doubleheader Friday in Fort Myers, Florida.
FORT MYERS, Fla.-Augustana got balance throughout its lineup and outstanding pitching performances in both games Friday as the Vikings claimed a doubleheader sweep of Wisconsin Lutheran in Fort Myers, Florida. Augustana, which currently sits one spot outside the Top 25, improves to 8-1 on the season, while the Warriors drop to 4-4.
Game One: Augustana 9, Wisconsin Lutheran 2
A leadoff triple by Kurt Schmidt (Grayslake Central HS, Grayslake, Ill.) in the top of the first set the tone for the day as the Vikings jumped on WLC for six runs in the inning and cruised to a 9-2 win. Schmidt came home on a Dave Hoffman (Cary-Grove HS, Cary, Ill.) single and the Vikings added five more runs with two outs in the frame. Jared McIntosh (Assumption HS, Davenport, Iowa) and Mike Lamb (Ottawa HS, Ottawa, Ill.) each had two-run doubles as Augustana sent 10 men to the plate.
In the fourth, Schmidt led off with a walk, stole second and came around to score on a Joe Moran (Notre Dame HS, Chicago, Ill.) double to make it 7-0.
The Warriors got to Augustana starter Mike Trotta (Notre Dame HS, Chicago, Ill.) for a run in the bottom of the fourth on a walk, a wild pitch and a single, but the Vikings came back with two runs in the sixth. Lamb's leadoff double started things and Schmidt followed with a single. Both came around to score with the help of a pair of Warrior errors.
Wisconsin Lutheran managed an unearned run off freshman reliever Brian Konecke (Lakes Community HS, Itasca, Ill.) to make the final 9-2.
Schmidt was the offensive catalyst, going 2-for-3 with a pair of stolen bases and three runs scored. McIntosh and Lamb were 2-for-4 with two RBI each. Trotta gave up just three hits and one run in six innings, walking four and fanning four, to improve to 3-0 on the season. Konecke struck out two Warriors in his only inning.
Game Two: Augustana 7, Wisconsin Lutheran 0
In the nightcap, Ben Heaton (Bloomington Central Catholic HS, Heyworth, Ill.) went six shutout innings and the offense rapped out 13 hits as the Vikings completed the sweep with a 7-0 win.
Augustana got the only runs it would need in the bottom of the second. McIntosh got a one-out single, stole second and scored on a Joe Cecchi (Romeoville HS, Romeoville, Ill.) single. Lamb delivered Cecchi with an RBI single to give the Vikings a 2-0 lead.
A two-out double by T.J. O'Donnell (New Trier HS, Northbrook, Ill.) and Pat Wilson's (Stevenson HS, Vernon Hills, Ill.) RBI single made it 3-0 in the third.
The Vikings got two runs each in the fifth and sixth innings to put the game away. All four runs came after two were out. In the fifth, Hoffman singled with two outs and O'Donnell and Wilson again doubled and singled, respectively, driving in a run each. Moran scored Lamb with an RBI double in the sixth and scored on a Hoffman single to make it 7-0.
Josiah Martin (Canton HS, Canton, Ill.) came on for Heaton and struck out the side in the seventh.
Heaton (2-0) walked four, struck out five and gave up just two hits in six scoreless innings. Hoffman went 3-for-4 with a double, while O'Donnell, Wilson and Lamb each went 2-for-3. O'Donnell had two doubles and scored twice. Wilson drove in a pair and Lamb stole two bases.
The Vikings are back in action at 10:00 a.m. on Saturday, March 19, taking on Otterbein in Fort Myers.