March 16, 2011
2010-11 Season - Day, Feraco win Scholar All-American honors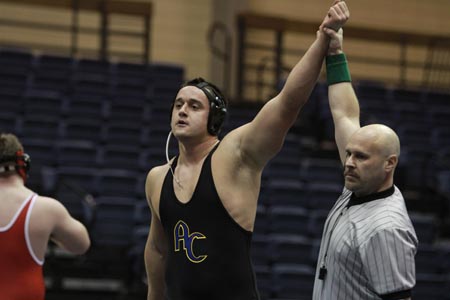 Two Augustana wrestlers were named to the NCAA Division III Scholar All-American team by the Wrestling Coaches Association. Tim Day (pictured) and Hunter Feraco were the honored Vikings.
Two Augustana wrestlers were named to the 2011 Scholar All-American team by the NCAA Division III Wrestling Coaches Association, it was announced today. Senior Tim Day (Wheaton-Warrenville South HS, Wheaton, Ill.) and sophomore Hunter Feraco (Gull Lake HS, Battle Creek, Mich.) were honored for both their work on the wrestling mat and in the classroom.
Day was the Vikings' regular at 285 pounds in his first year of collegiate wrestling after a stellar career as an offensive lineman in football. He posted a record of 17-16 and placed third in the College Conference of Illinois & Wisconsin tournament on February 10 in Elmhurst, Illinois. Day was also sixth at the NCAA Division III Great Lakes Regional on February 26 at Lakeland College in Sheboygan, Wisconsin. He carries a 3.284 grade point average with a major in business administration.
Feraco worked at both 184 and 197 pounds this past season and put together an overall record of 24-15. He placed third in the CCIW tournament at 197 pounds. A pre-medicine and computer science major, Feraco sports a 3.70 grade point average.
Augustana, under the direction of fourth year head coach Eric Juergens, finished the year with a 9-6 dual meet record, the first winning season since 2003-04 and placed third in the CCIW with 63.5 points. That is the highest point total for the Vikings in the conference tournament since 2006 when they scored 74.5.
In order to be eligible for the NCAA Division III National Wrestling Coaches Scholar All-American honor, the individual wrestler must have a winning record, wrestle in at least half of his team's matches and have a grade point average of at least 3.20.