Five Questions for: Todd Cleveland
March  16, 2011
Five Questions is a series of profiles of people at Augustana College. Todd Cleveland, assistant professor of history, gives the answers today. If you know someone you'd like to see profiled, send his or her name and a note to sharenews@augustana.edu.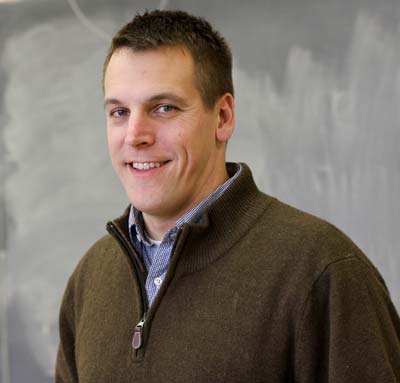 Todd Cleveland
1. Why did you make African history the focus of your Ph.D. work at the University of Minnesota?
I was always interested in history and received both my bachelor's and master's degrees in history at the University of New Hampshire. In graduate school, my main area of study was the European colonial experience in Africa. During this time, I had the chance to visit my sister, who was serving in the Peace Corps in Guinea Bissau. My visit there and the people I met convinced me that I wanted to go on to a Ph.D. program in history, but with a shift in focus to the African side of the European colonial experience.
2. You did significant fieldwork in and around the diamond mines of Angola.
Why Angola?
About the time I was ready to begin my Ph.D. fieldwork in Angola, my wife was invited to join the International Organization for Migration. Her first assignment in Angola was to deliver HIV/Aids awareness programs. Her assignment to Angola dovetailed nicely with my desire to do my research in a former Portuguese African colony. In fact, Angola was once Portugal's largest and most resource-rich colony — diamonds and oil being the country's most important natural resources.
This was also 2004, and a 27-year-long civil war had just come to an end, so it was an exciting time, with refugees streaming back into the country and things just starting to re-open, enabling researchers to re-enter the country, as well, after a long time away.
3. What did you want your students to learn during the West African
study trip you led last fall?
This program got the students out of the typical college bubble and immersed them in things outside of most college students' comfort zones. We ventured deep into an underground gold mine and spent time with kids in orphanages. The students were also encouraged to learn as much as possible about African society. They visited with people from a variety of social classes and also had the opportunity to interview traditional African leaders.
4. What have you found to be the most common misconception
Americans have about African history?
Americans tend to think of Africa as a monolithic place where everybody is poor, hungry and devoid of hope. The truth is the exact opposite. I have learned to greatly admire Africans and find them to be far less materialistic and far more optimistic and hopeful than many Americans. The challenges they face in building Africa's social, political and economic systems from the debris of European colonial rule are surely daunting, but Africans face it all with a genuine faith in what tomorrow will bring.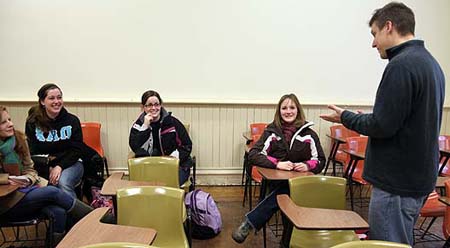 Five Questions recently has featured:
5. What led you to embrace English and Portuguese soccer?
I played soccer in high school and dabbled with it a bit at the collegiate level, but I really fell in love with the sport while I was in Europe. I lived for a while on the north side of London and got caught up in the energy and spirit of the Arsenal Football Club fans. I was also living in Portugal when the country hosted the 2004 Euro Championships. The championships were like a month-long street party, and every major intersection had a huge digital screen broadcasting soccer matches. I know I am in the minority here in America, but I remain a huge fan of the sport.