March 13, 2011
2010-11 Season - McNamara & Sawyer win, but Vikings fall 6-3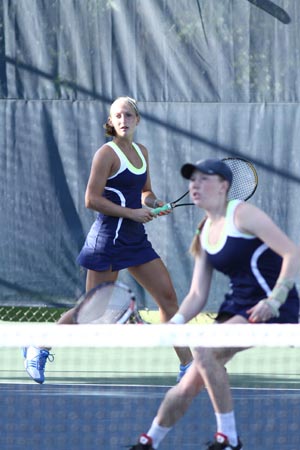 Shannen McNamara and Kim Sawyer each won a pair of matches against Wartburg. They teamed for a victory at No. 1 doubles and also earned victories at No. 1 and No. 2 singles. The duo is 13-7 overall in doubles. Sawyer leads the team with a 20-5 singles record and McNamara is 16-7 on the singles court.
WAVERLY, Iowa – The Augustana women's tennis team dropped its first match after returning from its spring trip, falling 6-3 to Wartburg on Sunday, March 13 in Waverly, Iowa. Freshmen Shannen McNamara (Battle Mountain HS, Avon, Colo.) and Kim Sawyer (Batavia HS, Batavia, Ill.) won matches at the top of the lineup, but the Vikings were unable to pick up any other points against the Knights.
All three doubles matches were very close, but Wartburg gained a 2-1 edge heading into singles play. McNamara and Sawyer pulled away late for an (8-5) victory against Molly Eslick and Leanna Nelson at No. 1. Senior Tricia Sapio (Barrington HS, Hoffman Estates, Ill.) and sophomore Krista Panko (Geneva HS, Geneva, Ill.) lost (8-5) at No. 2 against Jenny Dallenbach and Lindsay Greiner. Junior Brittany Reece (Naperville Neuqua Valley HS, Naperville, Ill.) and sophomore Meghan Wethington (Geneseo HS, Geneseo, Ill.) also fell by an (8-5) score to Leann Jenkins and Claire Evans at No. 3 doubles.
Trailing 2-1, the Vikings leveled the match when Sawyer defeated Nelson (6-2, 6-3) at No. 2 singles. Wartburg went back in front with a victory at No. 6, where Augustana's Emily Kaczmarek (Glenbard South HS, Lombard, Ill.) lost (6-1, 6-3) to Evans. McNamara rallied for an impressive victory against Eslick, pulling out a (5-7, 6-2, (10-2)) victory at No. 1. It was the first dual meet loss of the year for Eslick, who was 14-0 at No. 1 singles. Senior Sheri Hendricks (Wheaton Warrenville South HS, Warrenville, Ill.) struggled in her first set, but almost pulled off a terrific comeback, falling (6-0, 6-7 (3), (10-7)) to Jenkins at No. 5, giving Wartburg a 4-3 edge with two matches left to play. The Knights controlled the action in the final two matches to walk away with the win. Sapio lost (6-0, 6-2) to Dallenbach at No. 3 and freshman Samantha Tonn (Moline HS, Moline, Ill.) fell (6-1, 6-0) to Greiner at No. 4.
The Vikings are now 11-6 overall this season. The Blue & Gold are back in action on Saturday, March 19 at Coe.
03/13/10 – Wartburg 6, Augustana 3
| | |
| --- | --- |
| | RESULT |
| Singles | |
| 1. | Shannen McNamara (AUGIE) def. Molly Eslick (WARTBURG) 5-7, 6-2, (10-2) |
| 2. | Kim Sawyer (AUGIE) def. Leanna Nelson (WARTBURG) 6-2, 6-3 |
| 3. | Jenny Dallenbach (WARTBURG) def. Tricia Sapio (AUGIE) 6-0, 6-2 |
| 4. | Lindsay Greiner (WARTBURG) def. Samantha Tonn (AUGIE) 6-1, 6-0 |
| 5. | Leann Jenkins (WARTBURG) def. Sheri Hendricks (AUGIE) 6-0, 6-7 (6), (10-7) |
| 6. | Claire Evans (WARTBURG) def. Emily Kaczmarek (AUGIE) 6-1, 6-3 |
| Doubles | |
| 1. | Shannen McNamara/Kim Sawyer (AUGIE) def. Molly Eslick/Leanna Nelson (WARTBURG) 8-5 |
| 2. | Jenny Dallenbach/Lindsay Greiner (WARTBURG) def. Tricia Sapio/Krista Panko (AUGIE) 8-5 |
| 3. | Leann Jenkins/Claire Evans (WARTBURG) def. Brittany Reece/Meghan Wethington (AUGIE) 8-5 |