March 15, 2011
2010-11 Season - Nelson, Giovanine earn D3Hoops.com honors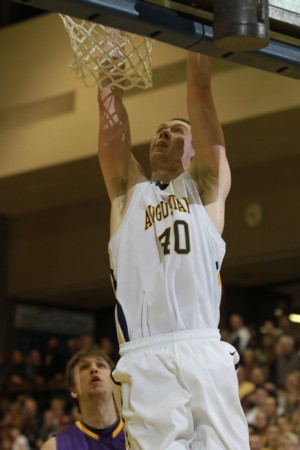 Senior co-captain Kyle Nelson has been named to the D3Hoops.com All-Midwest Region team. Nelson was a first team selection at center.
ROCK ISLAND, Ill. - Coming off a 27-4 season and an Elite Eight appearance in this year's NCAA Division III tournament, Augustana senior co-captain Kyle Nelson (Deerfield HS, Deerfield, Ill.) and head coach Grey Giovanine have been honored with the release of D3Hoops.com's All-Region teams. Nelson was a first team Midwest All-Region selection at center and Giovanine was named the Midwest Region's Coach of the Year.
Nelson, who was a third team all-region pick a year ago, led the Vikings in scoring and rebounding for the second straight year. He averaged 13.7 points and 6.6 rebounds and shot .514 from the field while anchoring the interior of a defense that ranked 16th in the nation, allowing an average of just 60.1 point per game. He was also third on the team with 29 steals and fourth with 56 assists.
This year's all-region recognition is the latest in a string of honors for the 6-9, 230 pound Nelson. He was a fifth team D3Hoops.com pre-season All-America pick this year and earned first team All-CCIW honors for the second consecutive year. In addition, he was one of 10 finalists for the prestigious Jostens Trophy, a national award to honor the most outstanding men's and women's Division III basketball players of the year.
Despite starting for just two seasons, Nelson finished his career ranked 24th on Augustana's all-time scoring list with 947 points and 22nd in career rebounds with 475. His .553 career field goal percentage is the ninth-best mark in school history. He helped the Vikings compile a record of 84-28 during in his four years, including a 40-16 mark in the CCIW with two regular season championships as well as a pair of conference tournament titles.
Giovanine guided this year's Vikings to the second most wins in school history and now has a record of 226-93 (.708) in 12 seasons at Augustana. He's compiled a 114-54 mark in the CCIW, a winning percentage of .679 that is the highest among the league's active coaches and ranks fourth all-time among those with at least 10 seasons. His five regular season CCIW titles (2003, 2006, 2007, 2008 & 2010) rank fifth in conference history and his teams have won three of the six conference tournaments (2007, 2008 & 2010) since the event was first held in 2006.
In addition to Midwest Region Coach of the Year honors, Giovanine was named CCIW Coach of the Year for the fourth time (2006, 2007, 2008 & 2010), sharing the honor with Todd Raridon of North Central. He's also been the Illinois Basketball Coaches Association NCAA Division III Coach of the Year in 2003, 2006, 2007 and 2008.
The CCIW also had the region's Player of the Year (Steve Djurickovic of Carthage) and Rookie of the Year (North Central's Landon Gamble).
D3HOOPS.COM MEN'S ALL-MIDWEST REGION TEAM
First team
| | | | | |
| --- | --- | --- | --- | --- |
| Pos. | Player | School | Yr. | Hometown |
| G | Steve Djurickovic | Carthage | Sr. | Pleasant Prairie, Wis. |
| G | Scott Gillespie | Ripon | Sr. | Ripon, Wis. |
| F | Tim McCrary | Wheaton (Ill.) | Jr. | Wilmette, Ill. |
| F | Spencer Gay | Washington U. | Sr. | Dacula, Ga. |
| C | KYLE NELSON | AUGUSTANA | SR. | DEERFIELD, ILL. |
Second team
| | | | | |
| --- | --- | --- | --- | --- |
| Pos. | Player | School | Yr. | Hometown |
| G | Austin Meier | Milwaukee Engineering | Sr. | Slinger, Wis. |
| G | Matt Johnson | Chicago | Jr. | Ann Arbor, Mich. |
| F | Robert Malone | Rockford | Sr. | Stephens, Ark. |
| F | Mike Case | Hanover | Jr. | Indianapolis, Ind. |
| C | Doug Sexauer | Illinois Wesleyan | Sr. | Homer Glen, Ill. |
Third team
| | | | | |
| --- | --- | --- | --- | --- |
| Pos. | Player | School | Yr. | Hometown |
| G | Jordan Moss | Manchester | Jr. | Columbia City, Ind. |
| G | Logan Wolfrum | Defiance | So. | Defiance, Ohio |
| G | David Wipperfurth | St. Norbert | Sr. | Sauk City, Wis. |
| F | Aris Wurtz | Ripon | Jr. | Waupun, Wis. |
| F | Landon Gamble | North Central (Ill.) | Fr. | Joliet, Ill. |
COACH OF THE YEAR: GREY GIOVANINE, AUGUSTANA
Player of the Year: Steve Djurickovic, Sr., Carthage
Rookie of the Year: Landon Gamble, F, North Central (Ill.)