March 2011
A new voice on WVIK
Following January's announcement that a national search would be conducted for a new general manager at Augustana Public Radio, you might have thought the radio station and its staff would adopt a status quo stance until a new leader is identified. You'd have thought wrong.
A new program is about to debut, a strategic plan is nearing completion and an amped-up fundraising and underwriting program is expected to put the station on track for growth.
"The Parent Trip" is expected to premiere at noon on Saturday, April 9, which happens to be the first day of WVIK's Spring Fund Drive. The program's host, Anna Kronenberger, is known to many on campus (she's the spouse of Dr. Paul Croll in Augustana's sociology department). In addition to having three kids, Anna has a background in journalism that suits her well for asking the right questions of pediatricians, educators, developmental experts and a whole range of people who help parents raise families.
Meanwhile, a Strategic Plan Task Force made up of station staff and leaders from the campus and broader community is expected to submit a strategic plan to President Bahls in April.
Even with some minor modifications, WVIK remains the only station to offer both NPR and Quad Cities news and information, coupled with classical music and jazz from local hosts and network programs. Augustana Public Radio broadcasts at 90.3 FM and online at wvik.org.
Going to the chapel with Connie
Connie Huntley hears wedding bells when spring is around the corner—the corner of Founders Hall, that is. In her eight years with campus ministries, Connie has helped nervous wedding guests and planners with about 120 weddings in Ascension Chapel.
We should be grateful for her cheerful nature; as the official greeter, Connie represents a welcome from the college. Besides keeping the bride and groom separated for their preparations, pinning on corsages, and running up and down stairs as a general "go-to," Connie's primary role is to help run the chairlift leading from Founders' first floor to the chapel's entrance. This responsibility can be as difficult as it sounds, and not just because the chairlift is persnickety and unpredictable.
"Nine out of ten are terrified of using the lift," she says, "and they feel guilty for holding up the crowd. So I tell them it's just like Disney—they should just wave to the crowd, so everyone can take more pictures. Then they're more comfortable."
At one wedding, seven people needed the lift. With only two remaining, the person who had just arrived at the top promptly asked about restrooms. From then on, Connie made sure to point out those locations before sending people into the upper, restroom-free realm of the chapel.
She recalls the couple with 10 nieces and nephews, all under the age of 6, all taking part in the procession. Ten tiny cousins in matching finery marched up the nave playing drums and small instruments. Before reaching the altar, they curved down the side aisles, down the two flights of stairs and into Founders' basement, where patient childcare providers ensured they continued their festivities away from the wedding.
"No two weddings are alike, and all are special," this expert notes. Connie provides one more secret and very special service. During the recessional, when the newlyweds exit the chapel, she is waiting outside with her camera.
"Usually the hired photographers are still inside getting photos of the entire wedding party as they leave," she says. "So I try to take the first photo of the couple away from the crowd. Of course they're so happy, so nervous, and usually kissing!" She sends the photograph to them later.
One bride sent Connie a gift for all she'd done, and she keeps it at her desk. Next time you visit Connie, ask to see the silver angel snow globe, with the words Thank You and a wedding day inscribed.
Field Notes
Field Notes illustrates different kinds of experiential learning that take us places off campus. In this issue, Chris Scott '05, artist-in-residence in vocal music, writes on the band's spring tour to Italy.
As the Augustana Choir remained relatively local for their regional Homeland Tour, I had the great privilege of accompanying the Augustana Symphonic Band on its tour of Italy—nine sightseeing and performance-packed days beginning in Verona and Venice and moving down through the hills of Tuscany, finally ending in Rome.
This trip was such a pleasure for me because Italy (language, food, culture) is a passion of mine. As an Augustana student, I spent two summer months studying music and language there, and I have had the good fortune of being able to return several times. It was a joy for me to see the students' reactions to what was, for many of them, their first experience of Italy, and for some, their first experience outside the United States.
The most gratifying aspect along the way, as I expect those of you who have taken groups into other countries will agree, is the cultural exchange—immersing students in a different culture and asking them to step a little bit outside of comfort, to adapt to a different culture. Our students were mature and well mannered, complimented multiple times along the way.
A highlight for us all was performing in the Tuscan town of Lucca, where I had experienced Italy for the first time eight years ago. Lucca is the hometown of Giacomo Puccini, a giant in the world of Italian opera, and band director James Lambrecht had so keenly programmed selections from Turandot, one of Puccini's most famous operas. (Most of you will recognize the iconic tenor aria, Nessun Dorma.) The outburst of applause at the final note was deafening. Each student will be receiving an individualized certificate thanking him or her for successfully performing Puccini's music in his hometown.
In talking with audience members after our concerts, common words used were passion and emotion. Many were visibly moved, not only by the technical proficiency of the students on stage but also with their musicality, the passion with which they played and the emotion exhibited through their music.
From the Cabinet
Evelyn Campbell, Dean and Vice President of Student Services
As you may know, we have a new director of public safety, and we have combined security and safety into a single office, which is now part of student services. Dennis White already has begun to make important changes that will improve the safety and security of our campus community.
One of the most visible changes is the public safety student corps. Last term, Tom Phillis hired six students to pilot the corps, which we hope will grow to about 25 next year. Although these students will receive training in some ways similar to our full-time security staff, they will not be placed in at-risk situations. Rather, they will observe and report to the security officers so that small concerns can be caught and resolved before turning into larger problems. They will walk the campus, accompany security staff in vehicles, help manage crowds and parking for large-scale events and generally multiply the impact of our full-time security staff.
I am sharing this also to introduce a new focus for student services beginning next year. With the exception of counseling services, all student services staff work very closely with a group of student leaders as employers, mentors, educators and friends. Next year we will begin a leadership program for these students that will combine their work or volunteer experience in student services with a program of leadership development designed to give them an edge in the marketplace. Imagine a community advisor who—in addition to building community on the residence hall floor and confronting policy violations—works with the dean of students to accomplish a broad set of individualized goals designed to strengthen leadership skills during the year. Or think of a basketball coach who meets weekly with a captain to practice being a strong leader off the court, as well as on the court.
We are excited about combining on-the-job training with an in-depth, individualized program of leadership development for about 150 of our most involved students in the fall. We hope this program will make a difference in their lives, inside and outside of the classroom experience.
New Face on Campus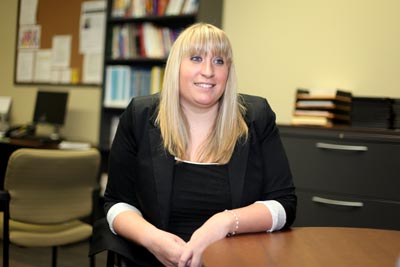 Beth Heiter (pronounced Heater)
Director of Annual Giving
B.A., sociology, Wartburg College
As the college's new director of annual giving, Beth Heiter is responsible for building The Augustana Fund and maintaining relationships with a select group of donors. Prior to coming to Augustana, she was assistant director of annual fund programs at Drake University in Des Moines.
Beth has lived in the Quad Cities for only a couple months, but she is beginning to feel at home though she does miss the variety of restaurants Des Moines offers. Passionate about exotic food, she would appreciate hearing about the best restaurants in our area that serve Thai, Indian, Lebanese, Mexican or Italian food.
Pastas and other high-carb dishes most likely will be favorites in the coming weeks as Beth steps up her training for a half-marathon in June. It's a family affair, and the pressure's on. Beth's race partners will be her parents, who already run 13-plus miles easily, and a younger brother who runs track at Culver-Stockton College.
Although running is Beth's primary sport right now, she has been a swimmer since age 5 and enjoyed success as a competitor and as a coach. In high school, she qualified for state in the backstroke. During her senior year at Wartburg, she coached the Charles City High School varsity swim team, which had five swimmers competing in the state meet. Beth still would be swimming today if the master's class (a.k.a. the "old person" swim) at the Bettendorf YMCA wasn't held at 5:30 a.m.
Also at Wartburg, Beth sang alto in the choir and helped coordinate choir tours. She became acquainted with Dr. Simon Estes, the internationally acclaimed opera singer and music professor at Wartburg who often traveled with the choir. When she graduated, Estes offered her a teaching position at his school of music near Cape Town, South Africa, which serves the poorest children in the area. Although she had studied in South Africa and enjoys traveling, she elected to stay closer to home and work as an admissions counselor in the Chicago area for Culver-Stockton.
South Africa would have been an adventure, but her decision to go to Culver-Stockton moved Beth closer to her career choice of fund-raising, and ultimately, Augustana.
Seen & Heard
"Being a parent has its ups, its downs...and even some loop-de-loops. It's a journey unlike any other, and we hope through this show to remind people that no one has to make it alone."—Anna Kronenberger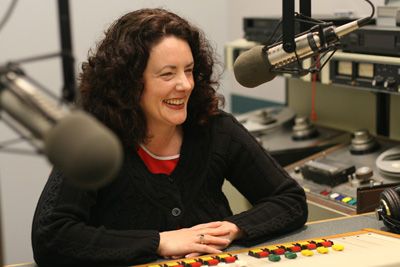 Anna Kronenberger, host of The Parent Trip, at WVIK.
Acknowledge is published by the Office of Communication and Marketing. Contact Beth Roberts, editor. Photos in this issue were contributed by Veronica Smith '12, Todd Boerema, and Matt Peters '11 and Mark Marogil '12 of the Augustana Photo Bureau. For the Acknowledge archives, go to campus.augustana.edu/acknowledge. To see the calendar of upcoming Augustana events, go to www.augustana.edu/calendar.