March 12, 2011
2010-11 Season - St. Thomas ends Viking playoff run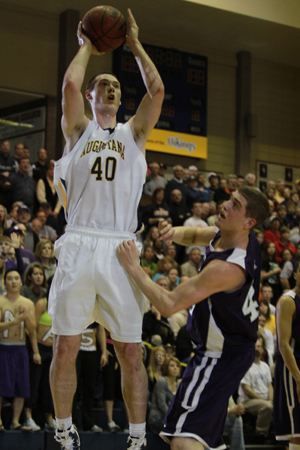 Two-time first team All-CCIW performer Kyle Nelson was one of three Viking seniors to end their careers this evening with a 72-56 loss to St. Thomas in the NCAA Division III sectional final.
ROCK ISLAND, Ill. - A season that included the second most wins in school history came to an end Saturday night at Carver Center as St. Thomas handed Augustana a 72-56 defeat in the NCAA Division III sectional finals. The Vikings' season ends with a 27-4 record and the Tommies advance to the Final Four with a record of 28-3.
St. Thomas hit seven of its first eight field goal attempts, including four of five from behind the arc to build a 20-8 lead six minutes into the game. The Vikings cut the margin to five on two occasions in the first half, first on a Brian DeSimone (Buffalo Grove HS, Wheeling, Ill.) free throw with 5:38 left and again on a Bryant Voiles (Byron HS, Byron, Ill.) three-pointer at the 4:06 mark. The Tommies extended the lead back to nine before a pair of Kameron Norton (Downers Grove North HS, Downers Grove, Ill.) free throws made the score 32-25 in favor of St. Thomas at intermission.
In the second half, Norton hit a baseline jumper at the 18:23 mark to get the Vikings within five again, but St. Thomas pushed the margin back to double digits (43-33) on a Tyler Nicolai three-pointer with 16:27 left. That shot was part of a barrage by Nicolai that saw the 5-11 senior score 16 points in the first eight minutes of the second half. When it was over, the Vikings trailed 54-39 and they were never able to get the lead under nine the rest of the way.
Nicolai finished with a game-high 28 points, including 22 in the second half.
For Augustana, Voiles led the way with a career-high 22 points. He also tied senior Kyle Nelson (Deerfield HS, Deerfield, Ill.) with a game-high seven rebounds. The Vikings shot just .325 from the floor on 13-of-40 shooting and were just 2-of-13 from three-point range, but did convert 28 of 38 at the free throw line. St. Thomas shot .538 (25 of 47) for the game, including .583 in the second half. The Tommies also hit 10-of-19 three-point attempts. Alex Healy and Tommy Hannon joined Nicolai in double figures with 11 points each.
The loss brings to an end a historic season that saw the Vikings record more victories than any Augustana team but the 1972-73 crew which went 29-2. This year's club won its first 20 games, setting school records for best start to a season as well as longest winning streak. The team also won its fifth CCIW championship in the last nine years and its third CCIW tournament championship in its six-year history.
Saturday's game also marked the end of fine careers for Viking seniors Nelson, Drew Croegaert (Geneseo HS, Geneseo, Ill.) and Mike Avallone (Neuqua Valley HS, Naperville, Ill.), who were instrumental in fashioning not only this year's 27-4 season, but an overall record of 84-28 during their four years. In CCIW play, the trio helped lead the Vikings to a 40-16 record, two regular season championships and a pair of conference tournament titles as well.