Campus News
March  15, 2011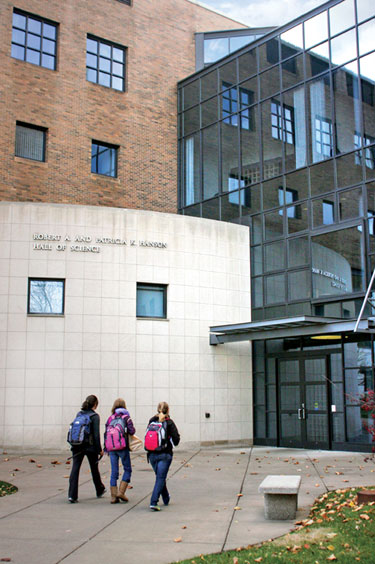 Robert A. and Patricia K. Hanson Hall of Science

Hansons donate $8 million to name Science Building
Former Deere CEO and 1948 Augustana alumnus Robert Hanson and his wife, Patricia Hanson, have generously given $8 million, the largest single gift in the history of Augustana College, to name the Science Building and the building's lecture hall wing at Augustana. The building will bear the Hansons' names and be called the Robert A. and Patricia K. Hanson Hall of Science. The lecture hall wing will be named for their niece, Lisa Wood, a 1982 Augustana alumna.
"Over the years I have watched Augustana grow and become more important to the community, and I've really been amazed at how they've been able to do all they've done without any real government help and without one or two families like once existed--the Denkmanns and the Hallbergs--some of those families," Robert Hanson said. "Those families have pretty well disappeared from the scene, so I thought we don't have the kind of fortunes that some of these families had, but we've got a fortune and we ought to split it up and get something done with it."
Hanson grew up in East Moline and graduated with an economics major from Augustana. He began his career with John Deere in 1950, and in 1978 was named president of Deere and Company, the first person not related to John Deere to serve as president.
Hanson, who was named chairman and CEO in 1982, is credited with leading the company through tough economic challenges in the 1980s while expanding and diversifying Deere and Company before retiring in 1990. Hanson also has faithfully served in a variety of roles at Augustana, including a Board of Trustees member and honorary chair in the college's Authentically Augustana capital campaign.
"Bob and Patty Hanson have made incalculable contributions across our region, and have indeed shaped the Quad Cities through their leadership with vital community organizations and initiatives," said President Steve Bahls. "It gives me great pleasure that a focal point for that legacy–-in which our whole community shares–-will for future generations be found here on Augustana's campus in the form of the Hanson Hall of Science."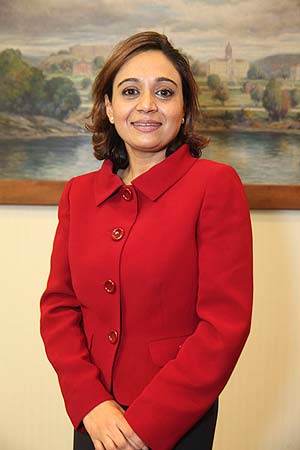 Dr. Pareena G. Lawrence

Pareena Lawrence named new dean
As the recently named dean of the college and vice president of academic affairs, Dr. Pareena G. Lawrence will administer the academic program and lead the work of 313 faculty members in the college's 28 academic departments. She will begin her duties in July.
Formerly the chair of the Division of Social Sciences at the University of Minnesota Morris (UMM), Lawrence was selected from a field of candidates from across the nation. Her energetic leadership style, passion for the liberal arts and commitment to shared governance impressed members of the search committee and college administrators.
"I am very grateful for the opportunity to welcome such a thoughtful and visionary leader as Lawrence both to the campus and to the broader Quad-Cities community," said President Steve Bahls.
At UMM, Lawrence served as coordinator of the First Year Seminar Program and the Gender, Women and Sexuality Studies Program; and as the interim director of the Multi-Ethnic Student Program. She is a respected scholar whose publications focus on South Asian economics, women as policy makers, service learning and a range of other topics.
Lawrence said she is excited to begin working with faculty, administrators and the campus community on several initiatives. These include defining and measuring expected outcomes of a liberal arts education, examining curriculum to ensure diversity, measuring and tracking graduates' experiences after college, examining pedagogy in teaching to ensure it is contemporary and improving faculty diversity.
"Among the many things that attracted me to Augustana College was the consistent theme of 'authenticity' to describe the institution's values, and the pursuit of this authenticity by both students and the larger college community," she said. "This is a value that I hold very dear."
"I am truly impressed by Augustana's unwavering commitment to challenge students to lead examined lives, become responsible global citizens, discover their calling, and lead personal, professional and civic lives of creativity, ethical service and leadership. The college has made a commitment to undergraduate-only education and to integrating curricular and co-curricular activities that enhance the student learning experience."
Lawrence earned her B.A. and M.A. in economics from the University of Delhi in India and her M.Sc. and Ph.D. in economics from Purdue University. It was at Purdue when she realized her passion for teaching. She came to UMM in the fall of 1994 as an assistant professor of economics and management.
Lawrence and her husband, Todd, have two young sons, Aaron and Joshua. A passionate football fan and recreational runner, she also enjoys hiking and biking with her family.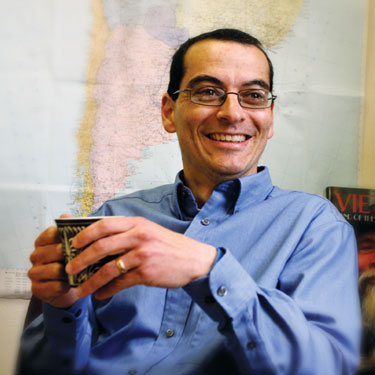 Dr. Mariano Magalhães

Magalhães in Brazil as a Fulbright Scholar
Dr. Mariano Magalhães, associate professor of political science at Augustana, has been selected as a Fulbright Scholar to research and teach for four months during the first half of this year at the University of Brasília (UnB), one of the finest research universities in Brazil.
His research as a Fulbright Scholar will examine the relationship between federal-level institutions that serve the interests of municipal governments in Brazil and local government.
"Basically, I'm trying to figure out how we can make local government more democratic and efficient in providing public services, such as health care, transportation, sanitation and education, which is one of the most pressing problems in developing countries," he explained.
In addition to his research, Magalhães will teach the course "Quality of Democracy in Latin America" at the Institute of Political Science at the University of Brasília, which is located in the nation's capital.
"I am excited about the challenge of teaching in Portuguese to undergraduate students," he said. "I'm also excited that the course I will be teaching adds to the curriculum in the department at the University of Brasília by providing a broader lens on democratization in the region. I am thrilled that I will be working with some of the biggest names in the field of political science in Brazil."
Magalhães is one of approximately 1,100 U.S. faculty and professionals who will travel abroad through the Fulbright U.S. Scholar Program in 2010-11. Recipients of the highly prestigious Fulbright grants are selected on the basis of academic or professional achievement as well as demonstrated leadership potential in their fields.
"We are delighted that Dr. Magalhães has been chosen for this program," said Dr. Ellen Hay, Augustana's interim dean of academic affairs. "His expertise in comparative politics, his fluency in Portuguese and his enthusiasm for teaching and learning will serve him well."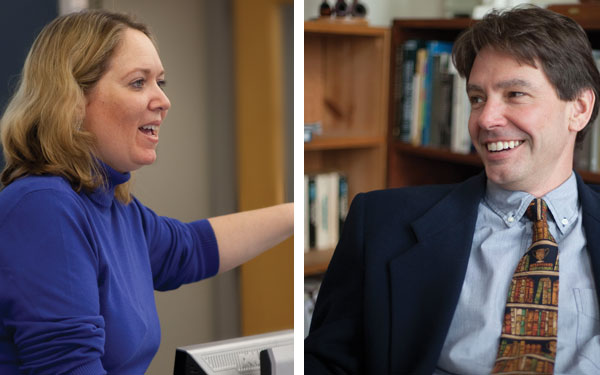 Dr. Sharon Varallo and Dr. Jason Peters

Varallo, Peters named chair holders
Dr. Sharon Varallo, associate professor and chair of the Department of Communication Studies, is the newly appointed Violet M. Jaeke Chair of Family Life. Her academic interests include communication in close relationships, caregiving, and gender and intercultural communication. As the new Jaeke Chair of Family Life, Varallo's goal will be to introduce students to the issues of family life and encourage them to consider advanced study or careers in family services.
The Violet M. Jaeke Chair of Family Life was established in 1987 through funding from the Harold W. and Violet M. Jaeke Foundation. The chair supports study, research, instruction and programs to enhance the quality of family life. The chair was first held by the late Rev. Dr. Ralph W. Hansen, professor emeritus of psychology, and most recently by Dr. Larry McCallum, professor of psychology, who is retiring.
Dr. Jason Peters is now the Dorothy J. Parkander Chair in Literature, established in 2001 in honor of Dr. Dorothy Parkander '46, professor emerita of English. He assumes the position from Dr. Don Erickson, who came to Augustana in 1965 and is retiring.
Peters began teaching in Augustana's English department in 1996. "It didn't take long for me to become aware of Professor Parkander's reputation as an excellent lecturer, especially in Milton," he said. "I think of her example every time I teach Paradise Lost."
Peters' teaching interests include British and American Romanticism, Catholic fiction and environmental literature. In 2007 he published Wendell Berry: Life and Work (University Press of Kentucky), a collection of essays that illuminate Berry as a person and a scholar. Peters currently is working on a project on Owen Barfield, a British poet, author, philosopher and good friend of C.S. Lewis.
Board of Trustees welcomes new members
Augustana welcomes three new members to the college's Board of Trustees, including two leaders from the Quad-City community. Kenneth Abrams from Westwood, Mass., Diane Harris from Moline, Ill., and Mark Schwiebert '72 from Rock Island will serve a four-year term ending in 2014.
"My colleagues and I are both humbled and deeply grateful that leaders of this extraordinary caliber are willing to give of their time, experience and insight in both strengthening our academic program and providing the vision required to sustain Augustana's place as one of our nation's premier liberal arts colleges," said Augustana President Steve Bahls.
Abrams is a partner in Wellington Management Company, LLP, an internationally acclaimed investment management company. His wife, Susan Nelson Abrams, is a 1976 alumna of Augustana.
Harris is a retired elementary school teacher who taught in the Cedar Rapids and Bettendorf school districts. She currently serves on the board of the Two Rivers YMCA, the Quad City Symphony Orchestra Association, the Community Foundation of the Great River Bend, the Hunt and Diane Harris Family Foundation and the John H. Harris III Memorial Foundation.
After earning his law degree from Drake University, Schwiebert returned to the Quad Cities to practice law. In 1989, he was elected mayor of Rock Island, a position he held until he retired in 2009. He was awarded an honorary doctorate of humane letters from Augustana in 2003.

Pastor Mark Anderson, associate dean of student services, led a spirited celebration to honor Martin Luther King Jr. on January 15. Quad-City residents and members of the campus community crowded into Centennial Hall to praise King's work through music, dance and words.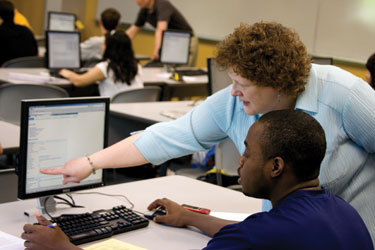 Dr. Lori Scott

$500,000 NSF grant to spur undergrad research
A $500,000 grant from the National Science Foundation (NSF) is allowing biology professor Dr. Lori Scott to provide undergraduates at Augustana and elsewhere with an original research experience using computer-based bioinformatics.
Working with microbial genome annotation through the Department of Energy's Interpret a Genome Project (DOE-JGI) gives science students a clear advantage when applying for employment or graduate school.
The goal of Interpret a Genome is to give undergraduates the opportunity to analyze DNA and protein sequences within bacteria in their classroom studies, learn the research process and share their findings with scientists nationwide through the Genome Encyclopedia of Bacteria and Achaea project. The DOE-JGI wants to increase the diversity of bacteria that are studied, especially focusing on unusual and poorly studied microbes. The more unusual ones are the most likely to produce exciting discoveries.
Scott and several Quad-City colleagues recently adopted the genome Meiothermus ruber through the DOE-JGI. "We have a microbe with 3,000 genes, and I predict we have at least 100 years worth of research in front of us," Scott said.
So far, more than 250 Augustana biology students have contributed to the project, and the number is expected to grow as more Augustana professors integrate the research into their classroom and lab curriculum.
"My molecular genetics/BIOL375 students are really excited," Scott said. "Students also learn bioinformatics, which is using computers to perform biological research. This is a technology that finds applications in nearly every field in biology, and it will prepare them for graduate school."
The funding already has helped Scott write a preliminary lab book for use in the classroom. Grant funding also was used to train more than 30 educators in the fall, and she hopes to fund training for at least 20 new educators in the coming months. But her vision doesn't stop there.
"I want to incorporate the annotation project and curriculum into as many places as possible at Augustana," Scott said. "Now I get why someone may want to do research rather than teach. Now I get to do both; I get to combine my two passions."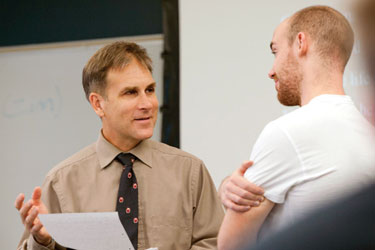 Dr. Lendol Calder

Calder named Illinois Professor of the Year
Augustana history professor Dr. Lendol Calder has earned numerous recognitions and appointments, and even published a book, but he's never brought home a teaching award--until now. And it's big.
In November Calder was named Illinois Professor of the Year, selected from more than 300 top professors in the United States. Sponsored by the Carnegie Foundation for the Advancement of Teaching and the Council for Advancement and Support of Education (CASE), the award is the only national initiative specifically designed to recognize excellence in undergraduate teaching and mentoring.
Calder is the second Augustana professor to receive this coveted honor since the program began in 1981. Dr. Dorothy Parkander, professor emerita of English, was named Illinois Professor of the Year in 1992.
"For almost half a century, Dr. Dorothy Parkander transformed the lives of our students by introducing them to the world's greatest literature," said Steve Bahls, Augustana president. "Dr. Calder has the same kind of impact as he leads students to a deeper, more effective understanding of history."
In 1999, the Carnegie Academy for the Scholarship of Teaching and Learning invited Calder to join other distinguished academicians from diverse fields to invent and share new models to enhance student learning. Calder's research findings, published in the March 2006 issue of The Journal of American History, examine the problem of "coverage" in introductory history courses and is part of a larger effort to create a new way of teaching and learning history at the undergraduate level. His essay fueled a growing movement of history professors calling for a "signature pedagogy" for history.
Since his involvement with the Carnegie Academy, Calder has addressed dozens of audiences at large and small institutions about what he has learned about teaching. Hundreds have written to share ideas of their own or to ask for help with curricular revisions. Publishers have asked him to write a book for college history professors and a new kind of history textbook for college students.
"I never dreamed of having this kind of effect, but the reason for it is simple: My ideas are not that original," Calder said. "They travel only because so many are thinking along the same lines."
He said being named Illinois Professor of the Year is humbling, and leaves him feeling a bit uncomfortable. "You can't be a good teacher unless you have colleagues to talk about teaching with," he said. "There are teachers on this campus who deserve this award as much as anybody- Jason Peters, Charlie Mahaffey, Van Symons-and others."
Ceremonies honoring the state and national winners of the U.S. Professor of the Year Awards Program included an awards luncheon at the W Washington D.C. Hotel and a reception at the Folger Shakespeare Library, also in Washington, D.C.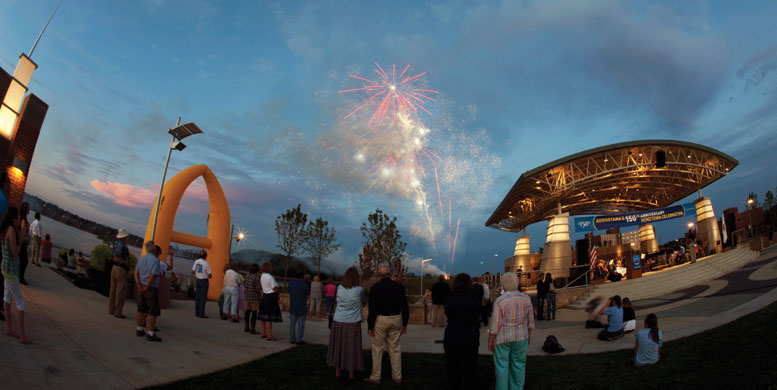 Celebrating 150 years with fireworks
Augustana shared a special sesquicentennial observance with the Rock Island community at a hometown celebration Sept. 1, 2010, at Schwiebert Riverfront Park. It was the 150th anniversary of the day the college's first classes met in a church schoolhouse in Chicago. From Chicago, the college moved to Paxton, Ill., and then settled in Rock Island in 1875. Augustana marked the occasion with Whitey's Augustana Viking Pride ice cream, music by Augustana's choir and concert band, poetry written especially for the occasion, speeches and fireworks. Augustana chose the park as the celebration site because it is named after former Rock Island mayor Mark Schwiebert, a 1972 graduate of Augustana.
Class of 2014: largest and most diverse
Augustana welcomed 757 first-year students to campus last fall. The Class of 2014 is the largest in the college's history and the most diverse. American multicultural students account for 17 percent of the student population. The class represents students from 19 states and eight countries, including China, Germany and Vietnam.
"The incoming class is a group of high-achieving and civic-minded students who chose Augustana for its academic rigor as well as the opportunities outside the classroom, including international programs, service learning and athletics," said Kent Barnds, vice president of enrollment, communication and planning.
Enrolled from a pool of more than 4,000 applicants, the Class of 2014 has an ACT score range between 24 and 29 for the middle 50 percent. Students also indicated a high level of involvement in community service, fine and performing arts, and athletics. The next largest incoming class in Augustana history was 712 first-year students in 2007.
Contact Augustana Magazine editor Debbie Blaylock by email; by phone at (309) 794-8979; or by mail at Augustana College, 639 38th St., Rock Island, Ill., 61201.