March 11, 2011
2011 Season - Vikings finish fifth in final track & field poll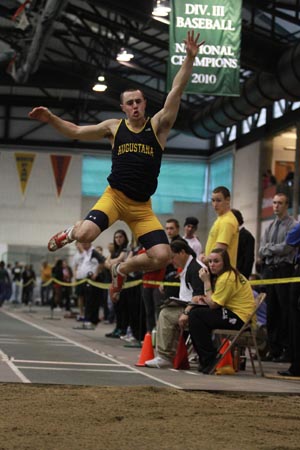 Alex Stake, a national meet qualifier in the pentathlon and the CCIW champion with a school record 3,382 points, helped lead Augustana to a fifth place ranking in the final NCAA Division III indoor dual meet ranking for 2011.
The Augustana Vikings men's track and field team finished fifth in the final NCAA Division III indoor dual meet rankings. The Vikings upped their point total to 158.27, though they stayed in fifth place. This poll is conducted by the U.S. Track & Field and Cross Country Coaches Association.
The University of Wisconsin-LaCrosse ended up in the top spot in the rankings, finishing with 166.83 points, just ahead of Wisconsin-Oshkosh (165.39) and North Central (164.77). Wisconsin Eau-Claire was just ahead of Augustana with 159.93 points. The Midwest Region showed their dominance by occupying 7 of the top 8 positions in the poll, with Wisconsin-Whitewater in 6 th (154.46) and Wisconsin-Stevens Point in 8 th (152.54). Nebraska Wesleyan (7 th , 154.22), Williams College (9 th , 148.79) and Bates College (10 th , 147.47) rounded out the top 10.
During the season, the Vikings competed in ten different meets. Head Coach Paul Olsen's team won the Wartburg Invitational on Jan. 29 th , 2011, placed 2 nd in the CCIW Championship meet on Feb. 27 th and 28 th , 2011. The Vikings also finished 5 th at the Warhawk Invitational on Feb. 4 th , 2011. The other meets were non-scoring meets.
The Vikings will send two competitors to the NCAA Division III National Meet that takes place on March 11 and March 12 at Capital University in Columbus, Ohio. Senior Pat Zeunik (Bloomington Central Catholic HS, Bloomington, Ill.) will be competing in the triple jump after a leap of 49' 4 1/2" from the Warhawk Invitational. Freshman Nick Sinon (Kaneland HS, Elburn, Ill.) jumped 6' 8 ¾" to qualify in the high jump.
2011 NCAA DIVISION III IDOOR POWER DUAL MEET POWER RANKING
Sponsored by the USTFCCA
As of 03/07/11
FINAL POLL
| | | | |
| --- | --- | --- | --- |
| RANK | SCHOOL | REGION | POINTS |
| 1. | Wisconsin-LaCrosse | Midwest | 166.83 |
| 2. | Wisconsin-Oshkosh | Midwest | 165.39 |
| 3. | North Central | Midwest | 164.77 |
| 4. | Wisconsin-Eau Claire | Midwest | 159.93 |
| 5. | Augustana | Midwest | 158.27 |
| 6. | Wisconsin-Whitewater | Midwest | 154.46 |
| 7. | Nebraska Wesleyan | Central | 154.22 |
| 8. | Wisconsin-Stevens Point | Midwest | 152.54 |
| 9. | Williams College | New England | 148.79 |
| 10. | Bates College | New England | 147.47 |