March 6, 2011
2010-11 Season - Henry leads Vikings in Arizona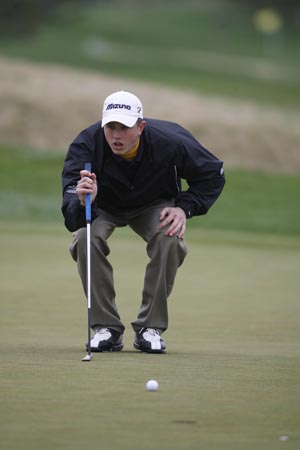 Jordan Henry opened the spring season by finishing in ninth place to lead the Vikings at The Shootout at Aguila in Phoenix, Arizona. Henry opened with a 76 and then fired a 73 to complete the two rounds with a combined score of 149, just eight strokes behind the leader in the 51 player field. Augustana tied for sixth in the team standings.
PHOENIX, Ariz. - The Augustana men's golf team competed in The Shootout at Aguila in Phoenix, Arizona to open the spring season. The two day tournament saw nine teams in action, including two for the Vikings. Augustana's "A" squad tallied a 313 in the opening round and came back with a 308 in the second round to finish at 621 overall.
Lewis University won the team title with a score of 592 (305 + 287), finishing 12 shots ahead of Southwest Oklahoma State (303 + 301) and Montreal, who both totaled 604 (295 + 309). Rend Lake Community College was another stroke back at 605 (304 + 301) and Ft. Hays State rounded out the top five with a 615 (296 + 319). Augustana's 621 tied with Lewis "B", who shot 308 and 313. Pomona-Pitzer took eighth with a team score of 638 (326 + 312) and Augustana's "B" team completed the field in ninth with a score of 705 (357 + 348).
Junior Jordan Henry (Erie HS, Erie, Ill.) performed extremely well in his first rounds of action this year, firing a 76 in the first round and then lowering that to a 73 on the second day of competition. He finished with a 149, only five strokes over par, and finished ninth overall. His 73 tied for the seventh lowest score in the final round. Senior T. Cole Wells (Tri-Valley HS, Downs, Ill.) finished in the top 20 with a score of 155, tying for 18th with three other golfers. He tallied a 79 and also lowered his second round score by three strokes with a 76. Both rounds broke his previous best round of 80 from the fall.
Sophomore Jeff Paustian (Geneva HS, Geneva, Ill.) was close behind in 22nd place with a two day total of 156. He shot a 76 in the first round and then took 80 strokes to close out the event. Paustian's 76 in the first round is his best of the year, topping a 77 from the fall. Seniors Kyle Weigand (Leyden HS, Franklin Park, Ill.) and Phil Litchfield (Benet Academy, Darien, Ill.) both competed with the "A" squad and tied for 32nd with a 162. Weigand shot an 83 in the first round and a 79 in the second round. Litchfield opened with an 82 and then fired an 80 in the final round.
Sophomore Curtis Lubic (Kaneland HS, Sugar Grove, Ill.) was the top scorer for Augustana's "B" team, taking 45th with a score of 168. He shot an 88 to begin the tournament, but rallied with an 80 in the second round. Sophomore Jonathan Grchan (Moline HS, Moline, Ill.) was just one stroke back, shooting a 169 and taking 46th place. He also improved his score, shooting an 86 and then an 83. Junior Marko Loncar (Marist HS, Chicago, Ill.) tied for 47th with a 177, shooting an 88 and an 89, with the 88 being his low round of the year. Junior Greg Karesh (Downers Grove South HS, Downers Grove, Ill.) and freshman John Stone (Rockridge HS, Reynolds, Ill.) rounded out the field in 49th and 50th place, respectively. Karesh shot a 191 (95 + 96) and Stone completed the course with a 193 (96 + 97).
Markus Hilger of Ft. Hays State took home medalist honors with a 141, finishing three strokes under par after shooting a 70 and a 71. Matt Walton of Rend Lake Community College was the only other golfer to finish under par, tallying a 73 and a 70 to finish one under par with a score of 143. Logan Watts of Lewis completed two rounds with a final score at even par (144) and had one of only three rounds in the 60's with a 69 in the final round. Mathieu Perron of Montreal had the low round of the tournament with an opening score of 68, but faded with a 77 in the final round.
The Shootout at Aguila marked the first competition for the Blue & Gold since the team competed in four events last fall. Augustana finished 5th at the 19 team Duane Chaney Invitational, 3rd at the Vike-Fire-Scot Cup, 12th at the Cress Creek Invitational, and sixth at the Red Poling Classic.
The Vikings are back in action on March 25-26 at the Prairie Fire Classic in Galesburg, Illinois. The two day event will be held at the Soangetaha Golf Course. Augustana will also compete in the Illinois Wesleyan Invitational, Augustana Invitational, CCIW Championships, and Scot-Fire Invite later this spring.