Hanson '48 reflects on 40-year Deere career
March  15, 2011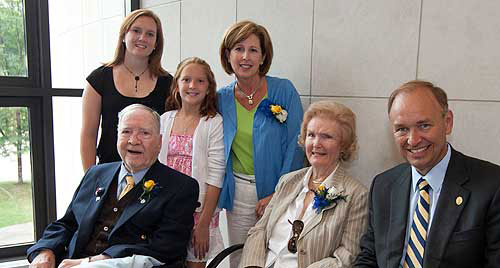 The Hanson family, Robert and Patricia in front, with Augustana President Steve Bahls, and grand-nieces Pamela, left, and Jennifer with their mother, Lisa Wood, a 1982 Augustana graduate.

Robert Hanson's distinguished career with Deere & Company spanned 40 years, including eight years as the international company's chairman and CEO. A native of East Moline and 1948 graduate of Augustana, Hanson successfully worked for Deere in Mexico, Spain and Germany before returning to Moline, Ill. As Deere's chairman and CEO, he led the company through one of its most difficult periods. He retired in 1990.
Augustana President Steve Bahls recently visited with Hanson at his home. The two talked about leadership in tough times, Augustana memories and the inspiration behind Robert and Patricia Hanson's $8 million gift to the college. Here's part of their conversation:
PRES. BAHLS: So what did you look for in people that reported to you?
R. HANSON: Honesty. I would get them altogether and say, like in Spain, "This is the management team of John Deere Espana sitting in this room right now. What we do eventually will be counted up as John Deere Espana, and if we do a good job, everybody will applaud. If we do a crummy job, everybody will boo." And they all laughed. But they were good and honest people, and I told them over and over again that we can deal with mistakes, but the thing we can't deal with is lack of integrity. So when you say something, you mean it and you don't forget that you said it!
PRES. BAHLS: Is that something you looked for, people of integrity?
R. HANSON: Yes, absolutely… I really believe you can handle lots of problems if you know you've got the whole story, but you can't handle lots of problems if you don't. So I beat the drum long and hard on it. I told them, "This is an honest company, and we tell the truth to our employees. We tell the truth to our customers, and we tell the truth to the government." And they bought in to that loud and clear.
PRES. BAHLS: What was your assignment when you moved back to the States from Germany?
R. HANSON: It was a big one. They made me executive vice-president, and it was just at that time that I realized I could have a chance to run this thing.
PRES. BAHLS: What were your duties as executive vice-president?
R. HANSON: They put me in the top layer of management and made me a member of the executive committee so it was an important move from that standpoint.
PRES. BAHLS: Did you go from the vice-president position to the president? How did you find out about that?
R. HANSON: When Bill Hewitt's secretary came into my office, which was right next to his, and she said, "Mr. Hanson, Mr. Hewitt would like to talk to you for a few minutes, but right now!"
PRES. BAHLS: Did you know what he was going to talk about?
R. HANSON: I had no idea. So I went in, and he said, "Bob, have a seat for a minute. I'm only going to take a minute of your time. I know you are busy." And he was right because I was busy covering so many areas. And he said, "Robert, we've been running this company without a president for two years now, and we're finished running it without a president." And I said, "We are?" And he said, "Yes, because you're now the president."
PRES. BAHLS: So did he remain as CEO and you were the president?
R. HANSON: Yes.
PRES. BAHLS: How long did that go on?
R. HANSON: Oh, a couple of years.
PRES. BAHLS: And then you became CEO after that? During the farm crisis? The bottom fell out of farmland prices, and John Deere had a lot of inventory and people weren't buying because there wasn't much money. What was your strategy to pull John Deere out of that?
R. HANSON: That's a good question. Our strategy was to provide more service to the farmer than anybody, and we really did. We broke our necks providing service.
PRES. BAHLS: I'm curious about that. As CEO, how do you get your people to go the extra mile during those difficult times?
R. HANSON: They could see that our current strategy was not doing much for the company or for us as individuals of the company, and then when we got into providing more service, it was only a matter of a couple of months that things picked up. We were moving out more machinery and everybody was happy about that, and that's how I sold them on the idea.
PRES. BAHLS: I've heard people say the reason you were so successful at John Deere is because you knew the product inside and out and that you'd sold the product, set up dealerships and had come up through the ranks. Do you feel like that was part of your success?
R. HANSON: Oh, yes, without question. I knew the products from A-Z. They had a company store in Bloomington, Illinois, with a shop attached to it, and they sent me down there to work in the shop to learn the equipment and how to fix it. I lived in Bloomington for a year, and I worked in that shop every day, every night, and I learned a helluva lot.
PRES. BAHLS: I'm the president of a much smaller and simpler organization, but at times there is crisis in the organization and so this bad economy has affected Augustana. What would you say to a young president of an organization who is facing crisis? How do you deal with that crisis, and how do you not get discouraged?
R. HANSON: I think you have to tell that man, "Look, this too shall change. You were looking very nicely when the economy was going up, and now that the economy is falling off the edge of a cliff…what you've got to do now is take a deep breath and say, it will come back," because it will.
PRES. BAHLS: When you made a tough decision, would it be a gut feeling, would you study the facts, would you discuss it with others?
R. HANSON: All of the above. I'd try to talk to as many people that I thought knew something about the situation and drain them dry. I tried to remind myself every morning that today you're again going to be a good listener. And I really meant that, and I think I was a good listener when I was working at Deere.
PRES. BAHLS: Let me ask you about your time at Augustana. Are there any things that helped you from your time at Augustana?
R. HANSON: Oh, yes. You weren't here when Dr. Arbaugh was here. He was one unusual man. He was a man of huge knowledge, but had a great way of imparting it to others.
PRES. BAHLS: Are there other memories from Augustana that you have carried with you over the years that have helped shape you?
R. HANSON: Appreciation for books. I had always enjoyed books but not to the point that I did when I got down in the stacks and really went at it with both feet running. And I enjoyed Augustana so much, and all the time I was thinking, "And this is what my Mom and Dad did."
PRES. BAHLS: That's right. You know speaking of spouses and your Mom and Dad, I've heard it said that it's hard to be a good CEO unless you have a strong marriage, and I look at the marriage the two of you have and wonder if that helps?
R. HANSON: Oh, yes. Because your wife is such an important part of the duo that runs things. Patty was involved in so many discussions with me on things that came up like the strike. You can't go through a seven-month strike with the UAW and not discuss it with your wife.
PRES. BAHLS: I've also heard it said that it's lonely at the top. Did you find that to be true?
R. HANSON: In some ways, it was a little bit. But at Deere the guys on the next level down won't let you get too lonely because they ask too many questions.
PRES. BAHLS: Well, it sounds like you encouraged questions, too.
R. HANSON: Yes, I tried to.
PRES. BAHLS: You're known as someone committed to the Quad Cities and making it better. Why didn't you just sit in your office and worry about John Deere. What motivated you?
R. HANSON: Well, I guess mostly watching my father. He always put his community ahead of a lot of things. I talked to him about that stuff quite a bit, and he said, "Robert, if you and I don't do some of these things, who then?" I said, "I don't know Dad, but you and I can't do all the things that need to be done around this town." He said, "No, but we can do a few, and that's what we've got to do—wade in and get them taken of." He was a very, very, very community-minded man naturally, and it rubbed off on me.
PRES. BAHLS: The last question I want to ask relates to your gift to Augustana, which almost brings tears to my eyes to think that you did something like that. Why did you do it?
R. HANSON: Over the years I have watched Augustana grow and become more important to the community, and I've really been amazed at how they've been able to do all they've done without any real government help and without any one or two families like once existed, the Denkmans and the Hallbergs. Those families have pretty well disappeared from the scene so I thought we don't have the kind of fortunes that some of these families had but we've got a fortune, and we ought to split it up and get something done with it. And Patty and I spent a lot of time discussing it.
PRES. BAHLS: On behalf of many generations of students, this is going to make a big difference. You know something else I heard, Bob, about your gift; I hear that others in the community are starting to think about doing the same thing you did. I just think this is going to be the beginning of a wave of gifts because our Quad-City organizations can use the help.
R. HANSON: I hope so.
Contact Augustana Magazine editor Debbie Blaylock by email; by phone at (309) 794-8979; or by mail at Augustana College, 639 38th St., Rock Island, Ill., 61201.