Friends at the table: Swanson and the Vikings
March  09, 2011
(This article, written by Dave Wrath, Augustana sports information director, originally appeared in Acknowledge, a campus newsletter for faculty and staff, in March 2009.)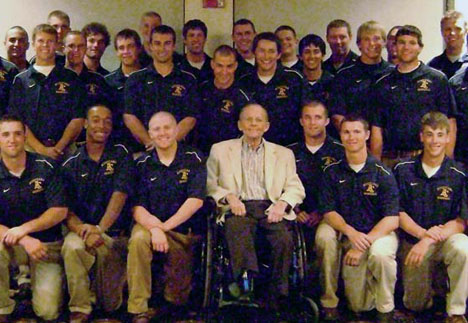 Duane Swanson '61 surrounded by his guests at a dinner with the baseball team. (Photo by Kathi Fox)
It was, we all agreed, a very special moment. The Augustana baseball team was basking in the glow of a 16-5 victory over Carroll on Thursday, March 12, in Fort Myers, Florida. That was the first of four games on a "mini" spring break trip for veteran head coach Greg Wallace's crew. Eventually the trip would end on Sunday with three wins in the four games played, and the Blue & Gold would fly back on Sunday night with a glossy 11-3 record for the year.
While the win was nice, it was another triumph that made the moment special. Following the game, the team cleaned up and headed over to a country club in Fort Myers with the unlikely moniker of Fiddlesticks. There they were treated to a wonderful dinner as the guests of Duane Swanson '61.

Duane Swanson's name is well known at his alma mater. His financial contributions have allowed us to build Swanson Stadium/Brunner Field, and recently his generosity provided the impetus for Swanson Commons. His leadership on the Board of Trustees is legendary and Augustana has benefited greatly from his friendship.
The dinner at Fiddlesticks has become a special tradition. Mr. Swanson has been treating the players, coaches and parents to this feast for nearly a decade. This night, however, was unique. Mr. Swanson has been struggling with some health issues and recently had part of his right leg amputated. He had been hospitalized and it was not until that afternoon that he confirmed he could make it to the dinner.
The entourage was seated in the dining room when he arrived. Greg Wallace pushed his wheelchair into the room, and the smile on Mr. Swanson's face lit us all up. He greeted us with joy and expressed his admiration for the success the team had achieved. He spoke of his love for those of us in the room. He did not dwell on the twist of fate that took one of his legs and has threatened the other one. His message was upbeat, positive and inspiring. A quick glance around the room made it clear his message was heard.
Duane Swanson cherishes his relationship with Augustana and his memories of the institution that holds a special place in his heart. It was rewarding to be in the room that night as he articulated those feelings.