Alumni rally Viking votes to win dream wedding
March  15, 2011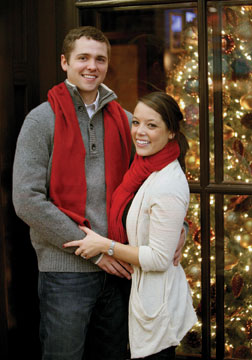 Ryan Griffith '08 and Jori Slack '09 Griffith

Jori Slack and Ryan Griffith successfully rallied their Viking votes to help them win a $100,000 dream wedding.
These recent Augustana graduates-who had been engaged for less than two weeks when they won the radio contest-had less than two weeks to get ready for their wedding. On December 18, they recited their vows at the Fairmont Chicago Millennium Park. The contest prize, sponsored by Chicago radio station 101.9 Mix, included everything from wedding rings, gown and tux, to a lavish reception and honeymoon in Cancun, Mexico.
Jori '09 and Ryan '08, who now live in Evanston, met when she was a first-year student at Augustana. Jori came to Augustana from Highland Park, Ill., and double-majored in communication studies and sociology. Ryan, originally from Dundee, Ill., majored in business administration with a concentration in finance and a minor in economics. Jori works with her family's non-profit, the Luster Learning Institute, in the Chicago public schools, and Ryan is an analyst at Houlihan Capital.
"I listen to the radio every morning and happened to stumble upon my two favorite radio show hosts, Eric and Kathy, talking about this amazing contest," Jori said. "Right after I heard it, I talked to my mom about it and emailed Ryan to see what he thought. Both agreed that I should go for it."
All they had to do was submit a photo and a statement of 25 words or less about why they should be chosen. "My 25, actually only 23, words were 'Just engaged last week! Young, super fun and so in love, please make our wedding dreams come true, we'll love you forever! Xoxoxo'," Jori said.
When she told Ryan what she had submitted, his response was "Oh my goodness, Jori! You get only 25 words and you throw 'xoxoxo' in there?"
Not to worry. Nine hundred applications were submitted, and from those the radio judges chose three finalists. Jori and Ryan made the cut. The public was allowed to vote on the three couples during a highly publicized 24-hour period, beginning on a Thursday morning into Friday morning.
"On Thursday, Ryan and I contacted everyone we knew to vote for us!" Jori said. At Augustana, Jori was a member of Delta Chi Theta sorority and Ryan belonged to Delta Omega Nu.
"I know many, many Vikings had a hand in helping us win," Jori said. "Professors, our sorority and fraternity members, older alumni, as well as many members around campus, including the desk attendant in Westerlin, Margee Strode Vandeveire."
On Friday morning, Jori received a call from the radio station and was told live on the air that out of 100,000 votes, she and Ryan had received 56,000 and won the $100,000 dream wedding. "We feel so grateful for winning this, but also for all of the support we received not only from our family and friends, but from all of the 56,000 people who voted for us...most of them who don't even know who we are."
Jori and Ryan blogged about their experience on the radio station's website, which also featured a videotaped interview with the couple. "Ryan and I were sure something would go wrong since we only had two weeks to plan the wedding," Jori said. "But we were very wrong. The wedding was flawless. All of our vendors were so professional and took care of every little detail.
"This will be something we'll always remember, and I'm not sure we'll ever fully recover," she added.
Contact Augustana Magazine editor Debbie Blaylock by email; by phone at (309) 794-8979; or by mail at Augustana College, 639 38th St., Rock Island, Ill., 61201.