Francis Ford Coppola, Daniel Gottschling, Denzel Washington…
March  15, 2011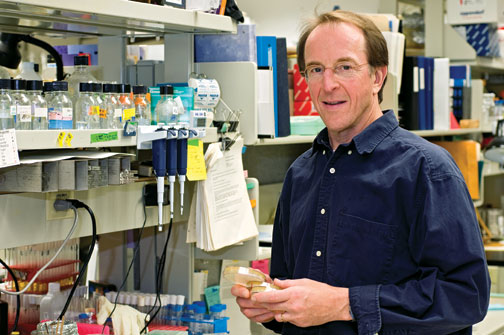 Dr. Daniel Gottschling '77 (Photo courtesy of Fred Hutchinson Cancer Research Center)

Cell biologist Dr. Daniel Gottschling '77 keeps good company. He recently was elected to the American Academy of Arts & Sciences, one of the nation's most prestigious honorary societies and independent policy-research centers. Leaders in the arts, such as Steve Martin, Denzel Washington and Francis Ford Coppola, also were honored this year along with winners of the Nobel, Pulitzer and Shaw prizes, and MacArthur and Guggenheim fellowships.
Gottschling was honored in recognition of his research at the Fred Hutchinson Cancer Research Center in Seattle, Wash. He and his colleagues study yeast cells for clues to the molecular underpinnings of life-clues that he hopes will have parallels in humans. He uses this model organism to understand the relationship between cancer and aging-a problem that has long vexed biologists.
Gottschling was inspired to study the connection between aging and cancer after learning some startling statistics: A person's risk of developing cancer starts to increase exponentially around age 40. By age 55, men have a 50 percent chance and women have a 33 percent chance of acquiring some form of the disease. Gottschling studies yeast to determine whether a fundamental process exists in all cells as they get older that might explain the increased incidence of cancer.
Speaking at Augustana's graduation convocation in 2005, Gottschling said his liberal arts experience enhanced his life in surprising ways. From his first term on campus, when exploring the meaning of "grace" in a religion class with Dr. Peter Beckman '49, Gottschling began to integrate his thinking.
Translating discussions about linear algebra with Dr. Doug Nelson '66 to what he was learning in physics, and then making connections to biology and economics revealed a new way of thinking. In a writing class with Dr. Roald Tweet, he finally was able to put "all my ideas that had been mulling around in my head down on paper."
After Augustana, Gottschling earned his master's and doctorate at the University of Colorado at Boulder. He taught molecular genetics and cell biology at the University of Chicago from 1989-96.
Contact Augustana Magazine editor Debbie Blaylock by email; by phone at (309) 794-8979; or by mail at Augustana College, 639 38th St., Rock Island, Ill., 61201.