March 6, 2011
2010-11 Season - Carr places 10th at Rhodes Tri Match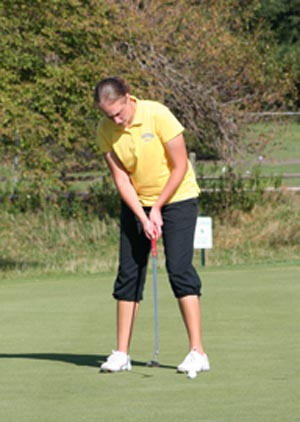 Brittany Carr shot a 94 at the Rhodes Tri Match to lead the Augustana women's golf team in the squad's first tournament of the spring season. She earned 10th place at the event, which also included golfers from Rhodes and Centre.
NASHVILLE, Tenn. – The Augustana women's golf team competed at the Rhodes Tri Match during its spring break trip and finished in third place behind Rhodes and Centre at the Hermitage Golf Course in Nashville, Tennessee on Sunday, March 6. The Vikings finished with a team score of 395, led by junior Brittany Carr (Lincoln-Way East HS, Frankfort, Ill.), who fired a 94 and finished in 10th place.
Sophomore Megan Vandersee (Sterling HS, Sterling, Ill.) was second for the Blue & Gold, carding a 96 and tying for 11th place. Freshman Kelly Farina (Normal West HS, Bloomington, Ill.) and senior Jessica Berens (Schaumburg HS, Schaumburg, Ill.) also scored for the Vikings at the tournament. Farina was the third Augustana finisher, taking 14th place with a 100. Berens was the final scorer with a 105, taking 17th place. Sophomore Morgan Wilkinson (Westmont HS, Westmont, Ill.) rounded out the scoring with the top group with a 118, taking 23rd place.
Five other Vikings also competed as independents at the event. Freshman Jamie Lawrence (Moline HS, Moline, Ill.) finished in 16th with a score of 104. Freshman Dena Capitani (Hinsdale Central HS, Hinsdale, Ill.) completed the course in 106 strokes, tying for 18th overall. Freshmen Katelyn Lazar (Williamsville HS, Sherman, Ill.) and Kelly Olson (Prairie Ridge HS, Crystal Lake, Ill.) each shot a 112, tying for 21st place. Freshman Jenna Schneider (Rockford Lutheran HS, Rockford, Ill.) rounded out the scoring for Augustana with a 129, placing 24th.
Rhodes narrowly won the team event with a score of 343, edging Centre (346) by three shots. Stephanie Mingos of Rhodes walked away with medalist honors after carding a 78.
Story written by Assistant Sports Information Director Adam Strand